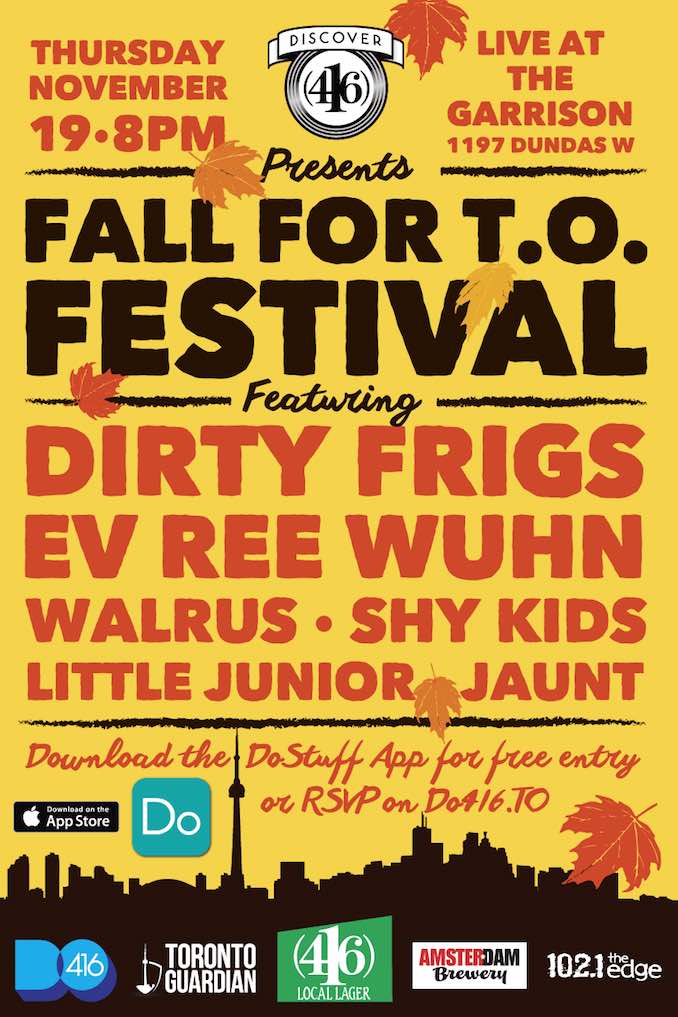 A mix of musical talents will perform at the 5th instalment of the Discover 416 event series called "Fall For T.O. Festival" in Toronto on November 19th, 2015.
Six groups, five from Toronto, will gather at The Garrison for an epic night of music that aims to showcase rising Canadian talent. Dirty Frigs, Ev Ree Whun Shy Kids, Little Junior and Jaunt are all from Toronto and the sixth band, Walrus, hails from Halifax. There is an eclectic mix of sounds and artists to experience, ranging from Rock to Hip-Hop and Electronic genres and everything in-between.
The event is the 5th and final instalment of the Discover 416 concert series, a partnership with Amsterdam Brewing Co's 416 Local Lager and the event listing website Do416. Curated by those in-the-know in the Toronto music scene, the series aims to promote up and coming talent in the Canadian music industry by creating fun and free events to see what all the buzz is about. Discover 416 is put on by Do416, the fastest growing event listings website in the city which curates music, comedy, trivia, art and other cultural events in the city of Toronto. The Toronto Guardian is also an Influencer on Do416 and you can see our latest show recommendations on our page.
Music fans are encouraged to RSVP for the event here through the Do416 website to get on the guestlist. The first 150 RSVPs will receive a free tallboy of 416 local lager. The event will also be raffling off a $100 gift card to the Amsterdam BrewHouse at the show to one lucky RSVPer in the audience.
Get to know the bands before you come to the show. Here are some website links and songs from the performing groups.
DIRTY FRIGS
EV REE WHUN
WALRUS
SHY KIDS
LITTLE JUNIOR
JAUNT