Québec-based FILMharmonic, founded in 2015, has been steadily increasing its Toronto presence, with a recent live orchestra performance of The Lord of the Rings: The Fellowship of the Ring (January 26, 2023) and the upcoming Music at the Movies night, this Friday, February 10 at Roy Thomson. Hall. We had a chance to check out the Fellowship Live concert, a near-perfect evening with the sole failing that it wasn't the Extended version of the film that was playing. (Sacrilege!)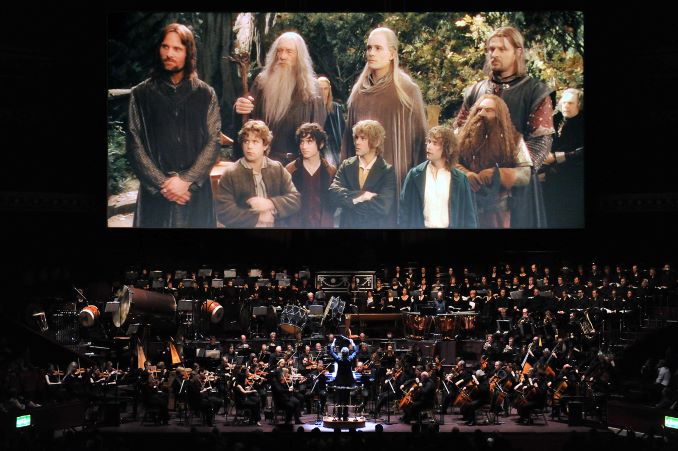 Toronto Guardian readers have likely already encountered a FILMharmonic-type performance in recent years. Increasingly in vogue, these shows feature live orchestral accompaniment to beloved film scenes – or, as in the case of the recent Fellowship of the Ring, entire films. FILMharmonic is rapidly becoming a leading Canadian proponent of the genre, with upcoming shows in Ottawa (Lord of the Rings), Montréal (Lord of the Rings and Star Wars), and Sherbrooke, Québec ("Music at the Movies").
The Fellowship performance was, unabashedly, a ton of fun. No matter how many times we've seen that film, that trilogy, nothing compares to encountering it once more on the big screen, with a packed house full of other Tolkienites / general dorks. From the opening strains of Howard Shore's "Footsteps of Doom" (cue soon-to-be-Oscar-winning Cate Blanchett intoning, "The world has changed, I feel it in the water…") through the beautiful "In Dreams", sung by Edward Ross over the closing credits, Fellowship was, and will forever be, a film that could not exist without its stellar soundtrack.
Toronto-born Shore won two Oscars for his Rings soundtracks, first for Fellowship and then again for Best Picture winner Return of the King. Shore's trajectory from original Saturday Night Live musical director to in-demand film composer – his first major score was for David Cronenberg, naturally – has seen him working with the likes of Martin Scorsese, Jon Stewart, Michel Hazanavicius, and Deepa Mehta.
If the FILMharmonic Orchestra has at all tired out from all these film performances, it wasn't apparent at Fellowship, where Conductor Shih-Hung Young and the orchestra were clearly having a great time playing along to one of the most beloved fantasy films of all time. Though we might have preferred the Extended edition, we understand why FILMharmonic – and, in fairness, some of the audience – were content with the shortened original cut. Probably the greatest testament to their performance? After a certain point, we lost track of the fact there was a live orchestra at all.
Next up for FILMharmonic in Toronto will be Music at the Movies at Roy Thomas Hall. Featuring excerpts from Rachmaninoff's Rhapsody on a Theme of Paganini (familiar from The Walking Dead, Groundhog Day, and a thousand other films/tv series), John Williams's Schindler's List, and Ennio Morriconne's Cinema Paradiso (which contains the greatest film theme music of all time, as far as we're concerned), and more, the concert is sure to be a hit. And also, a reminder: if you somehow haven't seen Cinema Paradiso by now, run – don't walk – to Bay Street Video to rent your copy!
#
Book tickets for Music at the Movies – February 10, 2023 at 8:00pm here.
For all things FILMharmonic, click here.