Shift Collab is one of Canada's leading virtual therapy practices, offering counselling and custom therapy matching across the country. We spoke with Megan Rafuse and Jordan Axani, Co-Founders of Shift Collab, to find out more about what they do.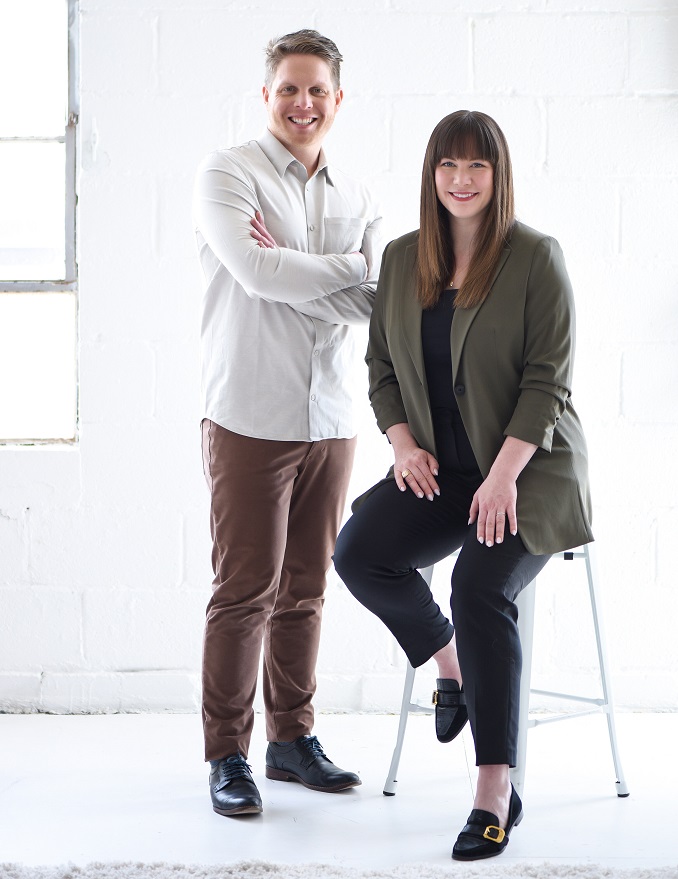 What is your business called and what does it do?
Shift Collab is one of Canada's leading virtual therapy practices, offering counselling and custom therapy matching across the country. We founded Shift Collab in 2016 out of a desire to modernize the therapy experience, making it more human and more accessible. We are bootstrapped, female-founded and clinician-owned with a curated team of over 125 Registered Social Workers and Registered Psychotherapists helping Canadians navigate all of life's challenges.
What made you want to do this work?
Our mission to create Shift Collab came from our own mental health journeys. We wanted to develop a model of care that wasn't available for us during a time in our lives when we needed it the most. Megan lost her mom at 16 to cancer and didn't know what to do with all of those huge emotions. In 2010, Megan became a Registered Social Worker and informed by her experience of feeling alone in her grief, struggling with anxiety, and the frustration of being paired with older therapists who just didn't "get it", she knew that the therapy space was ripe for change and new generation of clinicians. Megan knew that Canadians could receive quality and accessible clinical care that resonated with their needs and if it didn't exist, she'd have to build it. Jordan entered the picture from a mental health education and business lens, and had an affinity for this work from his own struggle in finding relatable therapists, too.
What problem did you want to solve with the business?
Basically, it's hard to find a therapist that gets you. Initially, we set out to innovate an industry that had become so afraid of risk and change that it was alienating its clients and creating barriers to quality mental health support for the people who needed it most. Our goal was to create a simple, relatable and accessible mental health solution to champion quality therapy across the lifespan, especially for young adults and millennials. That goal remains today, only we've extended our reach to a wider group of Canadians as therapy becomes more and more mainstream. In fact, over the past three years, we've grown just over 300%.
Who are your clientele/demographics?
Generally speaking, our clients are typically highly-driven millennials unified by a shared internal belief: while they have big dreams for their lives and might be doing awesome things, they don't feel like they're enough. They're the kind of people that have a growth mindset and lean into the discomfort not settling. However, we welcome a wider range of folks! We also support a ton of Gen Z that are wrapping up their student lives and navigating early adulthood, and Gen X who are well into adulthood and working on themselves. As we've grown, so too has the ethnic, demographic and psychographic diversity of our therapy team creating more opportunities to support a wide range of Canadians.
How does your business make money? How does it work?
The majority of our business comes from therapy sessions, where Canadians pay for individual, couples or family therapy sessions and get reimbursed from their healthcare benefits. In recent years, we have grown our B2B services where we provide therapy sessions to the clients of healthcare organizations and employers who are looking to provide better care than just an Employee Assistance Program.
Where in the city can we find your profession?
Since the start of COVID, Shift Collab has been available to all Canadians virtually. Today, we love being a virtual team and have figured out a lot of neat ways to bridge the virtual divide with our clients, and have some more tricks up our sleeves for the years ahead…
Between 2016 and early 2020, we had a clinic in the heart of Yorkville that we were outgrowing like crazy. In late 2019, we started looking for a new space at Bloor and Avenue where we'd go from about three to 12 therapy rooms plus a bunch of space for staff, rooms for phone and video sessions, a workshop space and more. We found an awesome spot, negotiated a lease, and even had the interior floor plan done. Then one month before COVID hit, in February 2020, Megan woke up one morning and said to Jordan, "We can't do this, it's just too big of a risk."
And we backed out. Only weeks later, businesses were shutting down their offices. Had we moved ahead it would have completely ruined us. Needless to say, we thank our lucky stars that we went in a different direction…
What is the best question a prospective customer could ask a member of your profession when comparing services? Give the answer as well.
We get asked all the time, "How do I find the right therapist for me?" Over the past 10 years, there's been a dramatic evolution from Canadians caring about credentials, clinical specialities, modalities and advanced training of their therapists to valuing relatability first and foremost. Our answer is simply, "The best therapist is one that you can connect with as a person first, and as a therapist second."
What is the best part about what you do? What is the worst part?
The best part is knowing that our team is doing incredible work and impacting dozens of clients each day. We often meet people randomly who self-disclose that they go to Shift Collab and that it's changed their lives. It's a pretty profound thing.
The worst part is that our industry is changing really fast and is increasingly dominated by venture-backed startups who are building therapy networks, rather than collaborative practices, and are burning therapists out. We're all for change, but not for it being on the backs of the actual therapists.
What is your favourite joke about your own profession?
There's a joke in the therapist world that goes like this, "If you want to feel self-conscious, remember that someone's therapist knows all about you."
Where can we follow you?
You can follow us on Instagram, Twitter, TikTok and Facebook. Also, visit our website and get hand matched to a therapist here.
PAY IT FORWARD: What is another local business that you love?
We love businesses that are authentic and change the conversations within their industries. Some that come to mind are Lake and Oak Tea and SoYoung.