Are you ready to head back to school? Start the new academic year in style with these high-quality and trendy school supplies, all proudly made by Canadian companies. Whether you're a high school student or a university student, these products will help you stay organized and make a statement. So, grab your backpack and get ready to conquer the upcoming school year!
Monos – Metro Backpack in Vegan Tan Leather
Monos, a Canadian company with a deep appreciation for the beauty of fleeting moments, takes inspiration from the Japanese concept of mono no aware. Their name itself reflects their ethos of finding profound appreciation in every detail. With a strong focus on quality and craftsmanship, Monos creates travel luggage and accessories that are built to last. Their commitment to excellence is evident in their attention to detail and use of premium materials. One of their standout products is the Metro Backpack in vegan tan leather ($265.00). This versatile backpack combines style with functionality, making it the perfect companion for urban adventurers. Designed to fit on a suitcase handle and with many compartments makes it the perfect backpack for your every day life as well as travels abroad. The vegan tan leather material embodies Monos' commitment to sustainability and ethical fashion, offering a cruelty-free option for conscious consumers. With Monos, you can expect timeless designs, exceptional durability, and a profound appreciation for the beauty and quality in every product.
SoYoung – Sand & Stone Beach Stripe All-Day Backpack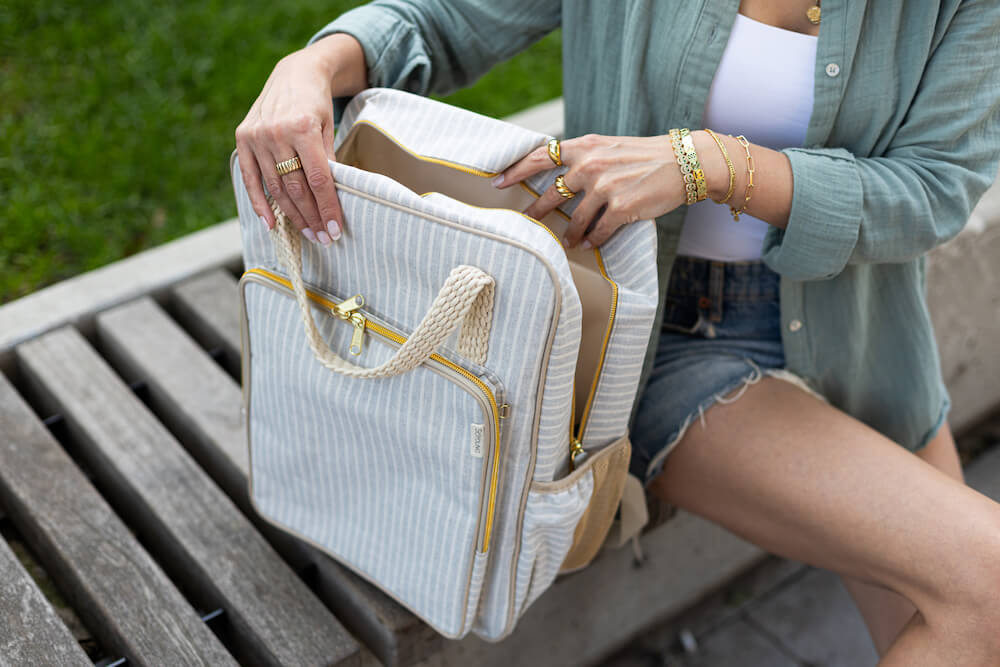 SoYoung, a Canadian and female-owned brand, is on a mission to make personal wellness sustainable, stylish, and self-empowering. Their commitment to empowering others stems from the founder's personal journey of overcoming addiction and finding inner resilience. With over 20 years of experience, SoYoung creates thoughtfully-made lifestyle goods that inspire individuals to break through their limiting beliefs and pursue their best life. One of their standout products is the Sand Stone Beach Stripe All Day Backpack ($119.00), a versatile bag perfect for any adventure. With its stylish beach stripe design and thoughtful features, this backpack embodies the brand's dedication to combining fashion, functionality, and personal empowerment. SoYoung's products, like the All Day Backpack, not only help individuals carry their essentials but also serve as a reminder to believe in one's own potential and pursue a greater vision.
Herschel – Classic Backpack XL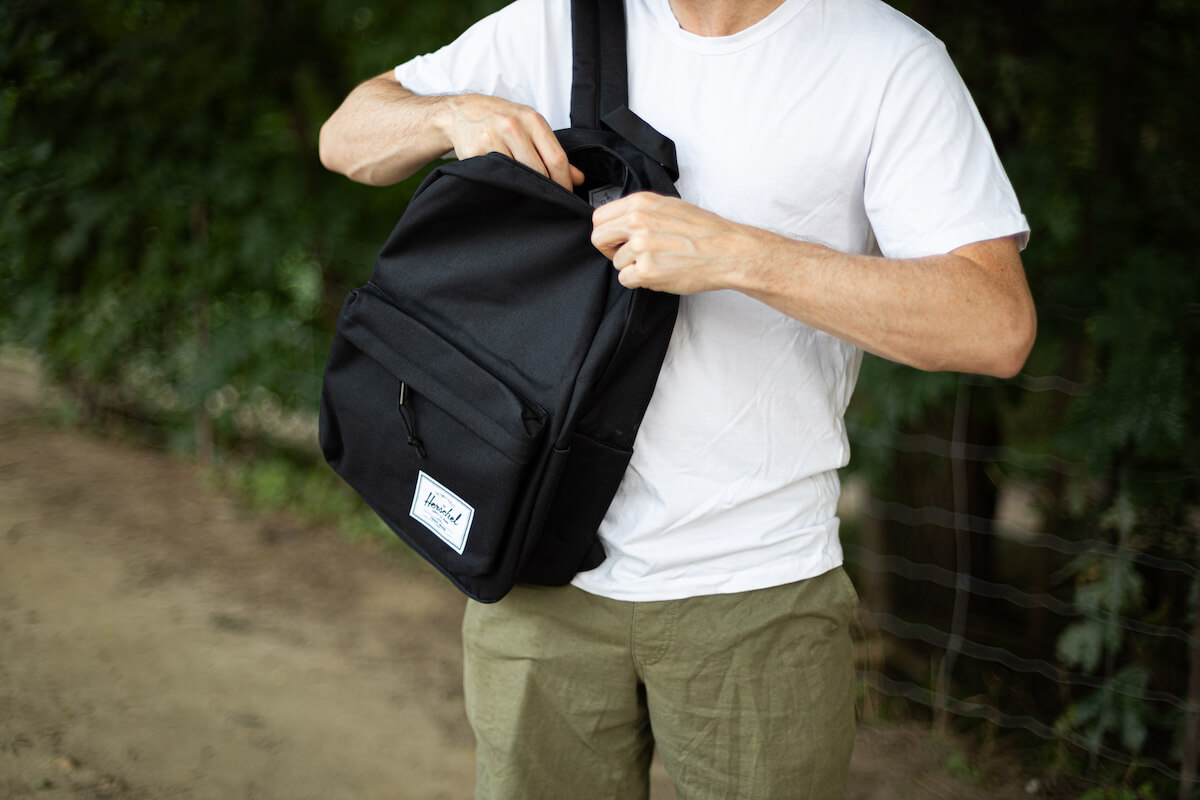 Herschel Supply Company, a renowned Canadian brand, is a go-to choice for those seeking stylish and durable bags and accessories. With a commitment to quality and craftsmanship, Herschel creates products that are not only functional but also aesthetically pleasing. From backpacks to luggage, their collection caters to various needs and preferences. One standout product from Herschel is the Classic Backpack XL in black ($75.00). This spacious and versatile backpack boasts a timeless design and ample storage space, making it perfect for daily commutes or weekend getaways. The bag's durable construction and attention to detail ensure it can withstand the rigours of everyday use. Herschel's dedication to quality extends to their Limited Lifetime Warranty, assuring customers that their products are free from material and manufacturing defects. Whether you're a student, a traveler, or simply seeking a reliable bag, Herschel is a brand that delivers on both style and functionality.
Hemlock & Oak – Planners, Notebooks and Stationery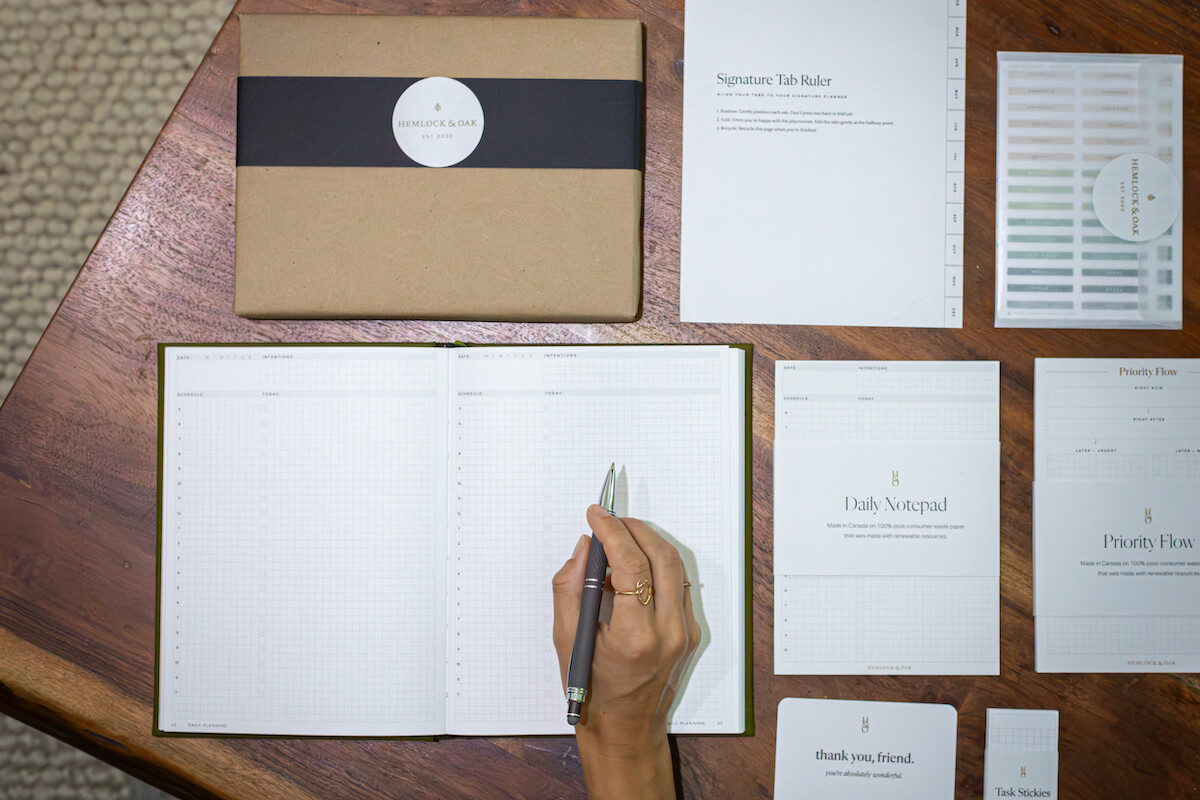 Hemlock & Oak is a Canadian company that specializes in creating high-quality planners, notebooks, and stationery. Their products are proudly made in Canada and offer customers a range of options to organize their lives and express their personal style. One of their featured products is the 2024 Weekly Planner, which is available at a regular price of $62 but currently on sale for $59. They also offer the 2024 Daily Planner, available at a regular price of $84 but currently on sale for $79. Additionally, Hemlock & Oak offers the 2024 Minimalist Planner, the Undated Weekly Planner, the Undated Daily Planner, and the Dotted Notebook. These products provide customers with various formats and designs to suit their planning and note-taking needs. Each planner offers you opportunity to think through what your personal and professional values are, yearly and monthly goals, and check in to see how you are meeting them. Hemlock & Oak is a go-to destination for individuals who value well-designed, Canadian-made stationery products. We also loved their to-do-list sticky notes for inside your daily or weekly planner, their priority list note pad to give guidance on what is most important and what can be left when you have lots on the go and their self care oriented stickers for inside your daily work weekly planner to make sure you set aside time to take care of you. They also ship in very cool Canadian-made keepsake boxes.
gry mattr – Bag and Notebooks
Gry Mattr, by Joe Mimran, is a Canadian company that specializes in sustainable and vegan products, including bags and notebooks. Their commitment to ethical manufacturing and eco-friendly materials sets them apart. Gry Mattr offers a range of stylish and functional vegan bags that cater to different needs, whether it's a backpack, tote, or crossbody bag. These bags are made using high-quality synthetic materials that mimic the look and feel of leather without the use of animal products. In addition to their bags, Gry Mattr also provides a selection of vegan notebooks made from recycled or FSC-certified paper. These notebooks offer a perfect companion for jotting down thoughts, ideas, or even sketches. You can find Gry Mattr's vegan bags ($24.98), Gry Mattr 2023 Dated Planner – Black ($19.98) and notebooks ($15.98) at Staples, a trusted retailer that shares their commitment to sustainability. Choose Gry Mattr for cruelty-free, eco-conscious products that combine style, functionality, and ethical values.
General Supply Goods and Co.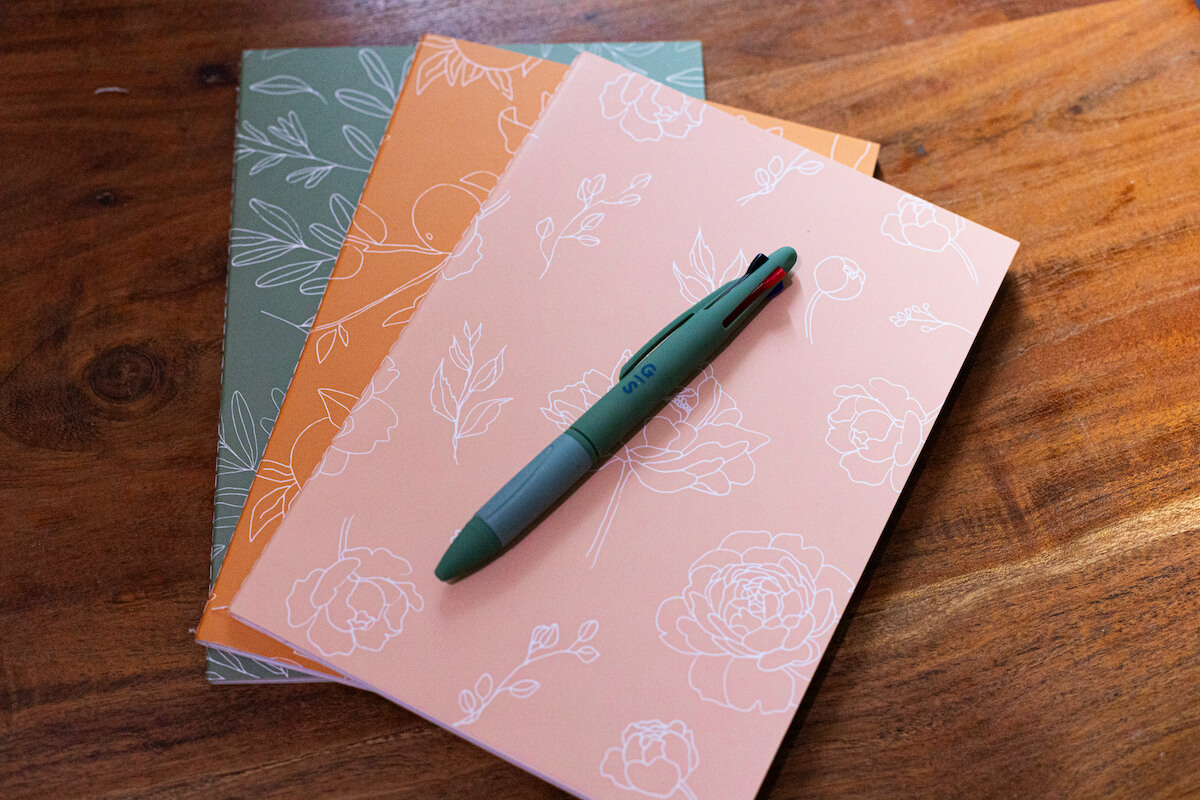 General Supply Goods and Co. is a Canadian company known for producing a wide range of high-quality products, including notebooks, that are available at Staples. Their commitment to craftsmanship and functionality is evident in every item they create. One of their popular products is the Classic Notebook, a versatile and durable option that is perfect for note-taking, journaling, or sketching. It features a sturdy cover, smooth pages, and a lay-flat design, making it convenient to use. Additionally, General Supply Goods and Co. offers a variety of specialty notebooks tailored to specific needs such as the Project Planner, Meeting Notebook, and To-Do List Notebook. We love their Soft-Touch Notebook – Floral Designs – 3 Pack ($9.99). These specialized notebooks provide users with structured formats to stay organized and productive. You can find General Supply Goods and Co.'s exceptional notebook collection at Staples. Choose General Supply Goods and Co. for durable, functional, and stylish notebooks that elevate your productivity and creativity.
Pep Rally – Bags, Stationery and Accessories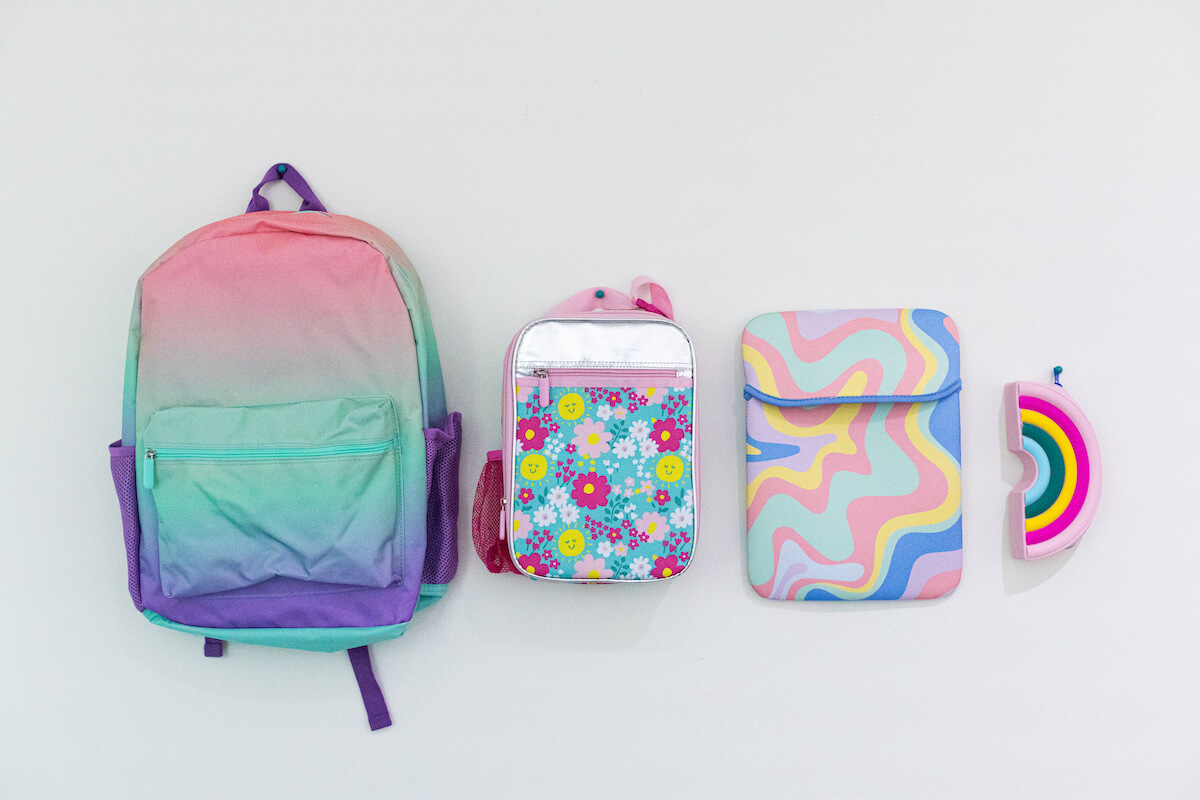 Pep Rally is a reputable Canadian company that offers a diverse range of products available at Staples. Their product lineup includes a variety of colourful and vibrant stationery items that are both functional and stylish. For instance, they offer the Pep Rally Display Calculator in multiple colours such as Green, Pink, Blue, and Rainbow Stripe, providing a fun and practical tool for quick calculations. Additionally, Pep Rally offers Printed Pencil Boxes featuring playful designs like Balloon Pup, Dino, and Colourful Faces, providing a trendy and convenient way to store school supplies. They also offer other stationery essentials like Two Hole Sharpeners, Erasers, Composition Books, 3-Ring Binder Pouches, Fashion Pencils, and much more. With Pep Rally's unique and eye-catching products, students and professionals alike can add a touch of personality to their everyday tasks and stay organized in style. We loved their backpacks ($23.98), insulated lunch bag ($17.58), tablet / laptop case (14.38) and cute rainbow pencil case ($10.98). You can find a wide variety of Pep Rally products at Staples.
NOTA – Stationery and Accessories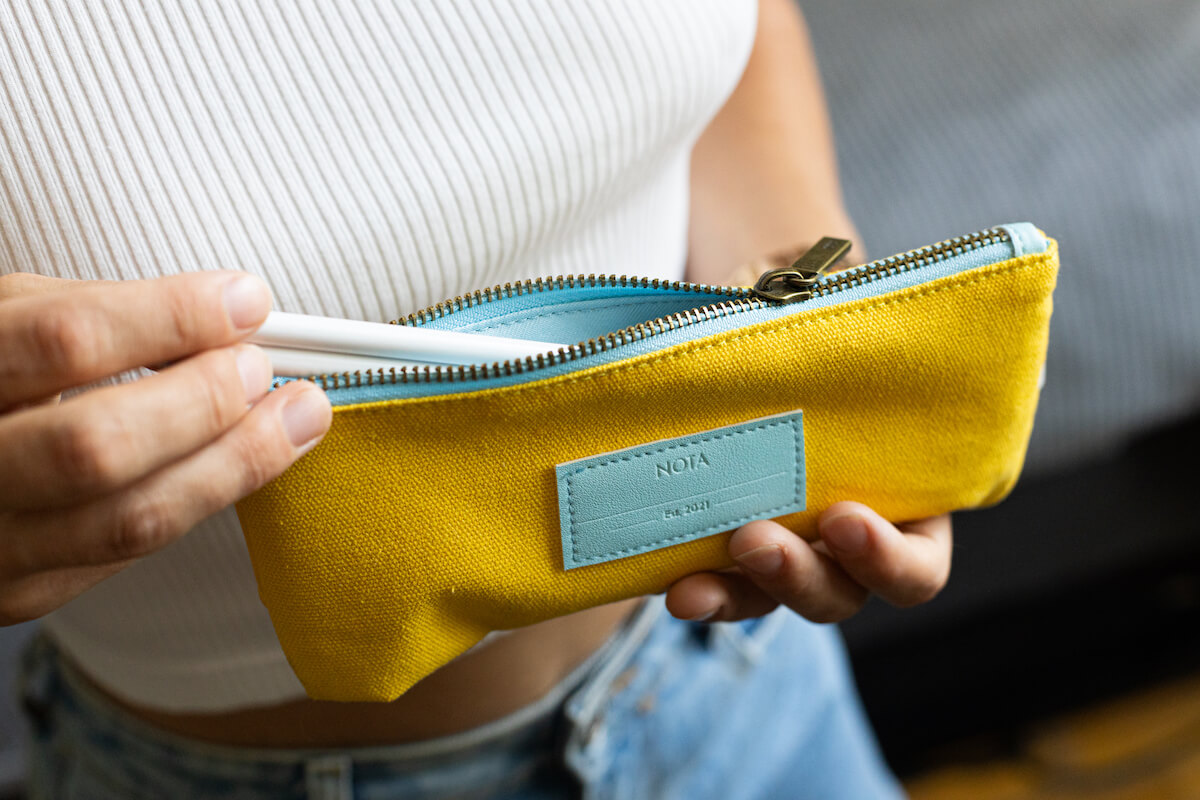 NOTA is a Canadian company that offers a wide variety of stylish and functional stationery products. Available at Indigo, NOTA's collection includes a range of items that cater to different needs and preferences. For instance, they offer the Workbook Notebooks, Set of 3, which provides ample writing space and is perfect for taking notes or jotting down ideas. Another popular option is the Coptic Memo Notebook, renowned for its unique design and durability. Additionally, NOTA offers products such as Scented Highlighters, Set of 6, Elastic Band Planners, and Index Cards, Set of 60, all designed to enhance productivity and organization. Their Bookmark Elastic Pencil Pouch ($14.99), Multi-Compartment Pouch and Front Pocket Pouch provide stylish and practical solutions for storing stationery essentials. With a vast selection of high-quality products like soft-touch pens, magnetic bookmarks, and erasable gel pens, NOTA at Indigo is a go-to destination for those seeking trendy and functional stationery options.
Auria – Water Bottle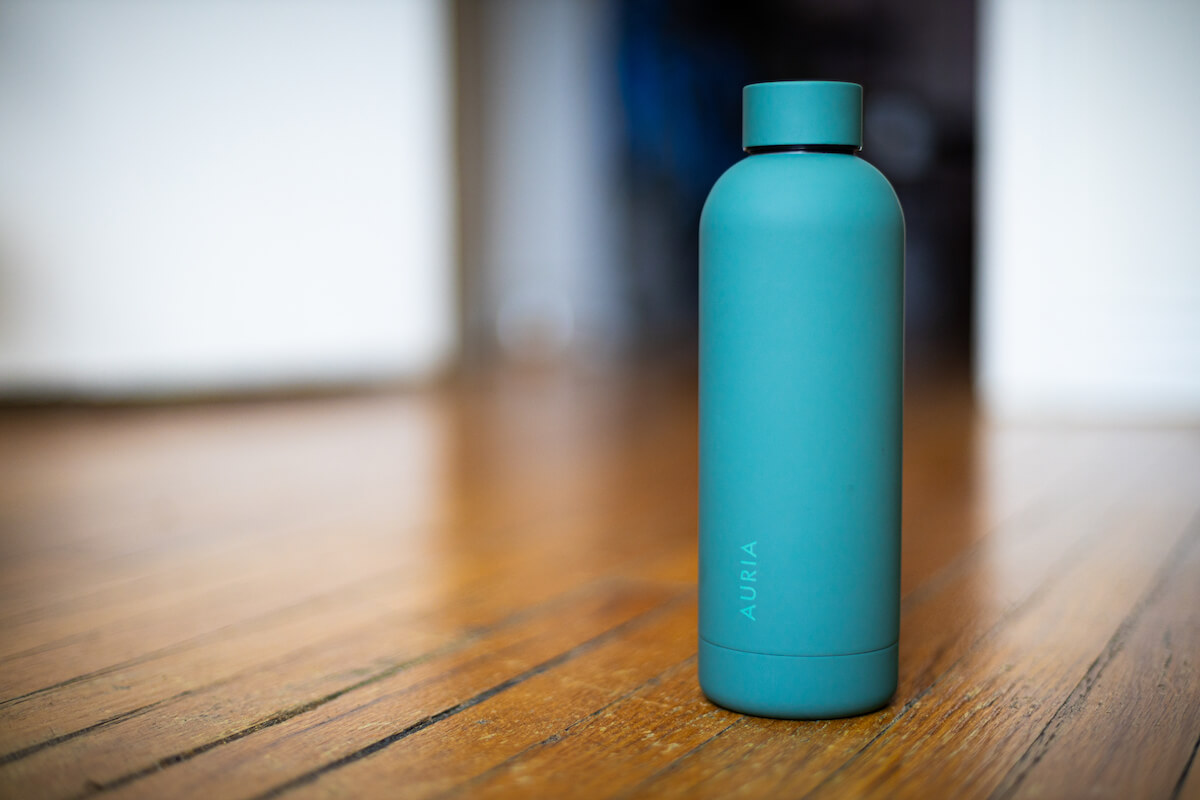 Auria, a Canadian company, brings you their exceptional Soft Touch Water Bottle ($14.99), available exclusively at Indigo. This stainless-steel water bottle features a vacuum-insulated construction that keeps your beverages cool for longer periods. With a 17-oz./500ml capacity, it's perfectly sized to fit most standard cup holders. The leak-free bottle top ensures you can stay hydrated at the gym or on-the-go without any worries. Additionally, this water bottle is designed for convenience, as it can be easily hand washed. With its sleek and functional design, the Auria water bottle is a must-have accessory for those looking to stay hydrated in style.
Indigo – Laptop Stand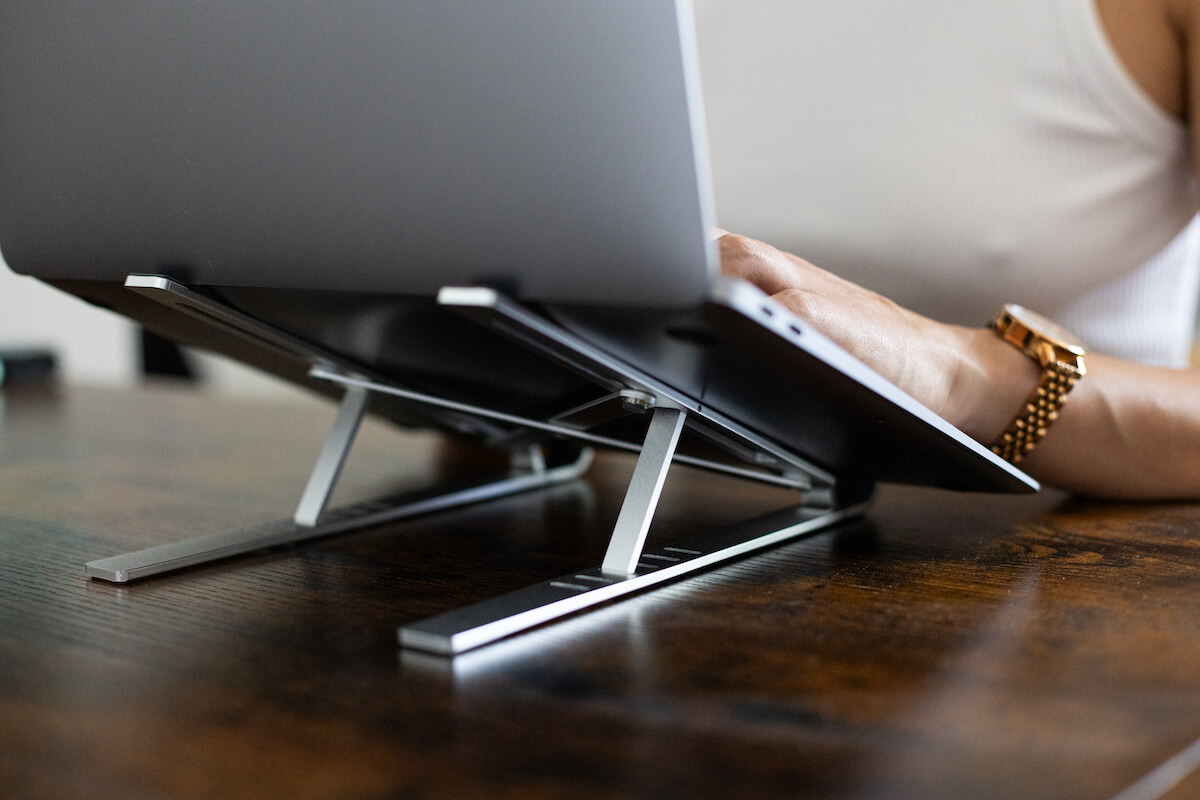 Indigo offers a versatile Laptop Stand ($30.00) designed to enhance your productivity and comfort while you work. This stand features adjustable height and angle capabilities, providing the flexibility you need to find the perfect position and reduce strain on your back and neck. Additionally, the stand is designed to facilitate air flow and prevent your laptop from overheating. Its lightweight and compact design make it easy to carry with you wherever you go, whether you're working remotely or in the office. The laptop stand's universal design means it can accommodate most laptops on the market. Truly versatile and portable, this laptop stand is a valuable accessory for anyone who spends extended periods of time working on their laptop.