Toronto has been a hotspot for global Drum and Bass for decades. Ranging from small underground parties and break-in events all the way up to massive shows at some of the city's biggest and hottest venues, DnB has been a staple in this city and retains a devoted following to this day. That longevity is reflected in part in the promoters who drive it, some of whom have been at the game for a decade or more.
I interviewed one such group for today's column. Soul In Motion has been dropping breakbeat bass business around Toronto for twelve years running. The three partners are deeply embedded in the Drum and Bass community as performers and have represented Toronto's music around the world, but it's right here at home that they shine the brightest. Read on to learn more about DJ Spinz, Mr. Brown, and Scott Free, and their quest to keep bringing high quality Drum and Bass to the masses.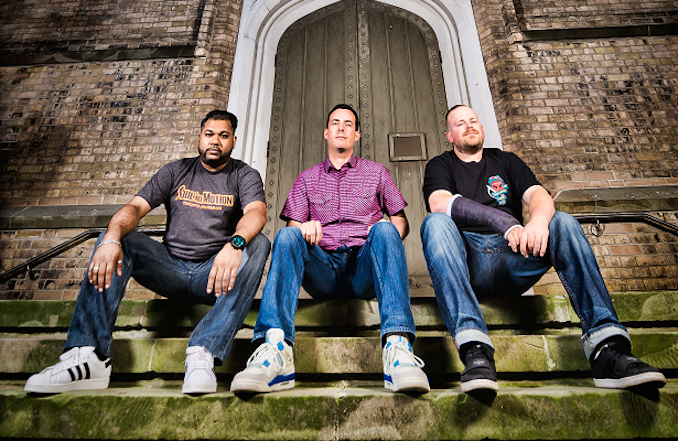 You've got a big show coming up in October, at the legendary (and soon to be closed) Guvernment. That's quite a move! Can you tell me about what you've got in store?
Absolutely, it is our 12 year anniversary and it's our biggest show to date. First off, the venue, Guv Main Room. Synonymous with some of the best dnb jungle shows this city has ever seen, just thinking about this show gives us chills as we prepare to bring the Soul In Motion vibe to that great space. AND! It could very well be the last dnb & jungle show in that room, so it's one for the record books.
Secondly, the headliners. First off, we have one of, if not THE, hottest producers in our scene in S.P.Y representing the biggest label in Hospital Records. The recent release of the second part of his album, Back To Basics Chapter 2 is a masterpiece. From start to finish, it is the definition of the sound that keeps me loving this music every day. We've also got our good friends the Brookes Brothers joining us as well. These guys are basically extended SIM family as they've played for us a number of times over the years and they always perform at the highest levels. We can't stress enough how excited we are for this show. The date can't come fast enough.
What have you got planned for Soul in Motion after that?
Scott Free: First up, mandatory vacation from one another. We're like brothers, but after a show, we always take some personal time and recharge. After that, it's right back into planning mode, we've got SIM NYE coming up and it'll be our 6th or 7th year in a row of hosting a show, and every year is a roadblock. So we'll be jumping into that both feet shortly after the 12 year, and then it's on to 2015. The crystal ball isn't so clear at the moment, so we can't give you any details, but rest assured we will be working diligently to bring you more great shows with new headliners both from around the globe and locally.
Tell me a story about one of your favorite headliners you've hosted.
Scott Free: Rarely do we walk away from a show without a story, but one of the most legendary stories involves a post-show trip to Chinatown and inquiries about how much it would cost to just hold one of the lobsters from the tank. There was no intention to eat the lobster, just to hold it, and possibly play it like a guitar.
What is your favorite part about living and working in Toronto?
Scott Free: What can we say, this is the city I was born and raised in, it is my home. I love it here, it is where I am most comfortable. I love how there are so many neighbourhoods, each with it's own character and charm. I love that we are influenced by all those that have come and set down roots here. Musically, although the city's relationship has been rocky at times, our scene has been able to grow and reach heights unseen in other cities not just in this country, but around the world. And I'm so proud of the part that we have played in that.
Tell me a bit about Soul in Motion.
DJ Spinz: Soul In Motion, is a partnership between Scott Free, Mr Brown and myself, DJ Spinz. We're collectively known as an events company although the idea behind everything we do is to promote Drum & Bass and Jungle music in every way we can. Our main focus is always the events and making each one, big or small, a reflection of what we feel is the best music happening at that moment. Since the three of us are all DJs with our own followings and musical tastes, we tend to draw on that for show ideas. Its not always about what can bring the most people to a show, for us it has to start with the music. If we really feel strongly about an artist, we'll get them on a plane, train or automobile and get them in front of our crowd. At the end of the day, knowing that we're helping push the music forward in this city is what makes the risk worth it.
Apart from that, the umbrella of Soul In Motion, or SIM as people like to call us, is now expanding to form smaller side project shows which you'll be hearing about soon. As well as it encompasses podcasts, radio shows and maybe even a SIM tour or two outside of Toronto.
So you've been running events in Toronto for quite a while. How has the scene changed in that time?
DJ Spinz: Its funny, because in some ways its changed a lot, and in some ways its not changed all that much. The part that hasn't changed is the energy. There always seems to be a different vibe happening at DnB shows, and as much as you'll hear the expression "its not like the old days", for someone in that audience, these are the best shows of their life!
The great thing about Drum & Bass is that its never been a fad, its always had roots here; so while other types of music seem to come and go by the season, D&B is an ever evolving ebb and flow. There's always an artist or label that's pushing the boundaries so there is always a party that we can build around that. The major change we've seen in the last couple of years is that with the increase in popularity of festivals and EDM shows, that has spilled over into our scene in a good way. As soon as people at those shows get exposed to D&B its a natural progression to want more when they get a taste of Electronic music that has a bit more meat on the bone so to speak.
When and why did you found the company?
Mr. Brown: The idea to form Soul in Motion came to me in a food court in 2002. I was frustrated with the climate of DNB as it pertained to "locals" at the time and wanted more. I mean, I'll always be grateful to the people that help me get started like Mystical Influence, Sniper and Marcus Visionary, but it was time to create another tier. Initially, SIM was to be a platform for locals to presented as the headliner and not just the warm up act. The idea worked great! Over the years, by giving opportunities to many local DJ's, we grew and grew, until we decided it was time to start thinking about moving to the next level. The rest is history.
You're quite the DJ as well, I happen to know. What are your DJ plans for the next few years?
Mr. Brown: Well first of all, thank you. Im pretty blessed to be honest. I mean, I don't own a record label and I don't produce (yet), and despite this, I still manage to play almost every weekend in town, all over Canada, many cities in the states and even over the pond! Right now I'm enjoying it and trying to not think too much. I've had a few invitations to play in Europe in 2015 so that would be pretty cool. Right now, I'm working on Prophecy Radio (North America's longest running "on air" radio show, going into our 20th year) and hosting events with my other companies, Forward DNB and Junglist Movement with Marcus Visionary. Also I didn't think I was busy enough, so myself and Rick Toxic started a Sunday weekly called "Church" at Tota Lounge…and its been doing great!!!
Keep up to date with them on Facebook page.
———————————————————————————————————–
VIDEO RODEO: With Nuit Blanche around the corner, our thoughts turn quickly to the always entertaining Renegade Parade. This year's parade will be going forward thanks to some help from Kigurumi Canada and a timely IndieGoGo campaign (there's still time to chip in and secure yourself a spot riding on the float). Get a taste of what you're in for with this video of one of the previous parades!
ATTENTION: VIDEOS WANTED!  Did you have a great time at a rave or EDM event and managed to capture it on video? We'd love to showcase short clips of you and your friends having a great time with great music.  Reach out to us with your name, the name and date of the event, and a link to the video if you'd like us to consider yours!
————————————————————————————————————
Looking for a party? You've come to the right place! Below is a sample of what you can find this weekend and next in the rave and EDM community around Toronto. For more EDM event listings and reviews, check out our friends at EDMTor.com!
UPCOMING EVENTS: HOUSE OF DUST: ATISH – Friday, September 26th – 8 PM *TONIGHT*

Burners unite! Atish comes all the way from San Francisco after playing on the Robot Heart bus at Burning Man alongside some of the world's finest DJs and is sure to bring the vibe with his unique take on house music. Tickets are just $10 before 11 PM and can also be purchased online or at the door of Cabal (782 King
UPCOMING EVENTS: SPIN TURNS 3 CELEBRITY PING PONG TOURNEY – Friday, September 26th – 8 PM *TONIGHT*

You might not expect this section to cover a ping pong tournament, but this one features DJ Washed Out laying down the beats while some heavy hitting celebrities bat balls around in the name of charity – including our own chief editor Joel Levy. Come check it out  at 461 King Street West – no cover, but bring your cheering voice!
UPCOMING EVENTS: SUBSPACE FETISH BALL: HEAVY METAL – Saturday, September 27th – 10 PM *TONIGHT*
Subspace is an institution in this city's dance music scene (among others) and this weekend's event returns the iconic brand to the Great Hall (1087 Queen Street West). Featuring a fashion show from Lady Violet Designs and of course plenty of great beats from Subspace resident Saucy Miso and special guest Johnny Extreme, the party is sure to be as wild as ever – and at just $10 before midnight, what have you got to lose? You won't regret checking this out!
Your bonus link this week: Well it was all the rage on social media this week – people are looking to jump ship from an increasingly unusable and invasive Facebook platform and along came Ello just in time. Whether the new platform has any staying power remains to be seen, but for the meantime you can check it out. But hey, it's invite only – check the page to request an invite. And feel free to follow me if you like.