After 2 years in pandemic restraints, VELD has made its electrifying return to Downsview Park Toronto. With an impressive line-up of EDM and HipHop spanning three stages, this year's 3 day annual festival was the biggest to date.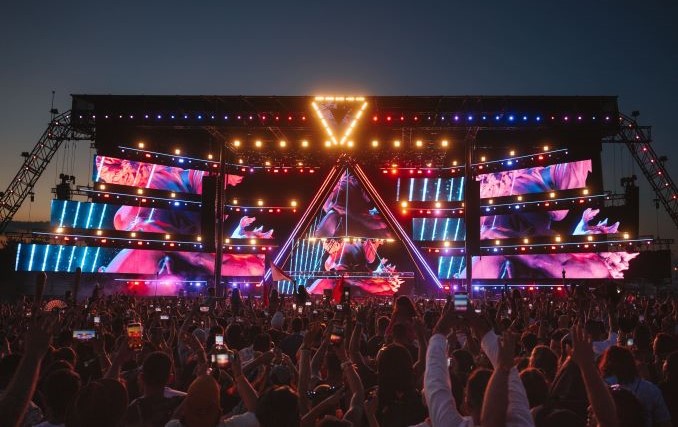 As fans rolled in and days went by, we were able to sit with a few DJs. Get some insight into how some artists feel after everything around was put on hold for so long.
Fans were excited to welcome local Frank Walker. A Canadian DJ, EDM Producer and songwriter he was overwhelmed with love and super excited to drop some bangers back in his hometown. Feeling blessed and grateful he travels the world doing what he loves, constantly keeping it fresh using other genres and beats as his influence.
Meanwhile, hitmaker and butt shaker BBNO$ hit the stage and did not disappoint. Decked out in a designer cream suit with flash fast food and pearls, he was able to take a moment from his "cling clang" and sit with us.
What motivates you to create music?
"Ummmm….there's nothing better to do. I mean, what motivates you to do what you do? …I mean it's fun, I get to have fun"
Tyler Marenyi, better known by his stage name NGHTMRE is an American DJ and EDM producer based in Los Angeles, California. Back after 3 years, he felt truly welcomed by fans here in Toronto. With his super chill style and blazing, he laid it down for all festival goers.
What inspired you to make music?
"From an early age my mom put me in piano lessons, at first I hated it.. but after one lesson I was hooked"
From there he went on to play different instruments, later saying he fell in the EDM, dubstep rabbit hole and that was that. Taking inspiration from years of music and finding solace in his art, Tyler has created a big buzz about his upcoming debut album "DRMVRSE" set to release on September 9, 2022.
Not only did INK Entertainment deliver their grandest production yet, but planning for the 10th Anniversary of VELD 2023 is already on the way. With talks of a world-renowned lined up, VELD will continue to elevate festival goers' experience, immersing them in booming drops, vivid light shows and smoking guns. Newbies and VELD vets will forever be left hooked.
The 2023 Event will again return to Downsview Park on August 4th, 5th & 6th 2023. Can't pay all at once? Payment plans are available, with first payment starting at only $20.23 CAD.
Don't wait! Tickets sell out fast.