Ardo Group is made up of three Sicilian-inspired hospitality brands: ARDO Restaurant, Dova Restaurant and Vivi Imports Corp. run by Jacqueline Nicosia in partnership with her husband Chef Roberto Marotta. We spoke with her to find out more about what they do.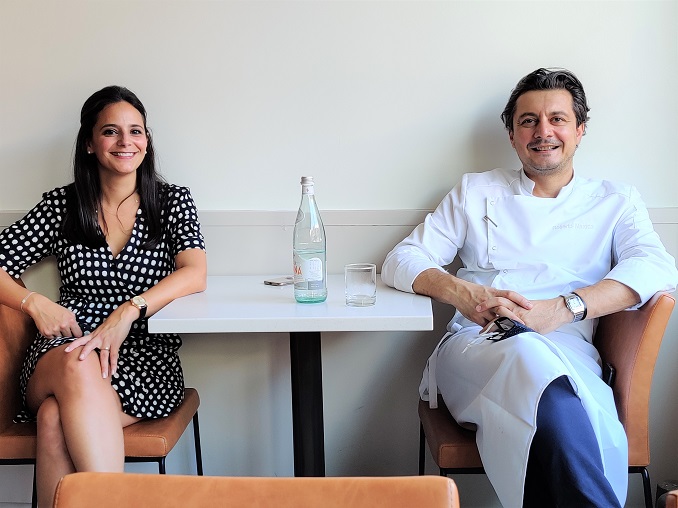 What made you want to do this work?
Rob grew up in Sicily and I am a first-generation Canadian with a deep connection to the region and a passion for all it represents. We actually met and fell in love there! We wanted to bring brands to the city that are a true reflection of authentic Sicilian ingredients, wine and culture. We are fortunate to have complementary skills which made a business partnership make sense. Rob focuses on preparing standout menus and dishes while I manage operations and run the cocktail program at our restaurant in addition to special events. Dova specifically has fantastic private event spaces and a fabulous patio.
What problem did you want to solve with the business?
When we opened our first business, it was because we saw a gap in the market. There didn't seem to be any restaurants in Toronto that focused on the simple and thoughtful preparation the region is known for without pretension. Sicilian fare really is about the best possible ingredients, traditional preparation and respect for what's local and seasonal.
When we opened Dova, our second restaurant which was actually selected for Canada's Top 100 List in 2021, we wanted to pay homage to Sicily's exciting terroir and culinary traditions but infuse inspiration from the Mediterranean basin. Handmade artisanal pastas, fresh-caught fish and ethically sourced meats are the tipping point for Dova's cuisine.
Who are your clientele/demographics?
Torontonians who love food, wine and gathering with family and friends. Our brands are elevated but accessible. This is important to us.
How does your business make money? How does it work?
We offer fantastic food and drink in a welcoming environment and with Vivi Imports, we make it possible for our clients to enjoy high-quality Sicilian brands that are less accessible in North America.
Where in the city can we find your profession?
Both of our restaurants are in the east end of Toronto. Ardo is located at 243 King St E, Toronto, ON M5A 1J9 and Dova is in Cabbagetown at 229 Carlton St., Toronto, ON M5A 2L2. Vivi Imports is e-commerce based and some of our products can be found at boutique grocers around the city.
What is the best question a prospective customer could ask a member of your profession when comparing services? Give the answer as well.
If you're comparing Sicilian fare specifically, it is all about the quality of ingredients. True Italian food is rarely heavily processed. The best expressions of the region reflect that.
What is the best part about what you do? What is the worst part?
Bringing our clients joy through fantastic food, drink and service and helping them celebrate occasions big and small. We have many loyal clients and are often part of their life milestones. Personalized, genuine service is something we both insist on.
Hospitality is always a challenging industry. The global pandemic was certainly a tremendous learning opportunity that brought us back to our values and purpose. We have two young children and spending time together as a family is essential. Demanding hours and both of us working in the industry can make that hard at times.
What is your favourite joke about your own profession?
There are too many to list!
Where can we follow you?
Ardo Restaurant | Dova Restaurant | Vivi Imports
PAY IT FORWARD: What is another local business that you love?
The Terroni group. They started with one location and have just kept evolving and expanding to where they are now. Cosimo Mammoliti (owner) was also Toronto born and felt that strong connection to Calabria as I do with Sicily, which is the backbone to our businesses. They have stuck to their unwavering values and have become an institution in our community.
On a smaller scale, a little boutique called Labour of Love in Cabbagetown. It is a female owned and run business. Regina Sheung is constantly finding ways to grow her business along with being a huge supporter of the businesses around her. She recently installed a little demo kitchen to start offering evening events to learn new cuisines or to see how some of her products can be used in the kitchen.