I recently paid my first visit to the Aga Khan Museum in Toronto to try their restaurant Diwan which was recently taken over by the McEwan Group. The restaurant, much like the museum, focuses on creations from the Middle-East, Northern Africa and Southern Asia.
The room is beautiful with floor-to-ceiling windows and decorations that include 19th-century wooden panels hand-carved and painted in Damascus, Syria. The room is open spaced with very high ceilings.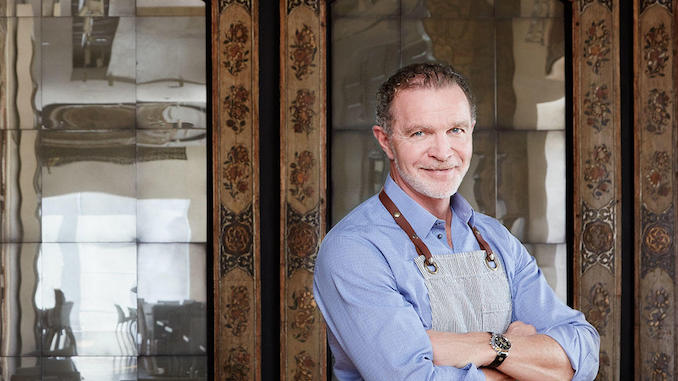 The venue is only open for lunch but occasionally runs a dinner menu for special events and dates (see bottom of post). It is open for lunch from Tuesday to Sunday, 11:30 am to 2:30 pm.
For our latest visit, we got to try 2 of their appetizers, 2 mains and a couple of their desserts, which were amazing.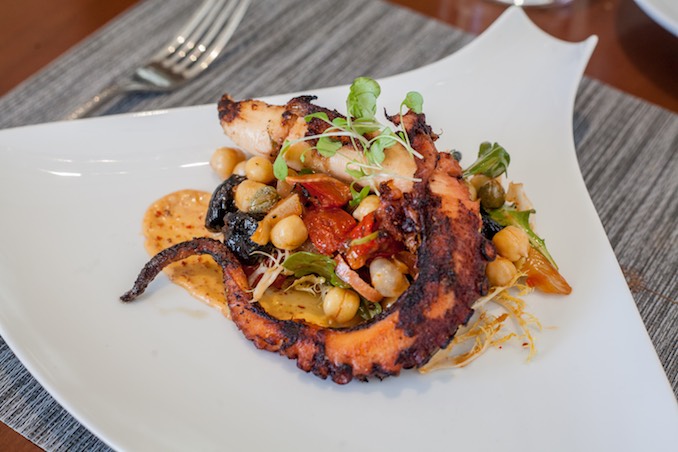 GRILLED OCTOPUS – $16
One of their more popular dishes, the grilled octopus was cooked to perfection. At times octopus can be either under cooked and rubbery or over cooked and tough. The grilling adds a nice charred flavour while keeping the meat chewable. The dish is served with a green chickpea salad, Moroccan olives, sweet stewed peppers, sujuk and Aleppo pepper aioli.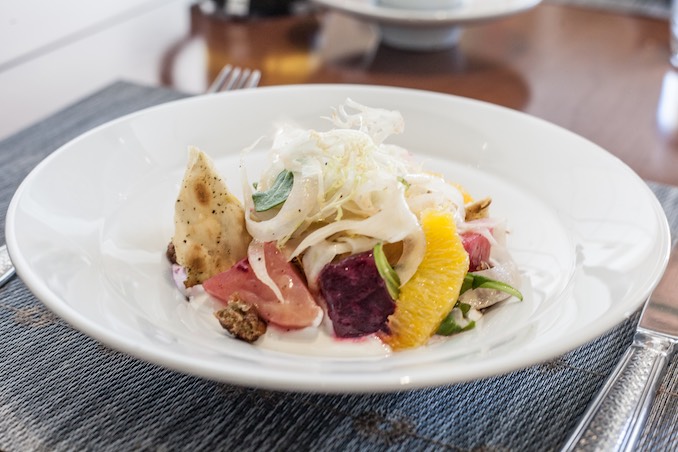 ROASTED BEET SALAD – $13
Fresh and creative, the Beet Salad combines orange, fennel, labneh, citrus vinaigrette, honey-roasted pistachios and lavash. The beets are evenly cooked to the point that they retain a bit of their crunch while still being able to easily slice them. Beets are a great source of vitamins and nutrients as well. You can get vitamin C, iron, fibre and antioxidants from eating them.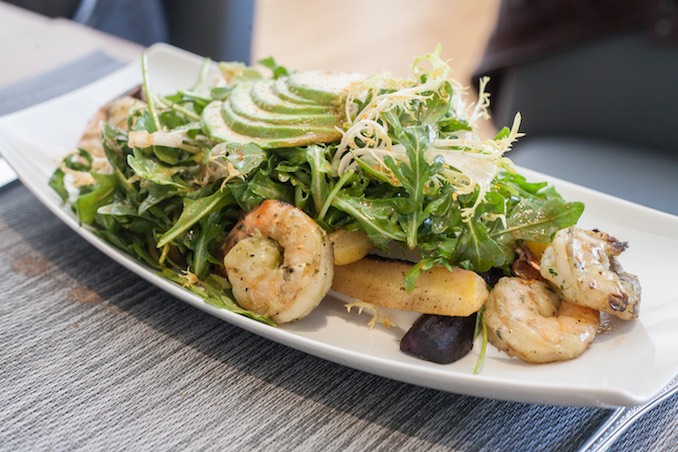 CHERMOULA-MARINATED PRAWNS – $23
More of a salad than a prawn dish, this main course has chermoula spiced prawns on a bed of coriander, avocado, roasted heirloom carrots with labneh and orange-cumin vinaigrette. The carrots, much like the beets, were cooked to retain a slight crunch while being evenly cooked and easily sliceable.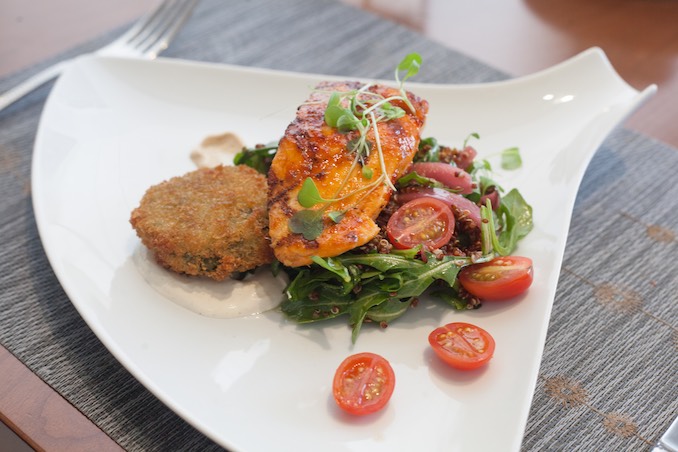 GRILLED SALMON – $24
The salmon dish was very flavourful, tender and moist. The fish is glazed with a sweet harissa and served on a bed of fresh arugula and cherry tomatoes with organic red quinoa. A spiced falafel is served alongside it on top of pomegranate yogurt.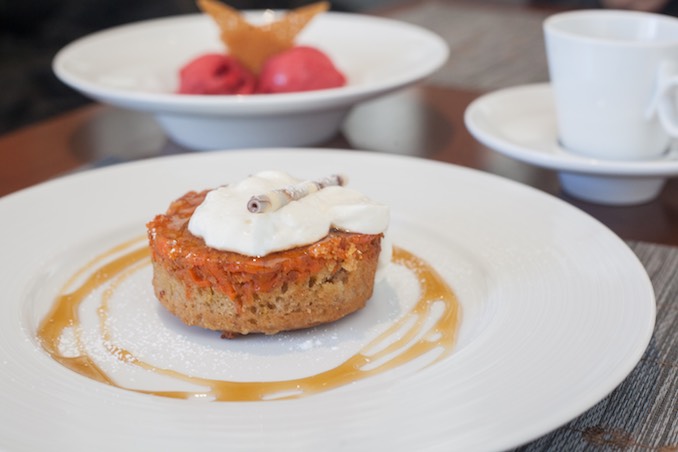 CARROT HALVA UPSIDE-DOWN CAKE – $10
This was so delicious. I was so stuffed after my meal that I had to ask them to pack it up for me after tasting. No way this was going to waste. If you like carrot cake or carrot muffins, you will love this sweetened version. It is spiced and served with a brown sugar reduction and cream cheese icing.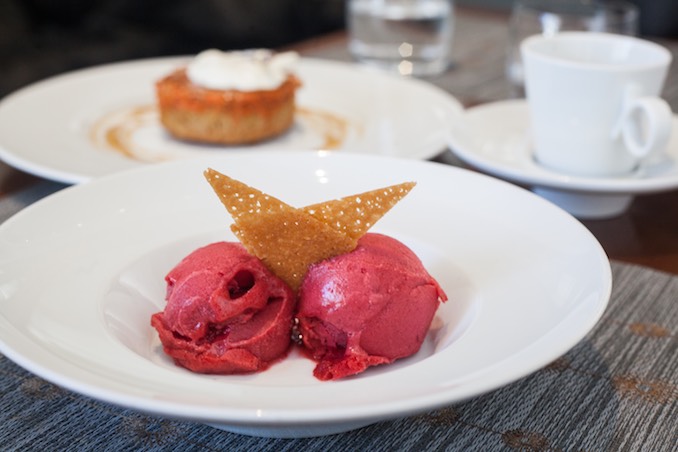 RASPBERRY SORBET – $8
My favourite flavour of the sorbets. Also try their cinnamon and coconut sorbets and ice cream.
Diwan welcomes walk-ins as well as reservations. Reach them at 416.646.4670 or book online.
SPECIAL DINNERS AT DIWAN
*Dinners begin at 6 pm on performance night and are $75 per person (performance ticket price not included). To reserve, please visit agakhanmuseum.org.
GREAT POET SERIES
Reflections on Rumi
Saturday, April 16
The incomparable voices of sisters Mahsa and Marjan Vahdat unite with the kamancheh, piano, and percussion to deliver exquisite interpretations of Rumi's poetry.
Reflections on Kabir and Khusrau
Friday, April 29
Master sitartist Shujaat Khan and singer Ramneek Singh, known for her pure, meditative style, interpret the works of two beloved Sufi masters.
WORLD MUSIC SERIES
DakhaBrakha — Showcase Performance
Saturday, April 23
Ukrainian quartet and self-described "ethnic chaos" band returns for another original performance.