High Park is Toronto's second largest public park with a ton of activities for all ages. It boasts some of the best nature hikes where you can easily get lost and forget that you are in the city.
It is located at 1873 Bloor Street West and opened in 1876. It is based on a piece of land that was given to the city by John George Howard and spans 400 acres. Though there is parking and a road going through the park, visitors should be aware that weekends and holidays remain car free. This means that those coming to the park are able to wander wherever they like and not have to worry about traffic.
Keep reading through our guide to High Park and plan your next outing.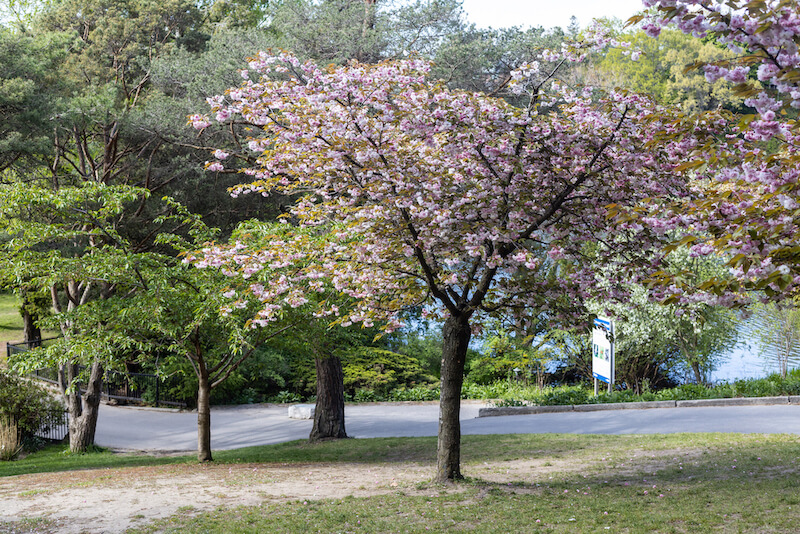 Cherry Blossoms
The Cherry Blossoms at High Park are one of the most popular attractions. The cherry trees or Sakura in Japanese are in bloom usually in late April or early May but you can follow their progress on the Cherry Watch website.
Most of the trees are located just southwest of Grenadier Café, though when the trees in bloom you'll just have to follow the crowed to find them. Hundreds of people come to the park to see these beautiful flowers and the park gets so busy that they close the roads and parking lots.
Train
Want to spend the day at High Park but do two different things on different sides of the park? Well, take the train! The no track train is a fun way to travel around the park, especially with little kids.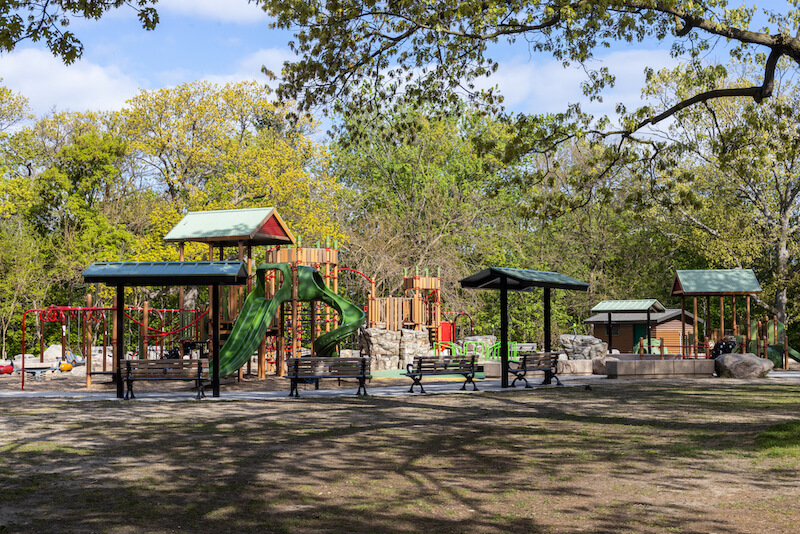 Playgrounds & Water park
If you are heading to High Park with the kiddos, there are two really great playgrounds to look for, one with a water park. The High Park playground and splashpad is just west of the Bloor Street entrance to the park and has everything your kids could ever want in a playground. There are multiple slides with climbing walls leading up to them. You can swing on the swings or take the spinning wheel for a spin.
Also, the splashpad is much more than a splashpad. Not only does it have a wading pool area, you can control the water, filling up buckets that will eventually cause you and all of your friends to get soaked.
Near the zoo is another large playground that has many structures the kiddos can climb up, run around and slide down. This is a great thing to do after the zoo as it will get their energy out and if you plan it out well, you can even have a picnic while you're there making this the type of outing that lasts the whole day.
Pool
A short distance from the splash pad, there is a public outdoor pool that is also free. The pool is open in July and August and has a big yellow slide that older children can go down again and again(children have to pass a swimming test in order to be allowed to go down it). Though you are not allowed food on the deck, there are two food options on either side of the pool which have plenty of hotdogs, hamburgers, fries and ice cream for everyone. This outing can easily take up some time in the summer so plan a day of it and soak up the sun while you can!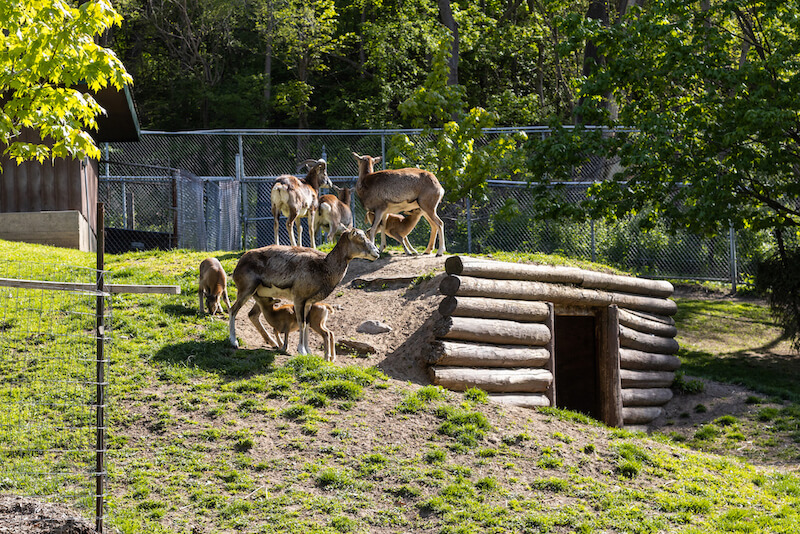 High Park Zoo
The zoo is located just south east of Coulbourne Lodge Drive a short walk from Grenadier café. If it is not the weekend or a holiday, you can easily park at the café and then walk down the hill to the zoo. The zoo at High Park has been around for years and is a quant place to show the kiddos some animals they may not know much about(you might have some questions too!) They have a variety of animals, with a lot of them falling under the large land animal category- think buffalo, yaks and elk. This quant zoo is a great place for the younger children as it is small enough that you will all have more than enough energy to see all the animals and possibly still go to the playground afterwards.
Grenadier café
Need a break from all the walking/running/cycling/skating? The Grenadier café is the perfect place to take a break from all the different the activities you can do around High Park. It is centrally located and has really great food, good coffee and of course, ice cream. It also has a bathroom, so if you would prefer an indoor bathroom, this is a great pit stop.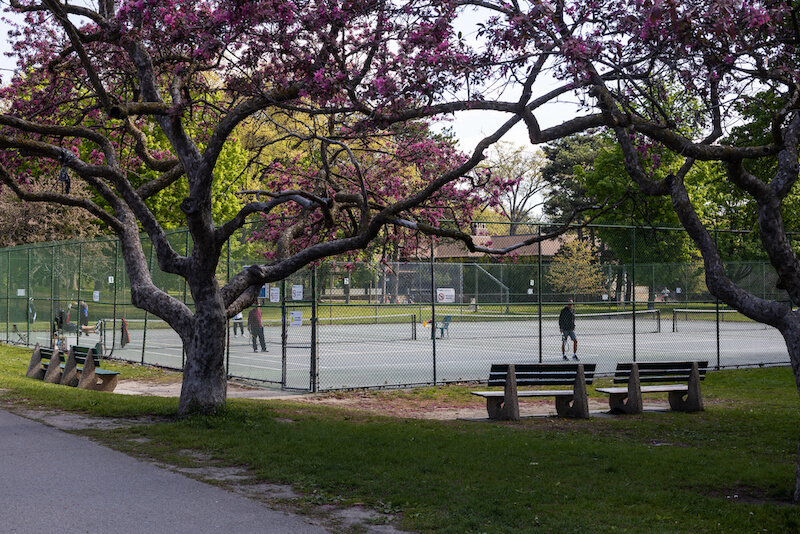 Sports, sports, sports
There are two tennis courts, skating rink and plenty of trails for bikes or runners in High Park. The High Park tennis courts are open year round, and yes, people will play tennis in the winter. The skating rink is right beside the pool and will have hockey on one side and free skate on the other. There are also soccer fields and baseball diamonds that are in constant use during the summer.
Year round you can see runners and cyclists racing around the different trails and along the roads during no car weekends and holidays. And if you want to get lost in the woods, there are plenty of non-paved paths that you can get lost on. These windy trails can get you anywhere in High Park and if you are lucky you might even see some wildlife in the form of birds, ducks, fish (in the pond of course) and hundreds of squirrels and chipmunks.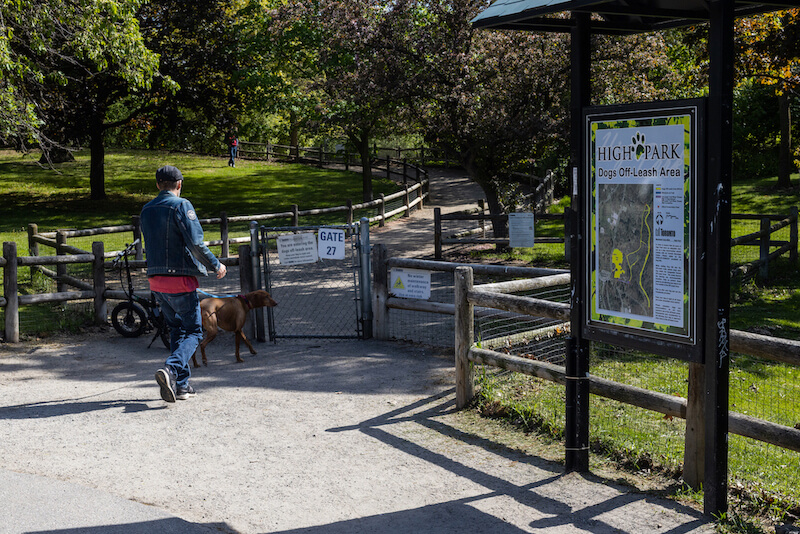 Dog park
Also called Dog Hill, there is a huge off leash dog park just east of Grenadier café. The dog park is fully fenced in, though there are also off leash trails leading up to the park so if your pooch loves an off-leash romp there is plenty of space you and them to wander. You want to assume there will always be other people and dogs at the park as this is one of the favourite spots of all High Park area dog walkers.
Dream in High Park
This is the Canadian Stage outdoor amphitheater which puts on plays every summer. It is located just south of the dog park and visitors will be entertained while seated in the woods. They also do a summer music festival, so keep checking on what they're planning next!