Tattoo studios have changed so much from when I had my first ink in the early 2000s. Mostly seedy hole-in-the-wall spots that one could go and pick from a standard book of designs or the artists who work on creating something unique and original. Back then fine-line tattoos were not common here in the city. They were heavy and thick. Then technology and skills of the artist evolved so did the industry. Now, it seems like everyone (and their mom) wants finer lines and these designs exploded on the scene.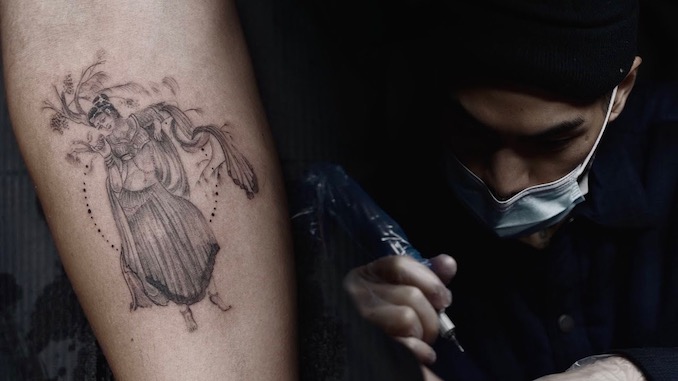 Prairie Koo aka Mr. Koo is one of the city's most popular tattoo artists. Specializing in fine line micro realism tattoos with a geometric touch, he has become sought after for his work. He's also collaborated with brands including Nike, Raptors, NBA, Doc Marten, Jameson Irish Whisky, and many more.
Koo grew up in Hong Kong prior to landing in Toronto. His career in the graphic design paved the way for him to work in the interior design architecture industry as well as an art director for several magazines. This path also led him to become a tattoo artist. He co-founded Ink & Water Tattoo Studio in Toronto. Not only does he create some incredible work, but his studio also has a mission to be more welcoming and also inclusive. While Koo's career is evolving, he's also finding his way to also becoming a mental health advocate through his art.
We had a chance to check in with Koo to learn more…
What was your very first tattoo on yourself?
Koo: First tattoo was jokingly done By Legendary Hong Kong tattoo parlour Ricky Tattoo. Open Since 1975, it's been the place where everyone from triads to tipsy tourists go to get classic designs – mostly tigers, dragons and Chinese deities. But since Ricky was the first tattoo artist in Hong Kong, he's old and has a shakey hand; I thought it would be funny to do a straight line around my arm, but he was only able to do a doted line. So I added a pair of scissors and did dotted line with a scissor at the end (cut here).
What is the most recent? 
Koo: Latest tattoo is a turtle tattooed by Frank Walker the popular Toronto-based DJ. Since I do all his tattoos, it was only right that he did one of mine.
There are many tattoo studios in Toronto, why did you decide to open your own?
Koo: When we opened Ink & Water, there were not that many shops like this in Toronto. The industry was lacking a welcoming and bright friendly shop with friendly faces. Now, it seems like there is a tattoo shop on every corner. But in 2015, when we opened the first Ink & Water, the demand was so high we could not even take a break. Now, the market has slowed and money is tight. The number of artists have probably tripled after Covid and it's slower than it has ever been. Everyone in the industry is feeling it so this is one of the reasons we are trying to support each there and give back.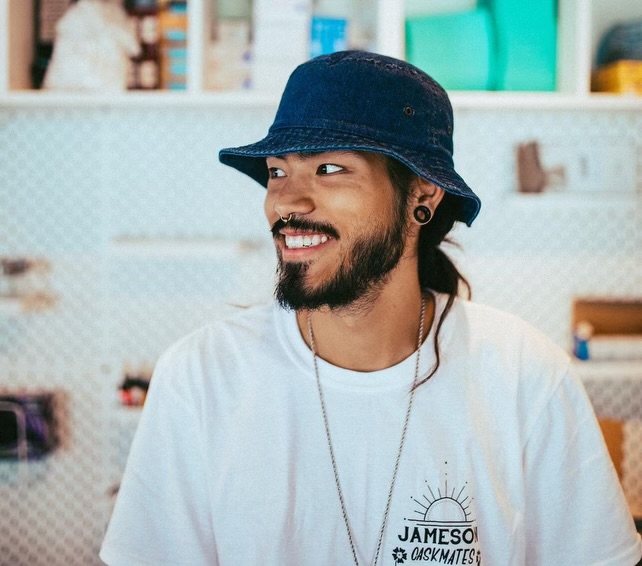 Tattoos are considered more of a form of art and expression. Tell us about your style?
Koo: Coming from a design background my style is a blend of realism and geometric. I went to school for graphic design and architecture so this came naturally to me. When I started micro tattoos in the city there really weren't that many people doing it but it suddenly blew up.
Finer lined tattoos have gained in popularity for the past decade. But what do you wish people to know?
Koo: Not everything has to be done in a fine liner. A lot of people assume because you line with a fine liner you have to share with one too. And if you need thicker lines you can just build it up with a fine needle. If you need a thicker line use a thicker needle. If you are filling in a larger space. Use a larger needle. Further, not every artist that describes him or herself as a fine line artist know what they are doing; a lot of them just started doing that and don't understand how deep they should go and how it will age. It actually requires a lot of detail. Also, fine line tattoos will get slightly lighter during the healing process.
You're also an advocate for mental health, can you tell us about what that means. 
Koo: Since I can remember my health has been horrible. Three years ago it became so bad I almost lost my life. My issues triggered daily panic attacks and it got to the point where I could not drive, leave the house, or even work. That messed up my mental health a lot. I lost touch with the outside world and developed a lot of anxiety and depression. Since then I have been a lot better after getting good healthcare in Los Angeles. I'm back on my feet and out and about. But still being haunted by my past at times. I use art to advocate and speak of mental health that has given me more purpose and understanding that I'm not alone.
How does the world of art and mental health blend for you?
Koo: Blends like a cup of coffee with cream; a match made In heaven. As naturally creative people, we are always looking for alternatives to make things better. Being able to create daily, while meeting interesting people, I can't ask for more. Some of my closest friends were met through tattooing them!
What inspires you?
Koo: Art, architecture, music, nature, and the people closest to me.
What do you love about what you do?
Koo: I love the freedom and creativity. When I use to work design, a project would take months to be completed and at the end the idea has been so diluted by others input that it was no longer my work and I was not proud of it. Tattoos it's all done in a few hours and the final project is all done. And same for art; I get to take personal idea and turn them in to beautiful works of art.
I am currently transitioning for tattoo artist to artist creating installations and art. Also you can catch me on my instagram and cooking with some of the top chefs in the city.
You can learn more about Koo on his website here.