Unravelling the stories of Canada's Indigenous history goes beyond what we've learned in school, if we have learned anything at all. Their stories are complex and steeped in traditions that are only recently being shared to a wider audience. As we continue to learn, we believe the stories should be told from within the community. Some of these pieces of history are told in a four-part documentary series, Telling Our Story, directed by Kim O'Bomsawin and making its premiere at TIFF 2023.
Telling Our Story starts from within the communities. It connects tales and traditions from 11 First Nations people with the stunning natural backdrop of Quebec, Ontario and New Brunswick. This includes the Abenaki, Anishinaabe, Atikamekw, Cree of Eeyou Istchee, Innu, Inuit, Kanien'kehá:ka, Mi'kmaq, Naskapi, Huron-Wendat and Wolastoqiyik.
The stories are heart-warming, hopeful and at times heartbreaking. We learn of the community process of turning ash wood into baskets – once a source of income for the Abenaki of Odanak, an almost lost art that the community's youth are engaged in reviving and perpetuating the tradition. We see pride on the faces of Inuk throat singers Lisa and Anesie, demonstrating "voices that nobody else has in the world."
We also see the dark side of history, from the Residential Schools to the Cold War transfer of Inuk to all-but-uninhabitable Arctic locales like Resolute Bay and Grise Fiord, where starvation awaited and more.
Filmmaker Kim O'Bomsawin tells us she grew up in Montreal far away from her Indigenous roots. "We were the generation who lost so much. Most of those who lived in the community lived a tough life.  We all went elsewhere seeking jobs and tried to forget that fact that we were Indigenous because at that time it just didn't seem cool to us at all like it is now."
She also tells us it was common for Indigenous people to try and blend into society and fit in. "My grandfather added an apostrophe to the family name. Like many others, he thought it was better to hide behind it and pretend our family was Irish to blend in more. I don't know if blending in really worked because he was also a very good-looking man. It was hard not to notice him."
O'Bomsawin grew up with the family name not really knowing her Indigenous history. She knew it was of Abenaki origin but very little else was shared. She tells us her father tried to share the knowledge but he hadn't learned from his own father.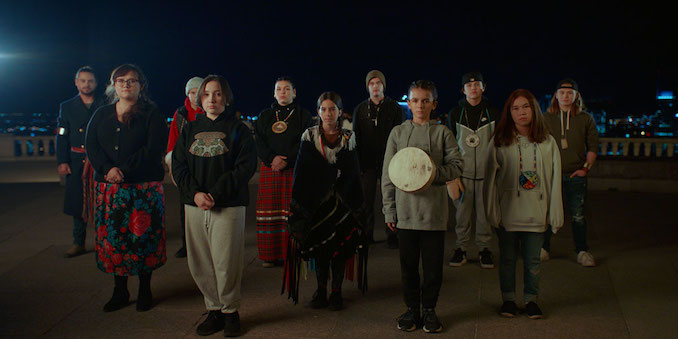 Because of her name she would get a lot of comments and questions. "They were always the same. Why don't you pay tax and you guys sell cigarettes. I was too young to know how to respond but I knew it was wrong. So I told myself that one day I would be able to answer to these comments," said O'Bomsawin.
She chose to study sociology in university but she tells us there were no Indigenous professors nor were there Indigenous classes or teachings that we see today.  She took it upon herself to learn about her culture and family history while working towards her Master's Degree. She had her goals set on becoming a teacher. "I thought that by becoming a teacher I could do the work that I wanted to. That was, to teach people a little bit more about First Nation people."
But then she met a documentary film director. "He asked me to be part of the documentary and I said yes without really knowing what I was getting into." With that experience, she soon realized that she wasn't so fond of being in front of the camera. "But then I looked at HIS  job and thought this looks very cool.  He had a lot of power and the ability to get inside the living rooms of many people in that way. Everybody watched television so I thought to myself my reach would be bigger than at a school."
When looking back, O'Bomsawin felt she was very naive when she started in the film industry.  Just as she was completing her Master's Degree she worked on her very first film. "I remember thinking, wow, is this really a job?  I wasn't into cinema at all and that was 15 years ago. Then, after my second film I began thinking that I could actually make a living doing this," said O'Bomsawin.
She kept going. As she continued her path in filmmaking she noticed more opportunities were opening up for Indigenous filmmakers. "I've always worked hard, especially at the beginning. People were not that interested in our stories but then a shift in interest happened about seven years ago." Today, O'Bomsawin is able to reach for financing and be able to bring Indigenous stories to more people. She's also found something she loves to do and with purpose. She considers herself very fortunate.
As any filmmaker, there are always challenges that face. For O'Bomsawin, she tells us in the beginning of was about getting the interest from people. "We were doing stuff for ourselves through APTN – a First Nations television broadcaster in Canada. It was very difficult to get into more mass media outlets like CBC Radio Canada and all the other general big name broadcasters even to finance a film. Now, we have the opportunities but I'm not saying its easy, we still have to work very hard and come with good stories. The doors are opening more. I think now my main concern is to continue to be of interest to more people."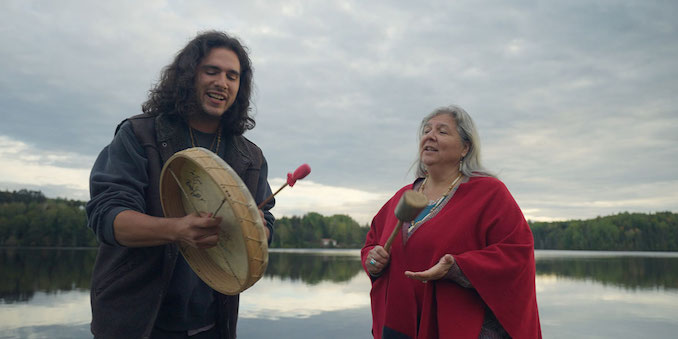 "We are natural storytellers," said O'Bomsawin. "When I go into communities and meet with people they all have amazing stories to share. The stories have been passed on for many generations and film is a nice way to share them. Many of these stories are not even written because they've been part of our history and passed on by word of mouth."
It's actually very hard to find people in the communities to share as they don't see themselves in front of the camera. It never came into their minds that they could even have the opportunities to be in TV or film. Sometimes we just don't have the resources to do something.  It's sad but at the same time the opportunities will stay and we'll be able to build on talents for the future.
The series also reminds us that Canada is made up of many Indigenous communities and not just one or two. In this series, she focuses on Quebec and the Eastern provinces that includes 11 First People. "I think this is the first time that 11 First Nations People come together in a documentary. They talk about themselves and answer each other. We have 11 cultures, 11 languages, 11 territories so the idea was to tell the world about how diverse our people truly are but at the same time it's also about how much we share."
The filmmaker shares about how a few groups also connect beyond borders. They spoke with people in Ontario, New Brunswick as well as Maine where traditional lands go beyond the official  Canadian and US borders. And that's just the East Coast! If the series travelled to seek out the stories in Alberta or BC, it would be even more complex. "We would find those big similarities and universal commonalities that we share with First People around the world. Our connection to the land I'm sure is the same," said O'Bomsawin.
The intention was to show that First People are also very different and rich in culture. Also, the languages across the communities are different from each other as is the way they view the world, their creation  stories, songs, dances are different yet they have many commonalities.
What advice did she have for aspiring Indigenous filmmakers who are interested in  telling their stories?
"I would like to tell them that everything is out there for them", said O'Bomsawin. "They just have to be confident and have good stories to share and they should do it. We are a bunch of producers just waiting for that next generation to train them and nourish their inspiration."
Telling Our Story is premiering at TIFF. Here's the link to the schedule.  It will also be available on CBC Gem beginning September 17, 2023.