As one of Canada's most creative chefs, Claudio Aprile is recognized for his long standing career in the kitchen (Senses, Colborne Lane, Origin) …and yes, he's also one of the judges on MasterChef Canada. Today his eyes, and heart, are focused on his latest restaurant Copetin in Toronto.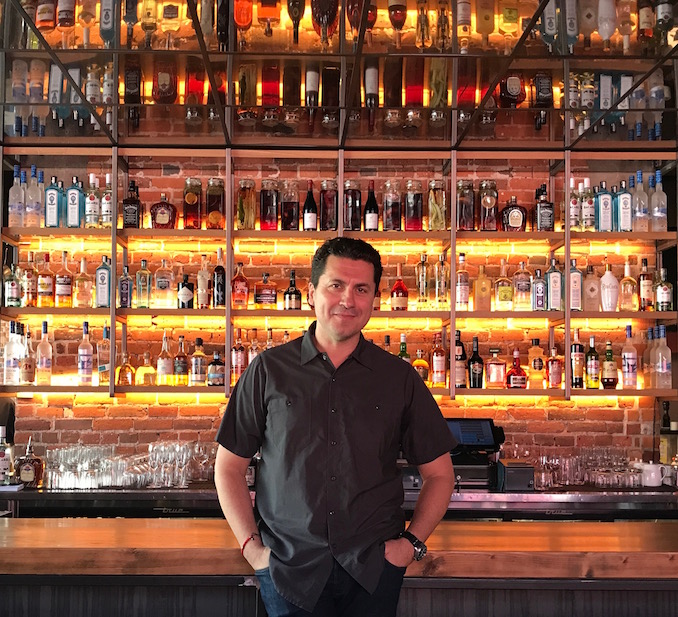 Located in Chef Aprile's familiar neighbourhood just steps away from where Colborne Lane once resided and close to  St. Lawrence Market, Copetin is making its home at the corner of King and Church Streets. If you're wondering if this is where Origin was?… you're right. The restaurant is nestled in the historic area of the city and how can you not be completely in love with this neighbourhood? Within it's close proximity to St. Lawrence Market, it's rich history, and watching the neighbourhood evolve are all appealing factors. He still whole heartedly believes in being here. "I love this neighbourhood. It's very food focused but there's still a lot of development happening. This building we're situated in is really beautiful. It's very rare to have a location like this with history in a space this grand especially in Toronto. It's really important for people who live in this area to hold on to something that has history."
The name Copetin is a Latin-American word meaning "drop-in, aperitif, community and social," and was suggested by his mother. And that's what Aprile wants this restaurant to be – a place where people can relax, be themselves and enjoy the food as well as the experience.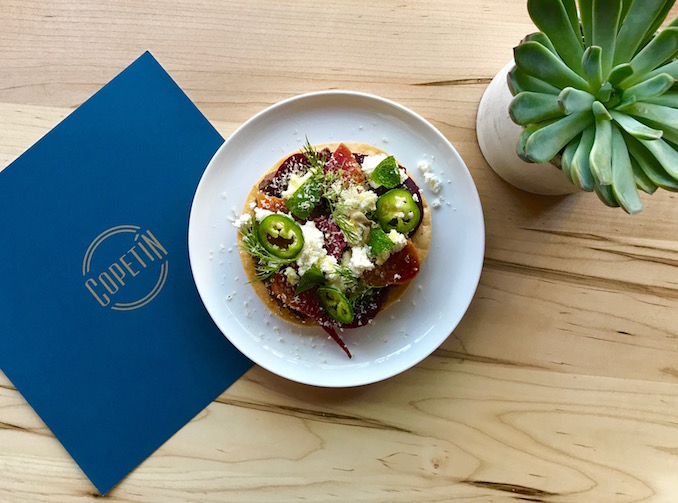 The restaurant has four distinct dining concepts each with its own menu. The patio, self-sufficient with a "cantina" kitchen, is a casual outdoor space for those looking for quick bites. The patio is also home to Canada's first "The Botanist" Bar that offer up customized cocktails according to personal preference along side some house specialities.  You desire something sweeter? fruity? or a bit tart? They'll work their magic.  By the way, " The Pollenator" is my new favourite cocktail.
Step inside and you'll find yourself in the bar area ideal for casual drop in (no reservations required) for smaller dishes and drinks.  Dishes like Lamb Kebabs and Beet & Goat Cheese Tostada are great over after work conversation. A good three or four selections can make for a perfect meal but save room for dessert. Get the "Maple & Milk + Granola" , it has a great story to it as Aprile said this dish was inspired by a dream. You'll have to ask him when you're there.
Located at the back of the bar is a private glassed-in dining area that seats 12 — you'll want to check out the vintage record sleeves on the walls with corresponding vinyl embedded in the table itself — but don't assume that's the restaurant's playlist, because that would be "way too obvious."
On the other side of the bar is where you'll find the restaurant that is perfect for those looking for a more refined dining experience. With an "a la carte" menu consisting of starters, mains and desserts. While he's hands on in every aspect of Copetin, it's here where you will see Aprile in action cooking along side his team of chefs in the open kitchen and you'll see his mind constantly churning with a smile. "The dining room is really the area where I'm doing what I've been trained to do. I've spent most of my life training in the higher end of cooking. It was always my aspiration to learn how to execute food and ingredients in a very creative manner."
If you love to see everything up close and personal then you'll want to feast your eyes on the "kitchen counter" that seats up to six people. Here is where food lovers will covet a spot to interact with Aprile in a different culinary experience with a tasting menu that changes according to what chef is inspired to do that day. Aprile tells us this is where he'll push the boundaries and reveal new ideas and dishes.
The menus offers a collection of new dishes with a nod to Toronto and all the different cultures that we have. It's the way Aprile has cooked all his life — never really sticking to one particular genre of cooking. He tells us that he's always been attracted to different styles  and the menu reflects global flavours and ingredients "And good food makes everyone happy!" says Aprile.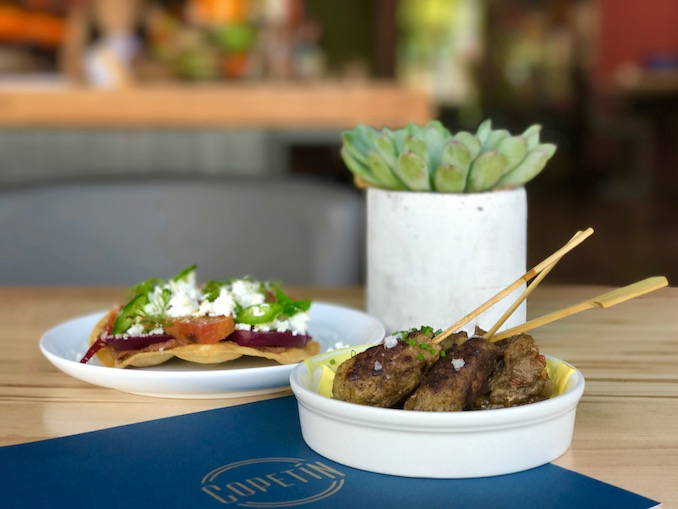 Through his many years of experience in this highly competitive restaurant business, Aprile still has a deep passion for being in the kitchen. You can actually see it in his eyes and hear it in his voice.  It's a passion that comes from the heart and soul.
"I love food and I take a lot of pride in what I do…It's an all consuming business. Like many other professions be it a chef or  even an athlete, if you aspire to achieve something compelling, you really have to give yourself to it. You have to be in the moment and be mindful of it. Everything else takes a back seat," says Aprile. "It's an extreme business but I  love the grind of coming in, energizing the team and cooking. I really enjoy the act of cooking. For me, it's not work. It's my life and it's what I want to do."
Now with Copetin, a collaboration with Henry Wu (a silent partner who's also behind Luckee by Susur Lee, Wahlburgers, Fring's, Senses, Susur, Diva At The Met, Lee Restaurant, Lai Wah Heen and Lai Toh Heen) he's excited to take the knowledge he's gained over the years and bring it all together here.
So, what's the motivation? Aprile explains, "The dining scene in big cities, whether it be London, New York or Toronto, has always been constant with change but that's what keeps it vibrant and exciting. For me, I decided to make a change.  Creatively I want to do something new.  I want to keep exploring. If you just do the same thing over and over again, I think you can become really stagnant. In my profession, and the kind of person I am, I need constant change."
What about the food scene in Toronto? "There are a lot of restaurant groups, large, small and behemoth that are doing really great work and they are pushing everyone," says Aprile.  "Everyone is improving and that's the nature of the world we live in. As human beings we're constantly evolving and learning new things. That's my biggest motivation. I want to do things with my life  and keep evolving as a person and not just as a chef. I want to keep taking on new challenges and trust me this is a huge challenge. We could have easily just opened up Origin 2.0 under a new name and new menu but we chose to open with four menus. I know that's ambitious but it's a fresh canvas and the mission is to do something new and to be a little provoking at times but not offensive."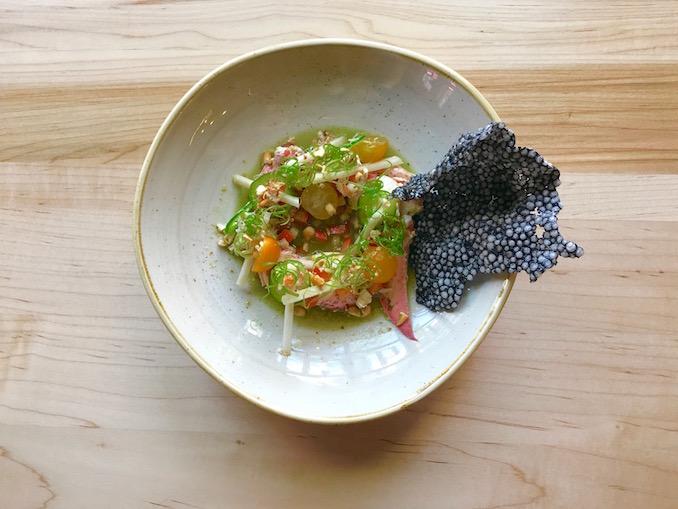 As a father, what advice would he  give his own kids should they want to follow in his footsteps? Aprile would definitely want to take his kids under his wing to learn the basics and work ethic from him. But advice he would give to anyone is to also get some international experience. "I think it's critical in any career really to get out of the city or country to learn something new." said Aprile.
Where are his favourite places to learn something new? "Funny you should ask that, I think El Bulli was the pinnacle of my life. I staged there for two week and it changed my whole mindset," said Aprile.  "But I've had many experiences like travelling through Thailand and learning traditional dishes from non-chefs. Eating from street stalls – that was the best food I've ever had. Everything has a specific timing and it's all done in a certain way, with a certain knife, in a certain pot. It's very intricate and precise."
With all his experience as a chef what does he want to tell people? "Interestingly, the older I get and the deeper I get into this career, I want to explain less," says Aprile. "I just want people to come in and say 'wow, this is what he's doing!'  You know film previews where they reveal everything before you even check into the theatre? You already know the sub-plot, the plot, the love story, the foreshadowing. That's not for me. I love going into a film not knowing what's about to happen. Those are the films that stay with me. It's the art that stays with me. That's what I want people to experience here."
We're definitely thrilled to already get a taste of what people can expect –  it's an exciting concept that makes us want to return to try more from the menus and looking forward to taking a seat at the "kitchen counter" soon.
Copetin Restaurant & Bar is located at 107 King Street East in Toronto and officially opens July 13, 2017.
Visit their website for more info.