The Fight to End Cancer 2023 event is just around the corner, and this year's team of fighters is nothing short of inspirational. The gala event and charity boxing match will finally return to the Old Mill Toronto on May 27th after a four-year pandemic-induced hiatus. The following brave individuals have dedicated their time and energy to train for their bouts that will help raise funds for the Princess Margaret Cancer Foundation.
The Fight to End Cancer (FTEC) charity was founded by Jennifer Huggins who is also the executive director. She runs the organization with her partner and Director of FTEC, Virgil Barrow. Together they have a deep passion for boxing and a strong commitment to making a difference in the fight against cancer. Jennifer is also the owner of Kingsway Boxing, an international boxing referee and is a part of an international touring magic act. Virgil is the fight team coordinator and head coach at Kingsway Boxing. Together, they have prepared an amazing lineup of boxers who will fundraise and Fight to End Cancer at this year's event.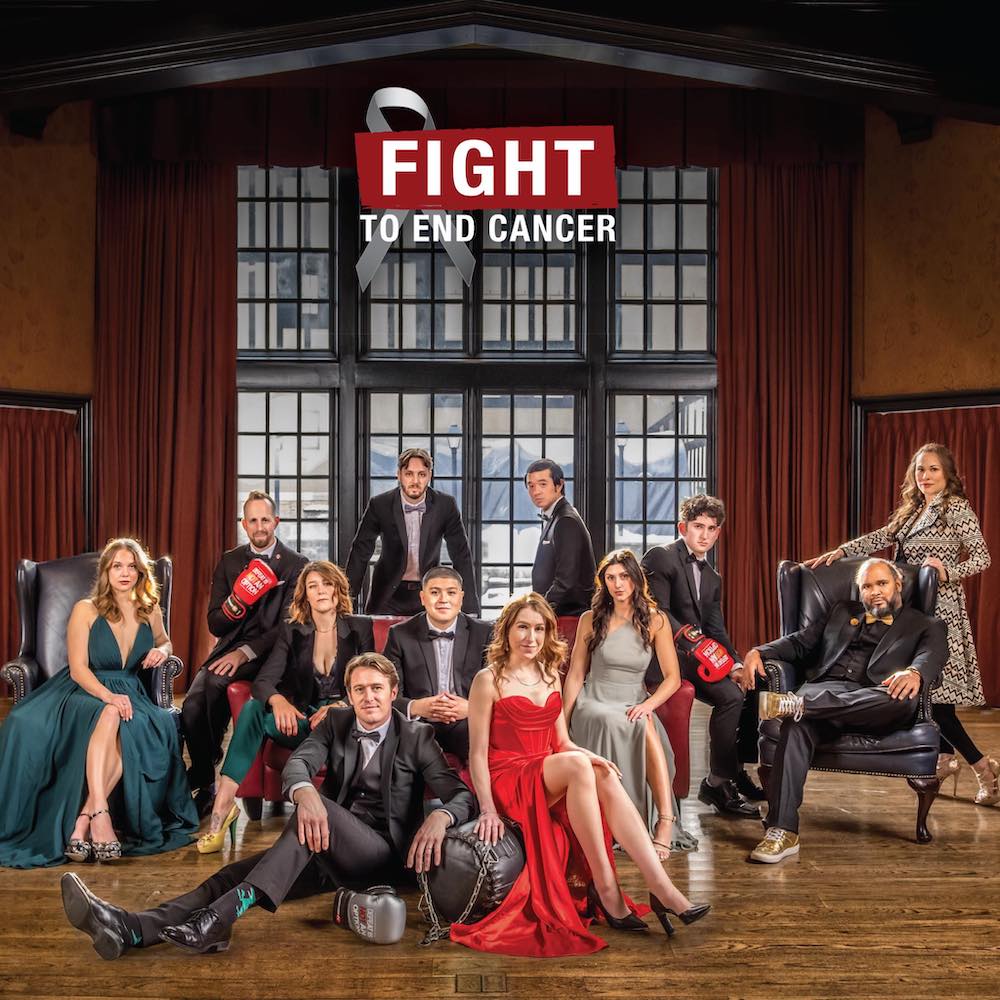 "Marvellous" Mitchell Cairns – Mitchell Cairns, a sports-media student at Toronto Metropolitan University, created a documentary about FTEC Founder Jennifer Huggins and her work with young fighters at the Kingsway Boxing Club. The film was part of Cairns' practicum for his degree and reflects his growing confidence on camera and in life, thanks to his experiences with boxing. Cairns will fight in the Fight to End Cancer event under the name Marvelous Mitchell and says he is ready for the experience, regardless of the outcome.
<MORE TO COME ON THIS FIGHTER>
Mark "The Baby Shark" Maristela – Mark Maristela, an art director at an ad agency in Toronto, immigrated to Canada from the Philippines at the age of nine and spent his school years taking care of his younger siblings. He was inspired by Manny Pacquiao and took up boxing as a means to compete and improve himself. Mark is now competing in the Fight To End Cancer, driven by his personal connections to cancer, including his grandmother and girlfriend. He finds inspiration in the struggle and strives to improve through hard work.
<MORE TO COME ON THIS FIGHTER>
Josh "The First Avenger" Siegal – Josh Siegal is the vice-president of people at 7shifts, a Canadian restaurant-management software company. He is also preparing to fight in the Fight To End Cancer charity boxing event. Josh sees a connection between HR, Marvel, and boxing, and believes his energy is his superpower, which he brings to the workplace and the boxing gym. Josh decided to participate in the charity event after cancer hit his grandparents, Roz and Marvin Starr, who were healthy and active before their diagnosis. He has no formal boxing experience but has studied martial arts and believes that boxing requires a white-belt mindset and is a form of meditation that stills the mind.
Victoria "Slick Vic" Williamson – Victoria Williamson, a teacher and former soccer player, took up boxing as a challenge and will compete in the charity bout to raise funds for the Princess Margaret Cancer Foundation. The school where she teaches is supporting her by helping with fundraising. Williamson plans to use her experience as an example of setting goals for a second-term activity on goal setting. Her training for the main event has been a lesson on the value of discipline and "presence", an emerging philosophy that promotes being focused and connecting with others. Williamson is fighting in memory of her great aunt, who passed away from cancer in 2007.
<MORE TO COME ON THIS FIGHTER>
Alissa "Wink" Winicki – Alissa Winicki, a lawyer with Hummingbird Lawyers LLP, finds boxing to be a great way to unburden her mind after a long day of litigating estates. She also sees parallels between boxing and her profession as both are adversarial and require strategic thinking. Alissa is training for the Fight To End Cancer 2023 and is fundraising for The Princess Margaret Cancer Foundation. She is dedicating her fight to Antonio P. Raviele, who lost his father to cancer, and Colin Bell, a physiotherapist who died from cancer in January 2023.
Julia "Immortal Iron Fist" Siegal – Julia Siegal, a participant in the Fight to End Cancer (FTEC) charity boxing event, was inspired to take up boxing by her stepfather, who was a former boxer. The FTEC aims to raise money for cancer research, a cause that is close to Julia's heart, after seeing the impact of cancer on her husband's family. Julia, along with her husband, Josh, chose boxing as a way to raise funds for cancer research. Her fighting name is "The Iron Fist," inspired by a Marvel Comics superhero who possessed superhuman strength and power. Julia sees herself as defending people and families against cancer, and her upcoming fight on May 27th is a constant presence in her life.
<MORE TO COME ON THIS FIGHTER>
Jeff "The Mimico Mauler" Skrypek – Jeff Skrypek, an elementary school teacher, will participate in the 2023 Fight to End Cancer charity event to honour his father. John Skrypek was an engineer, dad-coach, dirt-biker, sailor and guitarist who died in 2012 at the age of 54, from brain cancer. Jeff will enter the ring to the tune of Rammstein's "Du Hast," a song his father loved, and will fight under the name "Mimico Mauler." Skrypek had always dreamed of participating in a real boxing fight and decided to take part in the event when he saw a Facebook post seeking a boxer. The event is on May 27th, which would have been his father's 66th birthday.
Joey "Nature Boy" Woo – Joey Woo, a returning member of the 2020 Fight To End Cancer (FTEC) team, is raising money for cancer research in honour of his father, Simon Woo, who passed away in January of 2018 due to pancreatic cancer. Simon was a respected family patriarch, a Tai Chi enthusiast, and a University of Toronto administrator who worked as a media coordinator, Chinese translator, and volunteer fundraiser, raising $500,000 in donations during his tenure. Joey manages a plant that manufactures, repairs, and reconditions railroad equipment and spends most of his weeknights at the Kingsway Boxing gym. He will compete under the name "Nature Boy" in the upcoming FTEC event on May 27, inspired by Ric Flair, a famous wrestler whose signature phrase "Wooooo!" is a perfect fit with Joey's surname.
Scott "Lights Out" Selland – Scott Selland is a real estate agent who has been training at Kingsway Boxing for 5 years. Scott and his wife both lost an aunt to cancer and his father-in-law is a survivor of prostate cancer. These events inspired him to support cancer research and fundraising with initiatives like the Fight to End Cancer charity. He is training four to five times a week and is committed to raising money for The Princess Margaret Hospital.
Melanie "Mighty Mel" Muto – Melanie Muto is a marketing and graphic design professionalm another another fighter in this year's event. Melanie's inspiration to participate in the fundraising campaign comes from her friend's mother, who is in remission from cancer, and her experience watching their journey. Melanie sees her participation in the event as an opportunity to create positive change and empower others.
<MORE TO COME ON THIS FIGHTER>
These fighters, and the rest of the team, have been tirelessly training and preparing for this year's event, and they are ready to put on a show. The FTEC 2023 Fight Team aims to raise $3 million for cancer research at The Princess Margaret Cancer Foundation. This year's event promises to be an unforgettable night, filled with exciting matches and inspiring stories of hope and perseverance.
All of the funds raised through the event will go towards supporting the Princess Margaret Cancer Foundation, which is one of the top five cancer research centres in the world. With these funds, the foundation can continue to make groundbreaking discoveries and develop new treatments for cancer patients.
In addition to the boxing matches, the event will also include a silent auction, live entertainment, and a gourmet dinner. It's sure to be a night to remember, and tickets are selling fast.
If you want to support the fighters and make a difference in the fight against cancer, be sure to get your tickets for the Fight to End Cancer 2023 event. Together, we can defeat cancer once and for all.
For tickets and information, please visit their website.