The first mandolin player (mandolinist?) to ever be nominated for a Grammy Award, baroque superstar Avi Avital brought his considerable talents to Toronto for performances at Roy Thomson Hall and North York's Meridian Arts Centre.
The concert, a mix of the traditional (folk music arranged by Tsintsadze and Bartók), the classic (Vivaldi's essential mandolin concertos), the transposed (Bach pieces reworked for mandolin), and the modern (a concerto commissioned by Avital in 2006), celebrated the best of an occasionally overlooked instrument.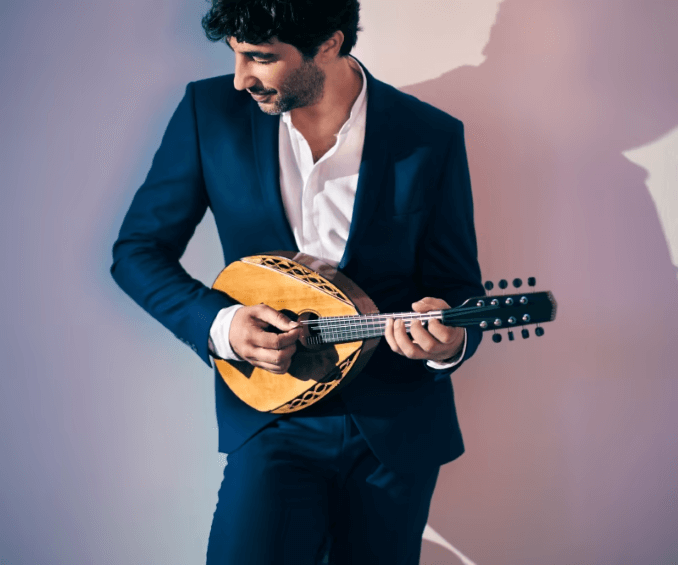 What do you think of when you think of the mandolin?
That's the question Avi Avital posed to composer Anver Gorman when commissioning a brand-new work for mandolin and orchestra back in 2006. It's also the question with which Avital opened his recent Toronto performances, before rattling off the typical responses – European films, seventeenth century palaces, and other images conjured up by the trademark mellow tones of the mandolin.
Avital might have also added Led Zeppelin's "The Battle of Evermore" – an epic retelling of an incident in The Lord of the Rings, featuring Jimmy Page on mandolin – alongside R.E.M.'s "Losing My Religion." Two songs (among a surprising number of mandolin rock classics) which demonstrate that there's more to this 18th century instrument than twinkly background music.
As if to prove the point, Avital's "Mandolin Magic" programme consisted of a mix of new and old, the undoubted highlights of which were the two Vivaldi mandolin concertos. Vivaldi's Mandolin Concerto in C Major (1725) is a particular favourite, having been heavily featured in films ranging from François Truffaut's The Bride Wore Black (1968) to Oscar-winning Dustin Hoffman-Meryl Streep classic Kramer vs. Kramer (1979). Everything about the Concerto in C, from its lively opening moment through its thoughtful, slower largo, on to a rousing finale which heavily features the supporting orchestra – here, a reduced chamber ensemble made up of members of the Toronto Symphony Orchestra – is wonderful.
Avital's arrangements of two Bach violin concertos were slightly less successful. Although there is a long tradition of adapting string works for mandolin – it's not like there's an enormous mandolin repertoire – Avital's performances of Bach's Violin Concerto in A Minor (1723) and Violin Concerto in G Minor (1738) favoured displays of technical prowess over musicality. Avital isn't the first to go rockstar on a traditionally staid instrument – see also, violinist Nigel Kennedy on Vivaldi's Four Seasons, or Taimane Gardner on the ukulele – but Avital's undoubted dexterity, fingers racing up and down the fingerboard, was far less interesting than when he settled into the slower, more stately second movement of the Bach Concerto in G Minor.
The big surprise of the evening was Anver Gorman's Mandolin Concerto, commissioned and premiered by Avital in 2006. The Gorman concerto is altogether an interesting one: parts of it afford Avital an opportunity to show off his prodigious talent in a way that does not distract, while other sections carry strong echoes of the compositions that made the mandolin famous. At one point, the orchestra gives way to a truly wonderful mini-quartet, featuring the mandolin, viola, cello, and double bass, which easily rivals any of the great 18th century quartets.
Closing out the evening, Avital clearly enjoyed himself playing around with the short, simple, good fun of Tsintsadze's Six Miniatures on Georgian Folk Themes (mid-twentieth century) and Bartók's Román népi tancok (Romanian Folk Dances) (1915). Two collections of folk songs, here re-arranged for mandolin twentieth century composers, the folk tunes made for an amusing, good-natured conclusion to the programme.
#
The TSO's season continues through June 2023. Tickets are available here.