With the return of the Fight to End Cancer (FTEC) charity boxing event after a 4-year hiatus, we wanted to delve into participants' stories and to spotlight the fighters at this year's event. These individuals have spent months training at Kingsway Boxing as well as fundraising along the way to prepare for the final count, where they will face off in the ring and attempt to reach a total fundraising goal of $3 million. The funds raised will go to the Princess Margaret Cancer Foundation.
Our second fighter is Jeff "The Mimico Mauler" Skrypek. This is what he had to say.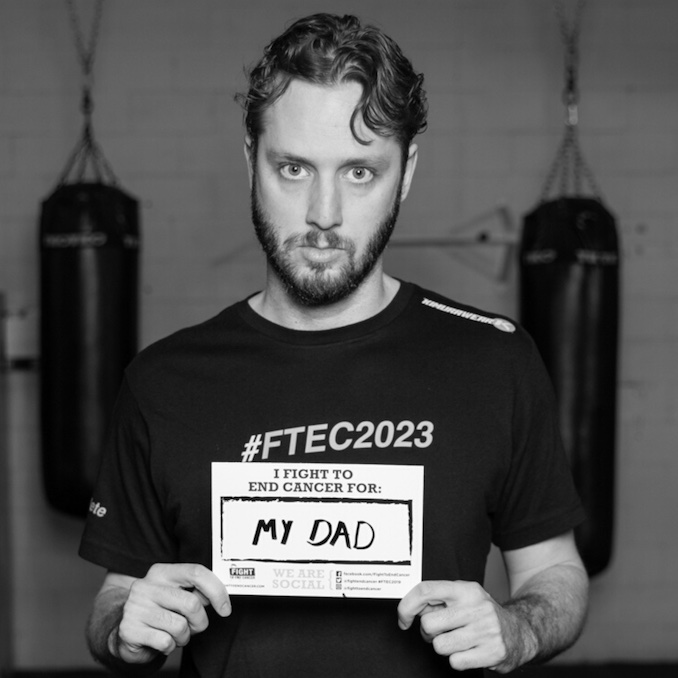 Name: Jeff "The Mimico Mauler" Skrypek
Place of Birth: Etobicoke, Ontario
Current Home: Mimico, Ontario
How long have you been boxing?
I started boxing recreationally right before covid as a way to get into shape, but had to take a break, like pretty much everybody during the pandemic. I had been training with my high school friend, Nick Fantauzzi, who is a professional boxer and all around great guy. After the pandemic, I moved to Mimico and started looking for boxing gyms, which is when I found Kingsway and started attending classes.
How did you hear about FTEC?
I had seen the posters on the walls in Kingsway and was always intrigued by FTEC but never thought I could be one of the participants. Then, one day in November I saw a Facebook post by Jen looking for ONE male fighter, 175-190 pounds, age 25-40, who had no fight experience, and I thought, well, it fits me perfectly, I might as well message her and see what happens. Then she told me the fight was on May 27, which happened to be the birthday of my dad, who passed away from brain cancer in 2012, and I thought, this is too much of a coincidence to ignore. Luckily Jen thought the same thing and I was signed up the next week.
What made you want to get involved?
I had actually always wanted to have at least one amateur fight to test myself, because I had really enjoyed the little boxing I had done. I had originally told my wife that when I turn 40 I might try out one fight in the Master's division to see what happens, so that was kind of a soft, long term goal, but when the FTEC opportunity arose, I had to tell my wife that my plans had jumped ahead a few years.
What has been the hardest part about training?
Staying consistent! Not going to lie, it has been a grind at times, heading to the gym, 3-4 times a week while balancing work and a new child. There have been injuries, illnesses, a new job, family commitments, all of those little things that happen in life! So it has been a challenge some days trying to stay motivated, but I think whenever it gets tough we can take a look at what we're actually doing this far, and see all the money raised, and it really makes it worth it.
What has been the best part about training?
The people and the relationships that I've made, for sure. The FTEC 2023 is such a group of awesome, positive people. We've spent so much time together that we've formed really meaningful friendships that I think will continue far past FTEC. I've really enjoyed training with everyone, learning from our excellent coaches, suffering through conditioning classes with everyone, and even our little independent side events like team movie night when we went to see Creed III. It's been the best part for sure, even getting to know all the members of Kingsway Boxing through sparring class has been great. Everyone is incredibly friendly and nice, it's such a good vibe.
What is your advice for people considering becoming a fighter with FTEC?
DO IT! You won't regret it. It truly has been an awesome experience. It is definitely difficult at times, when you've had a long, hard day at work, you have your family at home, and you have to drag yourself to 7-9 pm sparring, but it is infinitely worth it. The friendships, the progress you see in yourself, and the fact that sparring is very fun! I also love all the side events, the photo shoots, the merch, the interviews. You really feel like a celebrity at times. It has been awesome. I have tried to convince multiple friends to join next year and I think I've had some success. I also haven't even seen the main event yet, so all of the positive experiences I've had so far don't even include the big night we've all been working for!
Who are you fighting for?
Number 1 is definitely my dad. Losing him in 2012, when my brothers and I were all still fairly young in our 20s and teens was very difficult and left a massive gap in our lives that has never really closed. I think he'd be pretty proud of all the money I raised, and I've been contacted by so many of his high school and university friends who have reached out and said how cool it is that I'm doing this, and they've all been so excited to donate and participate and a few of them are even coming to the fight. I'm also fighting for my other family members who have lost their battle with cancer, including my uncle who passed away during the pandemic, and my grandmother who lost her battle with cancer when I was in university. It's a disease that has affected our family pretty heavily so I'm very proud of all the money I have raised to support cancer research at the Princess Margaret Cancer Foundation.
The gala event and charity boxing match will finally return to the Old Mill Toronto on May 27th. Donations to the Fight Teams can be made at: fighttoendcancer.com.