Amici's Canoe Heads for Kids is taking place on Saturday, June 1, 2019 in Toronto. We recently chatted to Robyn Short who is the Fund Development and Communications manager at Amici Camping Charity to learn more about the event and the organization behind it. Robyn is not just a member of the company she also participates in Canoe Heads for Kids as a "Canoe Crew" and helps her team of camp friends raise money.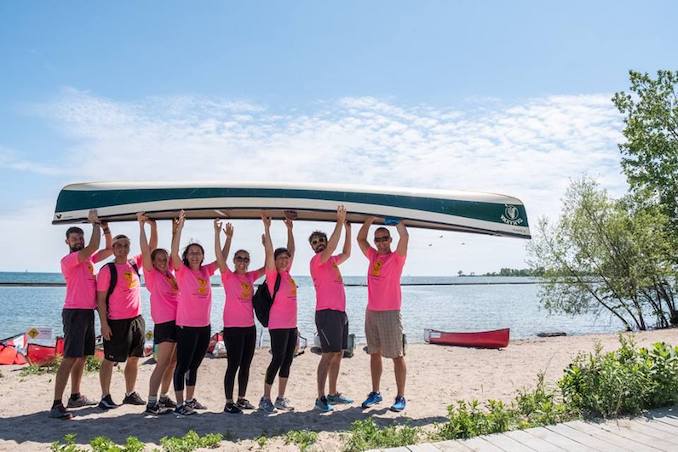 Describe your charity/non-profit in a few sentences.
Amici Camping Charity aims to foster personal growth and life-long skills in children with financial need through multi-year access to the unique environment of camp. At Amici's annual signature event, Canoe Heads for Kids, over 160 participants paddle and portage 15 km across Toronto's waterfront to send young people from low-income families to overnight summer camps across Ontario!
What problem does it aim to solve?
Amici is committed to making camp accessible for children from low-income families. Eighty percent of the families Amici supports are living with incomes that are less than $42,000 per year before tax. Many of our campers live in single parent households with multiple siblings. Some children have special or high needs, with further added costs. There are also families who have experienced trauma, tragedy, abuse, and in some cases, fled war zones. For them, summer camp is so much more than a place to discover 21st century skills – it's also a place where they can feel safe and belong.
When did you start/join it?
Amici began in 1966, when a few teenage campers saved up enough money over two summers to pay for one young boy to have his first camp experience. Over time, they began to support a few more camping experiences each year. Amici's founders believed that camp had the power to unlock kids' potential and that kids had a chance to become leaders thanks to the power of camp. Amici's Canoe Heads for Kids was born in the summer of 2006, when Amici's former Executive Director, Billy Anderson, portaged his canoe over two days and 43 kilometres from Port Carling to Gravenhurst in Muskoka. His goal was to raise $10,000 to send 10 deserving children to camp. The next spring, Willie Macrae and Stuart Snyder were inspired to evolve Canoe Heads for Kids into an annual Toronto-based fundraiser for Amici. They invited a small group of camp friends to join them as they brought Canoe Heads for Kids to downtown Toronto in May 2007.
The event has steadily grown in the years since then, both in terms of participant numbers and the amount of money raised in support of Amici. I joined Amici in 2016.
What made you want to get involved?
Camp has meant the world to me and has played an integral role in my life. Camp gave me confidence and it taught me to be creative and to think outside the box. It provided me with the tools to be resilient and strong. Of course, it gave me some of the greatest friendships I have ever known. I firmly believe that every child deserves the chance to discover their full potential, just as I did, through the magic of camp. It is a great honour to dedicate my time to helping children facing financial and social barriers experience the joy of camp.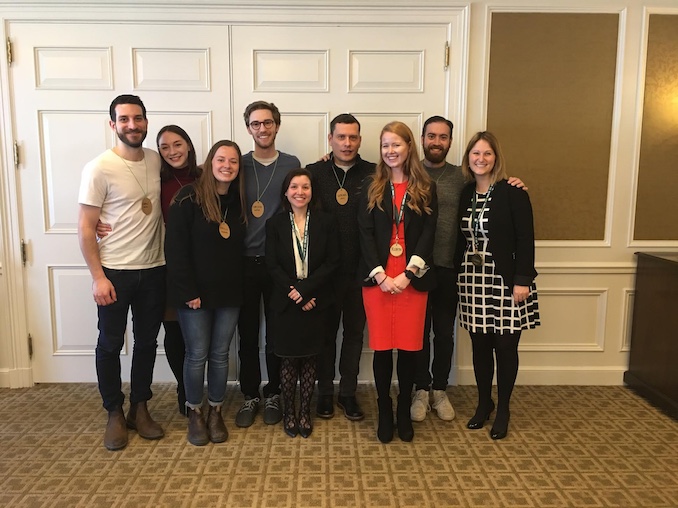 How has it changed since you started?
In the past several years, a tremendous amount of momentum and awareness has surrounded Canoe Heads for Kids. We are now selling out the event every year and camp enthusiasts are flocking to participate. Each year, our participants exceed their fundraising goals to support our campers and their families. Canoe Heads for Kids truly is a magical day full of camp friends, laughter, sing songs and more…for a former camper, it makes you feel like a kid again – all the while supporting children with the gift of camp! It is pretty awesome.
What more needs to be done?
Every year, camps get more and more expensive while simultaneously more families are struggling to make ends meet in this city. At Amici, we are always looking to deepen the impact of our program by sending more children to camp, for longer stays, summer-after-summer. Please consider supporting Amici's Canoe Heads for Kids so that we can continue to support today's campers, who are tomorrow's leaders!
How can our readers help?
Readers can get involved by making a donation to Amici's Canoe Heads for Kids or coming out to the event on June 1st to show their support for participants.
Since 2006, Amici's Canoe Heads for Kids has raised more than $1,000,000 to send approximately 1,000 kids to summer camp. All donations are matched by a community of camp partners to send kids to camp. Amici and its partner camps also commit to sending each of our campers to camp year-after-year until they
have outgrown the program or until there is no longer need for financial support. It is this multi-year commitment that allows campers to develop skills like resiliency, collaboration, teamwork and communication, which will support them throughout their adult lives.
Do you have any events coming up?
This year will mark the 14th anniversary of Amici's Canoe Heads for Kids –which is taking place on Saturday, June 1, 2019. Over 160 participants will paddle and portage 15 km across Toronto's waterfront to raise funds to send children and youth from low-income families to overnight summer camps across Ontario. In 2018, more than $220,000 was raised in pledges and sponsorship, funding over 400 weeks of camp!
Where can we follow you?
Facebook | Twitter | Instagram