It's a bittersweet weekend for dance music lovers in Toronto. The Guv is closing down with by all accounts an incredible final series of events. Armin Van Buren rocked the place last night and Knife Party is slated for tonight, with the finale tomorrow featuring Deadmau5 and Mark Oliver, two of Toronto's best-known musicians.
But the rave must go on, and a fresh weekend is never more than seven days away. And Toronto being the dance music capital it is, you can expect world-class entertainment even in a Guv-less city. Tonight, for example, is also Coda's 1 year anniversary, and there's plenty going on across the city. And next weekend, we get to treat ourselves to another world-class dance music act in the form of Wolfgang Gartner.
He'll be touching down in our city next weekend for a show at UNIUN Nightclub on the 30th, and to get prepped for the event, he chatted with me about his past and how he got to where he is today. Check it out!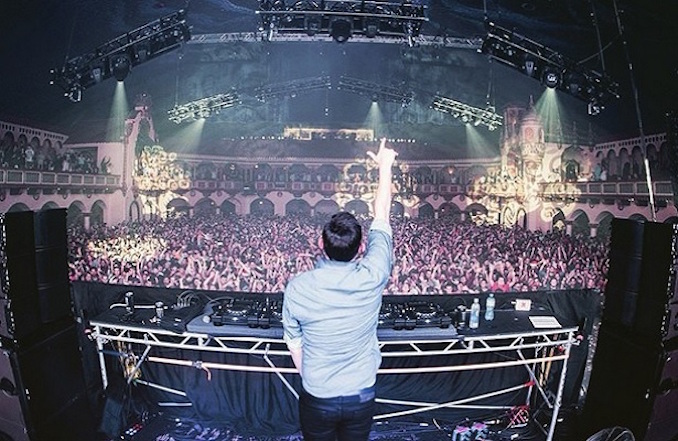 Where are you from originally?
California Coast. Somewhere between SF and LA.
When did you start performing?
16.
How did you discover the music you now make?
A tape from a Welsh friend in 1993 containing the first house music I ever heard.
What is the single most important thing you would tell an aspiring new producer?
Don't do it for money, do it for fun, and if you end up getting paid then you've won. Hey that rhymed.
What story do you try to tell with your music?

I don't. I just make music that sounds good, or I try to at least.
If you could pick just one track of yours that you'd want everybody to listen to, what would it be and where can people hear it?
Unholy ft. Bobby Saint. iTunes, Beatport, wherever good music is sold. Most obvious shameless plug of new single.
What's next for you?
gigs, studio, gigs, studio, etc etc
Where do you see yourself in five years?
I don't know I just hope I don't have to deal with TSA every weekend whatever it is
Of what achievements are you particularly proud?

I started at the bottom, like rock bottom, and I did this for 10 years without making a dime. Then it took me another 10 years to get to where I'm at today, and to have the stuff I have today, and the life I have, and it's not a bad life. So basically just the achievement of building this life from the ground up over 20 years, by doing exactly what I wanted to do.
What other interests outside of music do you have?
I'm into botany quite a bit.
Something most people don't know about you:

My name is not Wolfgang Gartner and I'm not German.
Biggest pet-peeve in the world of EDM?
"1, 2, 3, Jump"
You can follow Wolfgang Gartner on Facebook and Twitter to keep up to speed on what he's been up to and when he'll be back in your neck of the woods! And don't forget to catch him at Uniun next weekend on Saturday, the 30th!
————————————————————————————————————
VIDEO RODEO: With Guv wrapping up, Armin Van Buuren kicked off the closing ceremonies with a six hour set of madness. Let's look back on Armin here with a video of the last time he was at the Guv, in this official video recap!
ATTENTION: VIDEOS WANTED!  Did you have a great time at a rave or EDM event and managed to capture it on video? We'd love to showcase short clips of you and your friends having a great time with great music.  Reach out to us with your name, the name and date of the event, and a link to the video if you'd like us to consider yours!