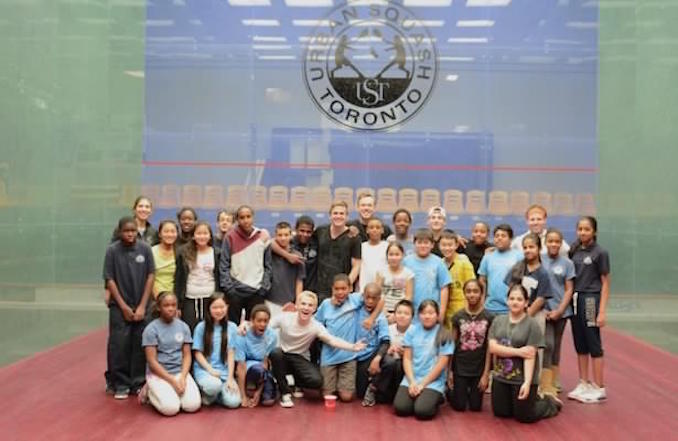 Toronto is host to a wide range of sports charities. My favourites of those include ones that provide equipment and fees for kids who can't afford to play. From Hockey equipment, to registration fees, these local charities want to make sure that every kid in every community has a chance to play sports.
Urban Squash Toronto – Youth will learn the game of squash in this program that works with students starting in grade 6 for up to seven years in consistent mentoring, exercise and academic tutoring.
For more information visit the Urban Squash website.
Skate to Great – By collecting used skates, this company has donated over 6000 pairs of ice skates to youth.
Visit the Skate to Great website for more information.
JumpStart – Canadian Tire's charity dedicated to removing financial barriers related to sports. They assist with the costs associated with registration, equipment and/or transportation for sports and physical activity programming.
Jump Start also get involved with other organizations aimed at increasing access to sports and physical activity programming
Visit the Jumpstart website for more information.
Grow the Game – The Blue Jays' charity that provides baseball equipment for youth who may not be able to afford to play otherwise. In 2013 190 pieces of baseball equipment were donated across Canada to help grow the game.
Visit the Grow the Game page on theJays' website for more information.
Toronto Youth Development – Toronto Youth Development's Academic and Sports Enrichment (ASE) programs enable underprivileged children to rise from their present environment and attain self worth, confidence and leadership traits. Their programs offer academic assistance, character development, leadership training and sports to help keep kids fit.
The Toronto Youth Development also runs the Regent Park Soccer Program for ages 4-15.
Visit the Toronto Youth Development website for more information.
Wayne's Road Hockey Warriors – This program is designed to provide opportunities for kids in the Scarborough community. After the success of Wayne Simmonds, who came out of Scarborough, Simmonds' best friend Brandon Sinclair saw how sport can change the path of Scarborough's youth and together they decided it was their turn to make a difference. By raising funds through their annual hockey tournament, charity events and community support, they help provide the means and opportunities for underprivileged youth to play hockey.
For more information visit the WRHW website.
Broad Reach for Youth Leaders – A free program for at risk youth where they use sailing as a learning medium to develop confidence, leadership, teamwork, responsibility and positive work ethic. Youth ages 12-24 can take free programs aboard their 35′-40′ boats.
For more information visit the Broad Reach Website.
MLSE Foundation – Since 2009 the Maple Leafs Sports Foundation has provided $15 million dollars into upgrading sports facilities, providing program opportunities hockey, basketball, and soccer. They have also given to charitable groups offering sports and sport experiences to kids.
For more information visit the MLSE Foundation website.
HEROS – Hockey Education Reaching Out Society uses hockey to teach life-skills and empower young people across Canada. They provide free programs for youth and provide a safe and stable environment for young people to succeed, experiment and connect.
HEROS started as a summer camp in Vancouver outfitting and teaching 45 young people in the city's Downtown Eastside. The programs came to Toronto in 2005 after Telus became the presenting sponsor in 2004 which helped national expansion.
For more information visit the HEROS hockey website.