Anyone who has had cosmetic dentistry will likely tell you that it's changed their life to a degree; whether it has resulted in a boost in confidence, a more professional "look" (and subsequent treatment), or helped their cause in the dating game.
In ever-competitive and visual cities like Toronto, presentable teeth are a must if you want to look as professional as possible. Cosmetic dentistry – dental procedures that are specifically done to improve the appearance of teeth rather than their function – corrects visually displeasing issues like uneven, chipped, or discoloured teeth. Sometimes, it involves replacing an entire mouth of teeth all together.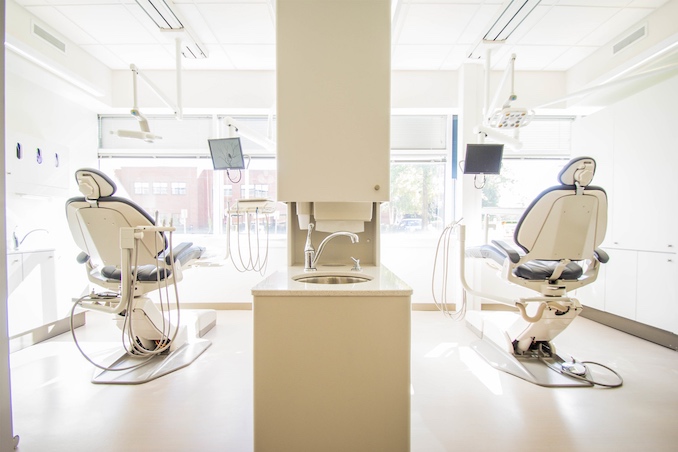 The problem (for many young people, at least) is that – unlike your regular dental check-up, cleaning, and cavity-fill – cosmetic dentistry is not covered by workplace benefit plans (if you're lucky enough to still have such a thing in the first place). Even when sky-high living costs are eating up your paycheque, however, cosmetic dentistry is worth the investment for Toronto professionals.
How much will it realistically dent the wallet? We break it down for you:
Teeth Whitening
Teeth whitening is the most common type of cosmetic dentistry, and involves lifting deep stains and rendering your pearly whites many shades whiter for a noticeably brighter smile. Whitening can involve about an hour in the dentist's chair (a more effective and longer-lasting process), or can be done at home (an obviously lengthier process) with toothpaste and whitening trays.

Cost: The cost of whitening in a dental office is typically about $600 to $700, while the take-home kits and trays will cost $100-$400.
Invisalign
Invisalign are essentially modernized, invisible braces. Made from clear plastic and much more subtle than their traditional counterpart, Invisalign braces work to straighten uneven teeth and/or poor bites and are a popular option among adults who didn't wear braces as children.
Cost: 
The cost of Invisalign depends on individual cases and the amount of correction needed. Generally, however, the treatment will cost $3000 to $5000, but will straighten teeth for life.
Dental Implants
Dental implants are a solution to permanent tooth loss. Implants are artificial tooth roots positioned in the jawbone to fill the second and invisible gap left by the lost tooth root. They can anchor a new tooth to complete your smile.
Cost: 
The cost of dental impacts really depends on many factors that go beyond the state of your teeth. These include the type of implant and material used and the dentist and dental office that performs the procedure. Single implants will set you back from $900 to $3,000; however, a full mouth reconstruction could cost $24,000 to $96,000.
Dental Bridges
Similar to implants, dental bridges are used as a solution to replace missing teeth. Different types of fixed bridges include resin-bonded and cantilever bridges.
Cost: 
Like most cosmetic dentistry, various factors influence the cost of dental bridges. Namely, if additional procedures are needed – like fillings and root canals are needed in one or more connecting teeth. The types if material used will also impact the price. Generally, dental bridges will cost $700 to $1,500 per tooth.
Veneers
Teeth that are decayed, discoloured beyond adequate repair, or abnormally aligned may need to be replaced all together. That's where veneers come into play. Made of porcelain or compost, dental veneers cost more than direct or indirect composite veneers but they last longer and look completely natural.
Cost: 
Veneers typically cost between $ 900 and $ 2,500 per tooth, but are designed to last a good 10 to 15 years. Composite veneers are more affordable; costing about $250 to $1500.
While dropping sometimes thousands of dollars at the dentist's office is certainly a challenge for many, it's difficult to put a price on having your best smile. After all, your smile is your logo and something that can both change your day and someone else's.
*This content is sponsored