Canadian MSC Ambassador Chef Charlotte Langley shared with us this recipe for Seafood Ramen with Tinned Smoked Tuna. Her version of TikTok's famous ramen satisfies any craving for easy and satisfying noodles in minutes but kicks up the nutrition with kimchi, an egg, and healthy, delicious and sustainable tinned fish. Look for MSC certified tinned smoked tuna which adds depth of flavour and complexity to a simple pantry staple.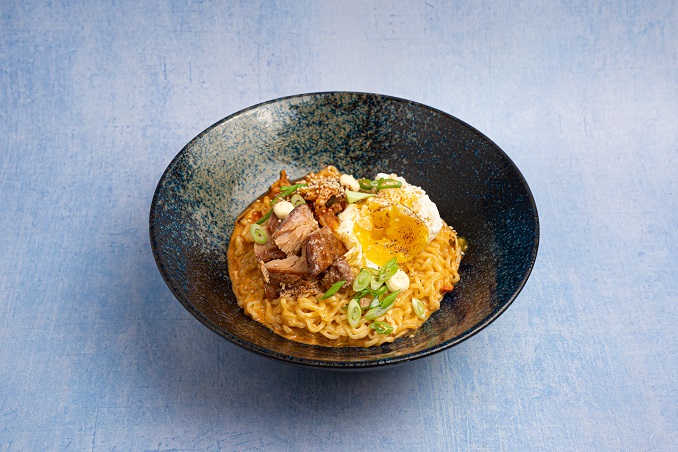 Seafood Ramen with Tinned Smoked Tuna
Prep: 5 minutes
Cook Time: 10 minutes
Serving size: 2 people for lunch or dinner
Experience level: Beginner
Ingredients:
2 packs of instant ramen noodles of your choice (Chef Char likes Shin Ramen for an extra kick of heat!)
1 tin (approx. 150 g) MSC certified sustainable smoked tuna (or substitute your favourite canned tuna, salmon, fish)
½ cup (120 g) kimchi
2 eggs
2 tbsp (30 ml) of kewpie or mayo of choice
Sesame seeds for garnish
Directions:
1. In a medium pot, cook the ramen noodles according to the instructions on the package.
2. 3 minutes before the noodles are done, crack the eggs directly into the pot with the ramen noodles and cover until soft-cooked.
3. In two bowls, add one packet of ramen seasoning and 1 tbsp kewpie mayo and mix well.
4. Divide the noodles with some water into each bowl. Garnish with one egg each, kimchi and smoked tinned tuna.
5. Sprinkle with a little sesame seeds and enjoy!