Figo restaurant in Toronto sent us their Roasted Cornish Hen Recipe with Rosemary & Chili Honey to start off our New Year.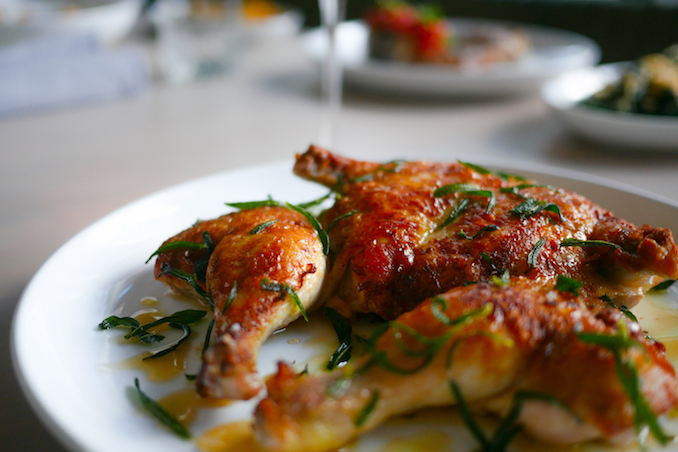 Roasted Cornish Hen with Rosemary & Chili Honey
For the Rosemary & Chili Honey:
Ingredients
-Honey 300ml
-Rosemary 5 sprigs
-Dried chili flakes 1 teaspoon
Directions
-In a small pot, bring the honey to a simmer. Take the honey off the heat and add the rosemary sprigs and dried chili flakes to the honey. Cover and let steep for half an hour. Strain and set aside.
***
For the Cornish Hen:
Equipment Needed
-Cast iron pan
Ingredients
-Cornish Hens (Deboned) 2
-Water 1L
-Rosemary 5 sprigs
-Salt 40g
-Brown Sugar 30g
-Vegetable oil for frying 6 tablespoons
Directions
-Bring the water, sugar and salt to a boil. Add the rosemary sprigs. Let cool completely. Add the hens to the brine, refrigerate for 24 hours. Brining really helps the hen in retaining its moisture while being roasted.
-The next day, set your oven to 400ºF.
-Take the Hen out of the brine and pat dry on some paper towel. Season the hen with salt and pepper on both the skin and flesh side.
-Place your cast iron pan on medium heat for 2 to 3 minutes. Add the vegetable oil. Turn the heat down and carefully place the hen in the pan, skin side down. Let the hen fry in the pan for 4 to 5 minutes. This helps crisp up the skin.
-Place the hen in the oven to cook for 8 minutes. Using the spatula flip the hen over onto the flesh side and cook for another 5 minutes.
-Take the hen out of the pan and let it rest for a few minutes. The skin should be golden brown.
-Drizzle the rosemary and chili honey over. Garnish with some fried rosemary and sea salt.
***
Rapini
Ingredients
-Rapini 1 bunch (blanched)
-Shallots 2 pc (julienne sliced)
-Anaheim chili 2 pc (deseeded and sliced)
-Garlic 2 cloves (fine diced)
-Olive oil 3 tablespoons
-Salt
Directions
-Place a medium size sautée pan on medium heat, add the olive oil and shallots. Cook this lightly for 1 to 2 minutes, add the garlic and chili. Cook for another minute. Add your rapini and cook for 2 to 3 minutes. Season with salt to taste.
-Serve along side with the cornish hen.