Chef Renée Bellefeuille of FRANK restaurant in the Art Gallery of Ontario (AGO) sent us this Pan-Seared Trout recipe from their special Georgia O' Keeffe prix-fixe menu.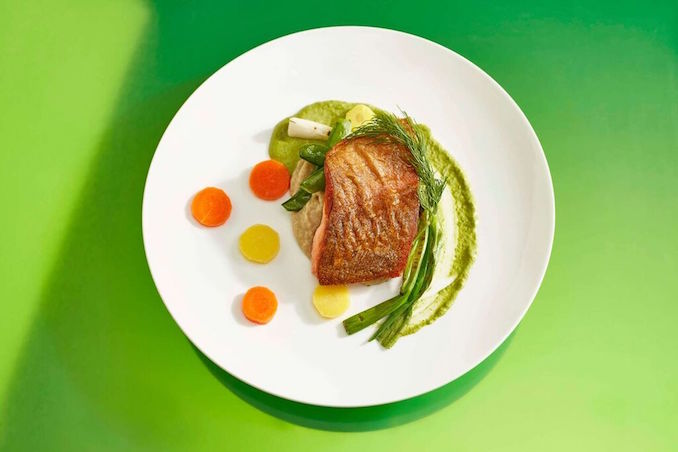 Pan Seared Trout Recipe
White bean and artichoke purée, charred green onion, sunflower-dill pesto
-Serves four-
Trout
-four 5 oz. portions of trout
-olive oil
-salt
-vegetable oil
Directions
With a very light hand, drizzle olive oil over the fish. Sprinkle generously with salt. In a cast iron pan over medium-high heat, add enough vegetable oil just to coat the bottom of the pan. Place fish skin side down, angling the fish away from you in case grease splashes up. Cook the fish completely on the skin, reducing heat to medium after the skin turns a golden-brown colour.
***
White bean and Artichoke puree
-one cup of dried white beans – soaked overnight, cooked in unsalted water until tender
-one tin of artichokes, preferably canned in olive oil
-good quality olive oil
-salt
-pepper
-two medium-sized cooking onions, diced
Green onions
-eight green onions (two per plate)
-salt and pepper
-olive oil, drizzle
Directions
Place all ingredients on sheet tray without parchment paper. Turn oven to broil and cook for 5-8 minutes until just lightly wilted.
Pesto
-one cup of sunflower seeds
-one half of a bunch of dill, chopped
-one lemon, zested
-salt, to taste
-generous "glug" of olive oil
-one clove of garlic
Directions
In a blender, combine all ingredients and pulse until consistency is a little bit chunky. Add a bit more olive oil if necessary.
Visit their website for more info.