Club House shared with us this tasty recipe for Pumpkin Pie Cookies. A delightful blend of seasonal spices and the rich, creamy goodness of pumpkin pie, these cookies are the perfect treat for your holiday gatherings. The tender, flaky crust encases a luscious pumpkin filling, creating a cookie that's not just delicious but also visually charming with its pumpkin-shaped design. With a hint of Pumpkin Pie Spice and a touch of Vanilla Extract, these cookies are a must-have addition to your dessert repertoire, embodying all the warmth and comfort of the season.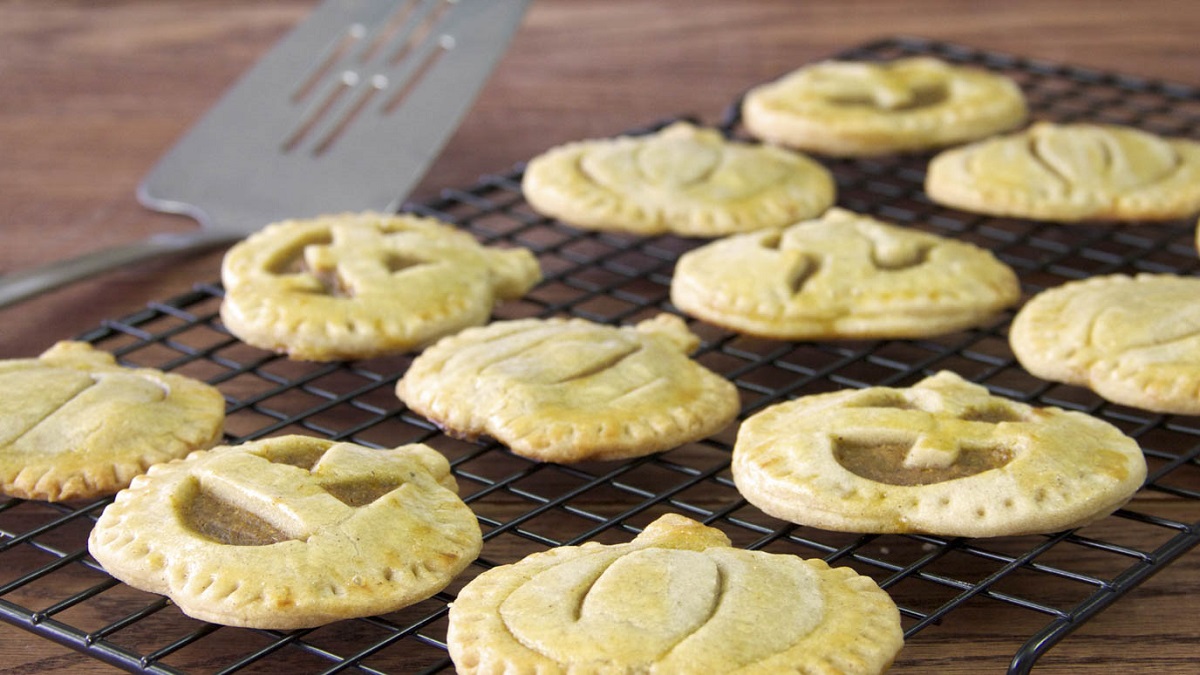 Pumpkin Pie Cookies
Prep Time: 25 min
Cook Time: 22 min
Serving: 24
Ingredients:
For Cookies
2 cups (500 ml) flour
1 teaspoon (5 ml) Pumpkin Pie Spice
1/2 teaspoon (2 ml) salt
3/4 cup (1 1/2 sticks/170g) butter, softened
1/2 cup (125 ml) sugar
3 tablespoons (45 ml) water
1 tablespoon (15 ml) Pure Vanilla Extract
1 egg, lightly beaten (for brushing)
For Filling
3/4 cup (175 ml) canned pumpkin
1/3 cup (75 ml) firmly packed brown sugar
2 tablespoons (30 ml) heavy cream
1 egg, lightly beaten
1 teaspoon (5 ml) Pumpkin Pie Spice
1/4 teaspoon (1 ml) Pure Vanilla Extract
Directions:
1. For the Cookies, mix flour, pumpkin pie spice and salt in medium bowl. Set aside. Beat butter and sugar in large bowl with electric mixer on medium speed until light and fluffy. Gradually beat in flour mixture on low speed until well mixed. Add water and vanilla; mix well. Press dough into a thick flat disk. Wrap in plastic wrap. Refrigerate 1 hour.
2. For the Filling, mix all ingredients in medium bowl until well blended. Refrigerate until ready to use.
3. Preheat oven to 350°F (180°C). Roll out dough to 1/8-inch (3-mm) thickness on lightly floured work surface. Cut out with 3-inch (7.5-cm) round or pumpkin-shaped cookie cutter. Set aside 1/2 of the dough rounds for the bottoms of the cookies. Score the top of remaining cookies with a small knife to make a pumpkin design or other desired designs
4. To assemble the cookies, place about 2 teaspoons (10 ml) filling on each of the cookie bottoms. Moisten edges of cookies. Top each with a cookie top. Press edges with tines of a fork to seal the cookie. Brush top of each cookie with beaten egg. Place 2 inches (5 cm) apart on parchment paper-lined baking sheet.
5. Bake 20 to 22 minutes or until lightly browned. Cool on baking sheets 1 minute. Remove to wire racks; cool completely.