Didn't you say you are looking for an adorable, playful feline friend? If a sweet and friendly companion is what is missing from your life, Leo Hunter is just the cat for you. Leo Hunter is an exceptionally friendly and joyful feline, always ready to share his warmth and affection with those around him. This compassionate little soul is seeking a forever home where he can be the centre of attention, as he thrives as an only-cat companion. Leo's radiant personality and gentle demeanour make him a delightful addition to any loving household.
This charming furball is an expert in the art of play, effortlessly entertaining himself with his favourite toys and cleverly utilizing his scratching pad with finesse. Leo's lively spirit is truly contagious, and his enthusiasm for life is bound to bring a smile to your face every day. Leo isn't shy about letting you know when he's ready for some attention, though he has his personal boundaries and would prefer that you don't pick him up at first. After you get to know him, though? Oh, he's all yours!
Not only does Leo have an impressive appetite for play, but he also has a hearty appetite for delicious meals. He adores curling up under a cosy blanket, relishing every moment of his serene nap time. If you're looking for a cuddle buddy to keep you company during those lazy afternoons, Leo is the purr-fect candidate!
If you're ready to open your heart and home to a furry friend who will fill your life with love and laughter, Leo Hunter is eagerly awaiting the chance to become a cherished member of your family.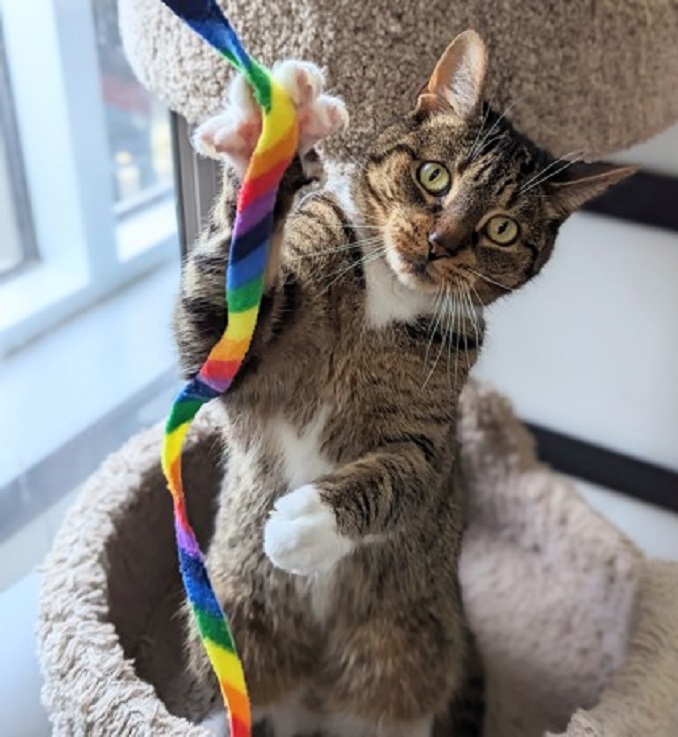 Leo Hunter
Breed: Domestic Shorthair, Mix
Age: 8 Years
Sex: Male
Size: M
Colour: Grey / Black
Spayed/Neutered: Yes
Declawed: No
For Toronto Humane Society's complete adoption process, please click here to learn more about how you can make this companion, a forever friend!
About this column:
Each week we feature animals available for adoption from local shelters in the Toronto area with the hopes that our readers will assist in finding good homes for them. If you, or someone you know, has the resources to take care of one of these animals, please do get in touch with the appropriate shelter via the links provided.