Mike Nagoda is a queer/bisexual and disabled blues and roots musician and independent recording artist based in Toronto. Born with Cerebral Palsy, Mike struggled to play guitar in the conventional manner until he discovered legendary Toronto Bluesman Brian Cober, who invented the art of Double Slide Guitar in 1971. Mike eventually approached Brian to teach him this technique and Mr. Cober became Mike's close friend and mentor until his passing in 2016. Nagoda is now proudly carrying on Mr. Cober's legacy to a new generation with the Double Slide Guitar in 2023 and beyond. His latest independent release, Outside The Box (2022), which was co-produced with Juno and Grammy-winning producer Chris Birkett (Sinead O'Connor, Buffy Sainte-Marie) marked the occasion of the Fiftieth Anniversary of Mr. Cober's revolutionary invention and debuted at #5 in all of Canada on the Roots Music Report charts upon its release. Mike is also the winner of the 2020 Toronto Blues Society Talent Search, as well as receiving an Honourable Mention for the 2019 Amy Louie Grossman's Music Scholarship.
Mike is currently in the studio recording his next release, Conspiracy! A Satire of Machinations, Tall Tales and the Slightly Lacquered Truth, at the Recording Factory in Toronto with his band the Spectrum Blues Band. The album is set to be a satirical concept album centred around the theme of conspiracy theories and is being co-produced independently with Mike's friend and bandmate, Jeremy Ronson, in collaboration with engineer Caleb Hyde.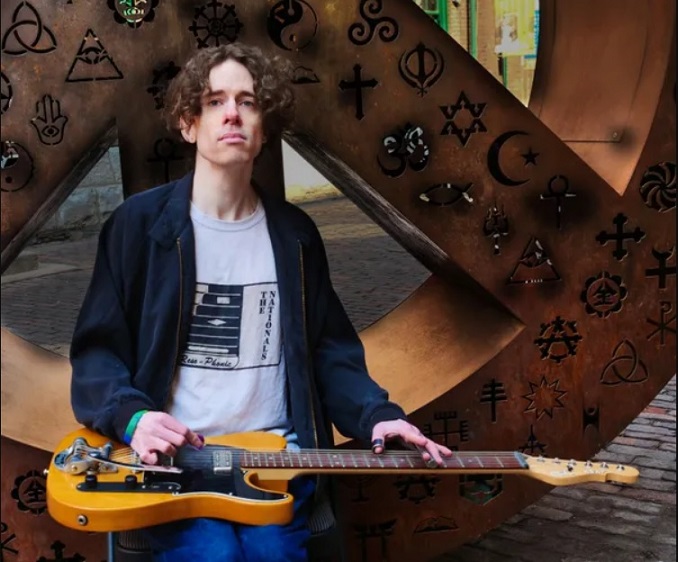 Name:
Mike Nagoda
Genre:
Blues and Roots Music
Founded:
2012
# of Albums:
2
Latest Album:
Latest Single:
Latest Video:
Favourite musician growing up:
Pink Floyd
Favourite musician now:
There are too many bands or artists to choose from, but right now I'm really getting into Megadeth, especially the work of ex-guitarist Marty Friedman (hint: I also love heavy metal!).
Guilty pleasure song:
Rush, by Troye Sivan (Cute guys who are pop stars or in boy bands are my kryptonite)
Live show ritual:
Metronome warm-ups on the guitar for 40 min, then two warm-ups on vocals: one a couple hours before the show, the second a half hour before I go on stage.
Favourite local musician:
My mentor, Brian Cober, inventor of the Double Slide Guitar (1956-2016, RIP)
EP or LP?
LP, definitely! I prefer a longer format that I can tell a complete story with!
Early bird or night owl?
Night owl, guilty as charged.
Road or studio?
I love both – although I have a soft spot for the studio if I'm being honest!
Any shows or albums coming up?
No shows planned for the near future, but who knows? Right now I'm focusing on recording my new record, Conspiracy! – taking my time with it, hoping to release it in the next couple years – all I'll say on it is it's going to show a completely different side of me, and I'm really excited to be making it!
Where can we follow you?
Website | Bandcamp | Facebook | Youtube | Instagram | Tiktok
***
Rapid Fire Local Questions:
What is your favourite local restaurant?
Sambucca's On Church in Toronto
What is your favourite street in your city and why?
Queen Street West in Toronto – great live music venues!
What is your favourite park in your city and why?
There's a little park down at the end of my street by the lake where I live – I like to go there to relax and enjoy myself. I find the waves to be calming.
What is your favourite music venue in your city?
Grossman's Tavern – home of the Blues in Toronto, and my second home!
What is your favourite music store in your city?
Capsule Music – every time I go there I'm surrounded by vintage guitars and amps, and I'm in serious trouble in the best way possible!