Anastasia Minster is a singer and composer based in Toronto, Canada. She creates melancholy soulful music in the genre of piano-driven chamber pop which fuses elements of classical, folk and jazz.
After releasing her debut noir chamber pop album Hour of the Wolf in 2017, Anastasia Minster went on to work on a more ambitious and comprehensive project: her second record Father, released in 2020. Three tracks were created in collaboration with English musician, composer and record producer Steve Jansen, and feature his signature atmospheric synth and string arrangements.
Other tracks boast multi-layered cello arrangements by Canadian virtuoso cellist Raphael Weinroth-Browne and trumpet parts by JUNO-nominated Tara Kannangara. The album was recorded at Sonology studio in Toronto using a variety of vintage analogue sound equipment. The lyrics are inspired by the works of Carl Jung, Hermann Hesse and Andrei Tarkovsky.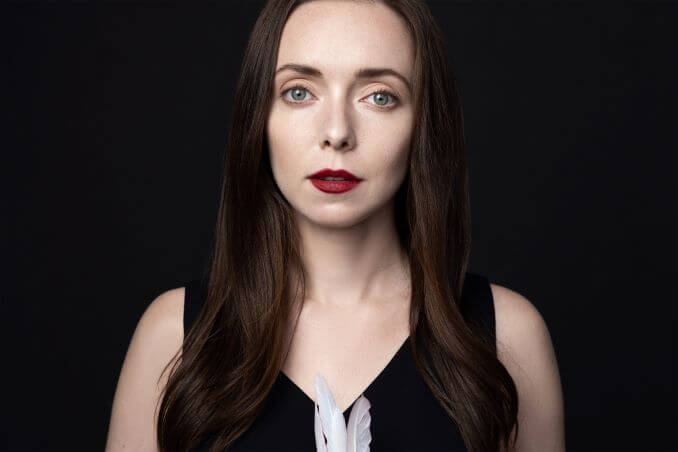 Name:
Anastasia Minster
Genre:
Noir Chamber Pop
Founded:
2012
# of Albums:
2
Latest Album:
Father, 2020
Latest Single:
Father, 2020
Latest Video:
Favourite musician growing up:
Nina Simone
Favourite musician now:
David Sylvian, Scott Walker
Guilty pleasure song:
The Phantom of the Opera
Live show ritual:
Meditation just before going on stage
Favourite local musician:
Picastro
EP or LP?
LP
Early bird or night owl?
A little bit of both
Road or studio?
Studio (I'm an introvert)
Any shows or albums coming up?
I have just released my first vinyl record. This is my album Father, which was recorded mostly on analogue equipment and I feel that vinyl is the perfect medium for this kind of music.
Where can we follow you?
Website | Spotify | Instagram | BandCamp | Facebook | Twitter
***
Rapid Fire Toronto Qs
Favourite local restaurant:
Terroni (I love Italian!)
Favourite street in your city:
Mt Pleasant Road. I like the part where it runs through the cemetery, one of my favourite places to take a quiet walk… it looks beautiful and timeless in any season.
Favourite park in your city:
High Park is quite special for me. I used to live just across the street and it was a huge inspiration. I would watch the hawks soaring above the trees in the morning and listen to the coyotes at night. I even used a photo of High Park on the cover of my first album, Hour of the Wolf.
Favourite music venue in your city:
Massey Hall. Classic.
Favourite music store in your city:
Soundscapes! It's a shame they had to close down.