For our latest featured local business we spoke with MNML Founder Mitch Bank about his company that produces high-end leather travel goods/bags designed specifically for functionality and organization. His company is currently running a Kickstarter campaign with plans to be in stores by the end of the year.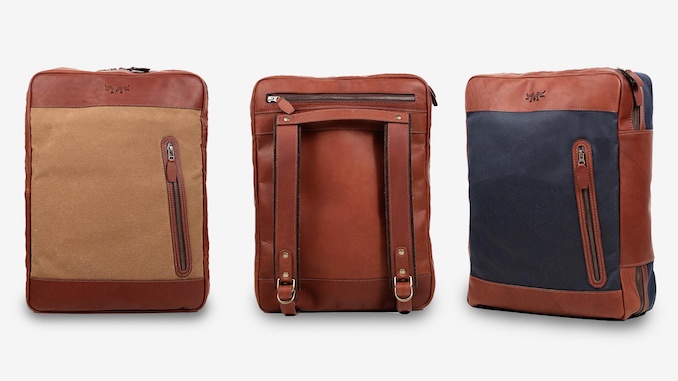 What is your business called and what does it do?
My company is called The MNML Leather. We make high quality leather goods designed to be beautiful, durable, and make your life easier.
What made you want to do this work?
My family has been in the leather business in Canada since the 1940's. Before that, we were in the leather business in Europe farther back than we can track. It's safe to say that leather is in my DNA.
Throughout my life, I've used a variety of leather bags for school, travel, and work. While they were all well crafted and beautiful, they were never functional. I noticed that there was a need for something like that in the market, so I set out to fill that gap.
What problem does this solve?
Have you ever travelled with a leather duffel or backpack? If you have, you know the pros and cons well. They are beautiful, tough, and often only get better with age. On the flip side, they are uncomfortable to carry, have limited functionality, and if they get wet, say goodbye.
The Highlander Backpack solves the cons while maintaining all the pros. Each one is built with felt padded straps to make it shockingly comfortable, it has carefully designed pockets, zippers, and handles to simplify every part of travel, and is 100% weatherproof, all while maintaining its beauty, toughness, and gorgeous patina.
Who are your clientele/demographics?
Anyone who travels. We have primarily served students and professionals who frequently travel back and forth from home, as well as backpackers looking to travel light.
One of my earliest customers travelled through Italy with his wife for 3 weeks. All they brought were 2 of the first Highlander Backpacks. That's it!
How does your business make money? How does it work?
Right now, the best way to secure a Highlander Backpack is through our current Kickstarter campaign. You can pledge for the model and colour you want, and we'll send it to you as soon as our first run of manufacturing is done (before Christmas).
We are also working with some awesome retail shops across Canada, and will launch our online store as soon as we complete the Kickstarter Campaign.
Where in Toronto can we find your profession?
You can back our Kickstarter campaign here and will be able to find them in retail shops by the end of the year.
What is the best question a prospective customer could ask a member of your profession when comparing services?
The question I get most often is "do I need to treat the Highlander Backpack with anything before taking it out with me?" While most other leather products need to be sprayed or treated in order to make sure it doesn't get too harmed by the elements, there is no need to ever spray or treat any of our materials.
The materials we use are made to withstand all weather and have been tested in everything from downpours to snow storms and have survived it all.
What is the best part about what you do? What is the worst part?
Best: I'm my own boss. I love problem solving and wearing many hats. I love the challenges that come with running a business and having to learn new things on the fly. I love the highs you get when something you've been working so hard on goes right.
Worst: I'm my own boss. Everything is on me, and that can be a huge burden to bear. We all like to romanticise entrepreneurship, but the truth is that when things are tough, it can be very lonely and isolating. As my dad and uncle like to say, at the end of the day, your boss is the bottom line, and when things don't go right, you have no one to go to but yourself.
What is your favourite joke about your own profession?
That "genuine leather" is good. Genuine leather is the lowest quality leather on the market, and the industry has done an incredible job marketing it to make it sound good. I've always been both baffled and impressed by that.
Here is a guide for reference:
Full Grain: This is the strongest part of leather, just below the hair. The grain is tightest here and hasn't been buffed or split, so it holds up very well over time. This is what we use in all of our products.
Top Grain: This is the next strongest. It's similar to full grain, but with the top layer buffed and sanded to get rid of any blemishes. While it may look nice when you first get it, it isn't nearly as durable, and tends to break down over time.
Genuine: This is made from the bottom cut that is split off from the rest of the hide. It is usually then coated and stamped to make it look like real grain. The reason it's called "genuine" leather is because…well…technically, it's leather.
PAY IT FORWARD: What is another Toronto business that you love?
18Waits. Not only do they make some of the coolest clothing in Toronto, their founder, Dan, one of the nicest guys you'll have the pleasure to meet, their team awesome, and they were the first store to stick their neck out for me and help get The Highlander off the ground.