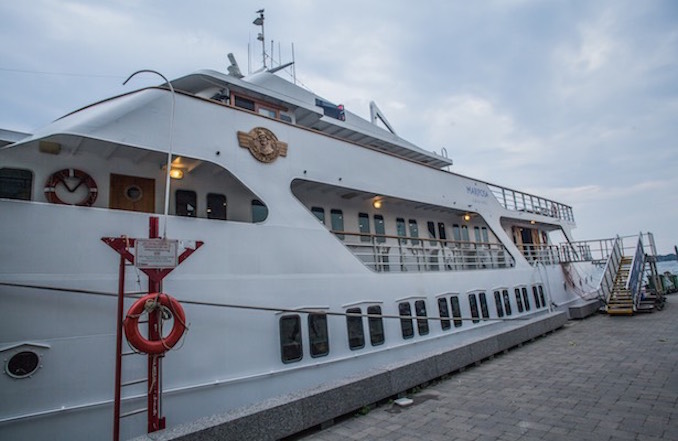 I love being on the water, so when Mariposa Cruises extended an invitation to experience a dinner cruise I was very excited.
So what is a Mariposa Dinner Cruise? Well, their website claims is a truly unique dining experience, where you're able to experience the sights and sounds of the city's waterfront and breathtaking skyline. Reading this I was excited to check it out.
I arrived with my dinner guest at the designated boarding site at 6:40pm, and after 15 minutes of waiting we boarded the boat and were assigned a table. We were promptly greeted by a friendly server who took our drink order, I was pleasantly surprised to see how reasonably priced the drinks were. Bottles of wine ranged from $28-$40, with mixed drinks and beers from $6-$10.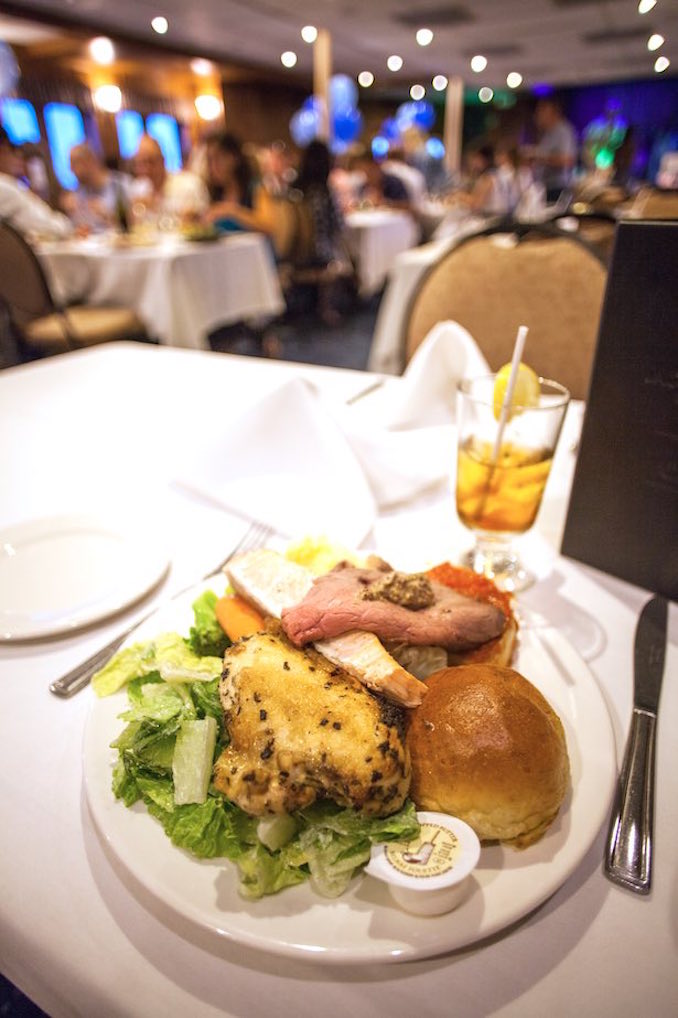 I was a bit apprehensive when I learned dinner consisted of a buffet. Not because I don't like buffets, but because I hate chaos. The idea of being on a boat with a bunch of strangers, who I'm assuming are as hungry as I am, rushing to form a line at the buffet gave me a bunch of anxiety. So when the server explained to me that the we would be called up table by table I was very relieved.
After receiving our drinks, we decided to hit up the top deck to enjoy the sunshine and view. The view from the top deck is gorgeous, and the downtown Toronto skyline is beautiful.
My first and only disappointment of the night was the number of people smoking on the various decks of the boat. It's 2015, time to ban the smoking, or at the very least regulate it to the back deck on the first floor. That being said, it was a lot of fun taking pictures and selfies with the Toronto skyline as the backdrop. All the guests on the boat were in a great mood helping each other take pictures.
After taking countless pictures it was time to eat. The buffet was delicious, it consisted of 4 different salads, pasta, fresh herb grilled chicken, a fish dish and a carving of roast beef. My favourite was the roast beef, it was flavourful and tender. For dessert there was an assortment of parties, amazing Dufflet cakes, teas and coffee.
As the sun set, the sun reflecting off the downtown skyline is a sight to see. The cruise runs about 3 hours, it's a great way to see the city from a different perspective. My parents are coming to visit from Vancouver next month, and without a doubt I'll be taking them back on the dinner cruise.
Dinner and cruise starts at $73+ HST per person.
https://www.mariposacruises.com