The restaurant industry had a rough few years with covid regulations — one of the hardest hit industries during the pandemic. We all did our best in supporting our local restauranteurs and kept the supply chain moving in the most creative ways. This week it was all about acknowledging Canada's finest chefs and their teams as they continue to push their creativity and invite us to return to restaurant dining. The 7th annual edition of Canada's Best 100 exclusive reveal event gave us so much more to look forward to and we're hungry to get out once again. The official publication will be available on newsstands June 6 and you'll want to get your hands on this one.
There is no other national Canadian list of this scope. "We tap more expert voices and opinions to arrive at our rankings than does any other similar publication here," said Jacob Richler, editor of Canada's Best 100. "Our list reflects a broad expert consensus. Chefs across the country aspire to be on it. It's respected in the chef community just as much as it is for consumers. And we put a lot of work into maintaining that position."
In addition to the Canada's Best 100 list, the voting panel also released more award-winning categories including Best New Restaurant List, Best Bars as well as Sommelier of the Year, Best New Restaurant Design recognitions and Best Farm-to-Table.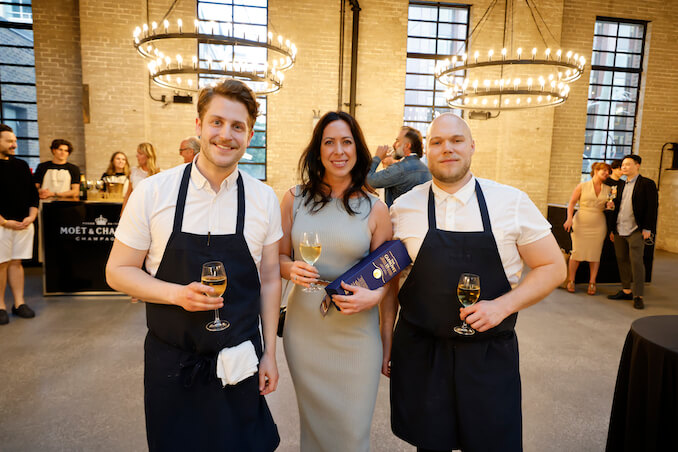 But who decides? Richler tells us the voting panel consists of a hundred judges from coast-to-coast. "Some are chefs or restauranteurs," said Richer. "Others are food writers and food critics. We also have a large segment of passionate, informed diners who eat at the best restaurants they can find as often as possible. I've been a food writer for over 25 years so a lot of them are people I've known through my work. Others are recommended or just volunteer. Some are winners of a contest we launched a couple of years ago and just relaunched, wherein you send us an email describing a dish you're passionate about…and if we find it convincing, we let you on the panel." Some of the judges this year include Zita Cobb, Mijune Park, Jessie Cayabo, Nathan Guggenheimer, and Franco Stalteri.
But it's not just a list. For me it's an exciting treasure trove of trusted voices who pay close attention to what's happening in the Canadian food scene. "It's a big list and it features all kinds of different restaurants," said Richler. "But you can still make generalizations. People always have their eye on what's new but there are some venerable institutions that continue to do well. Like Canoe and Rover Café, both in the top 10. And what places like that have in common, aside from quality, is a real commitment to local products and advancing a vision of Canadian cuisine. The same is true for the new restaurants on the list–like Mon Lapin and Published on Main. Canadian cuisine is charting its own course and the restaurant scene looks amazingly vibrant–especially given its challenges."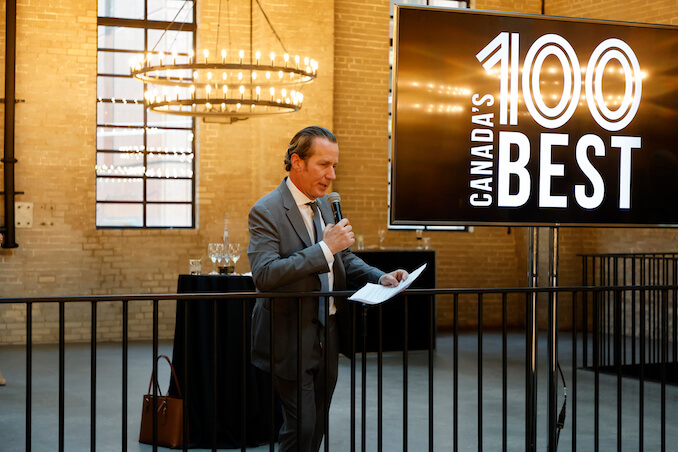 On this celebratory night, the Canada's Best brought many of us out of hibernation on a common industry day off. We mingled with friends old and new as well as a few of the city's finest chefs and bartenders, hospitality leaders, respected food/wine critics and writers, media and a few lucky food lovers. Spotted were Chef John Horne and Chef Ron McKinsey (Canoe Restaurant), Chef Rob Rossi (Osteria Giulia and Giulietta), Chef Nuit Regular (Pai Northern Thai, Kiin), Patrick Kriss (Alo, AloBar, Aloette), and my favourite man behind the bar, Nish Nepulongoda (Mixologist for Sofia) who was mixing up a summery Tobermory Gin cocktail that recently won in a friendly competition amongst the city's popular bartenders.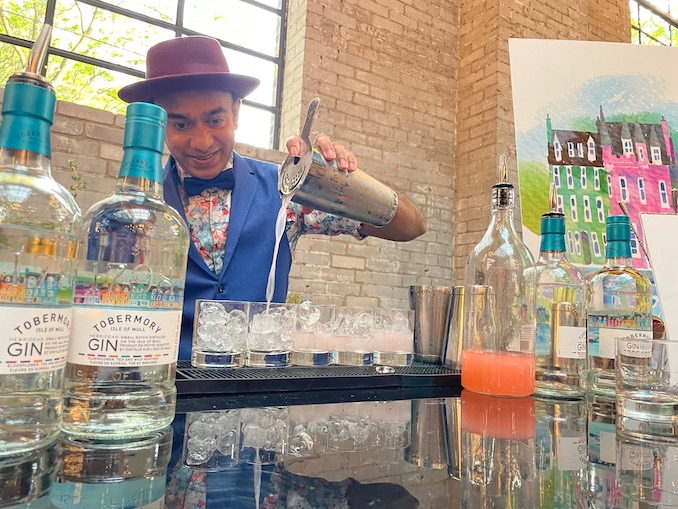 As we waited with much anticipation for the announcement of "Canada's Best" the annual list that earns chefs and restaurants bragging rights right here at home, we were invited to enjoy a taste of what a few of the award winning restaurants had to offer including Dreyfus' Duck Hot Dog, Hexagon Restaurant's Avocado and Spring Crab Aguachile, Aloette's Wedge Salad as well as their irritable S'mores cookie, Published and Main offered up Smoked & Candied Steelhead with Malted Barley and Spruce and Major Tom's Beef Tartare on a Potato Doughnut.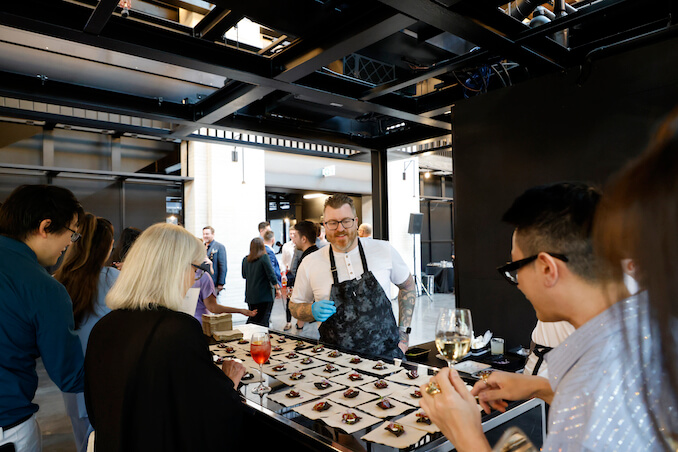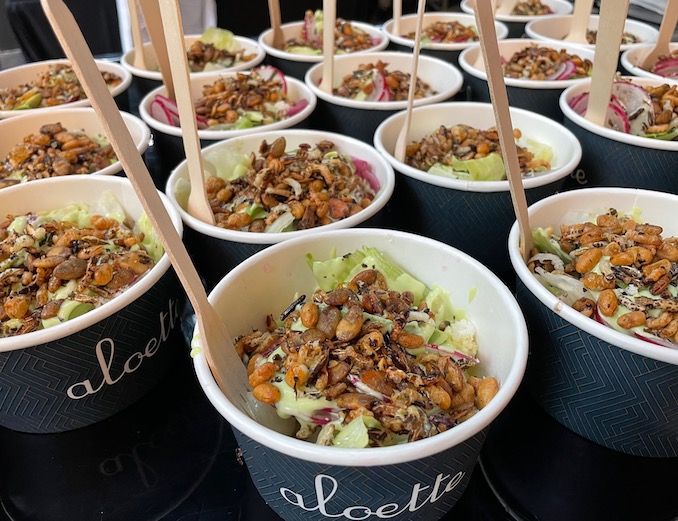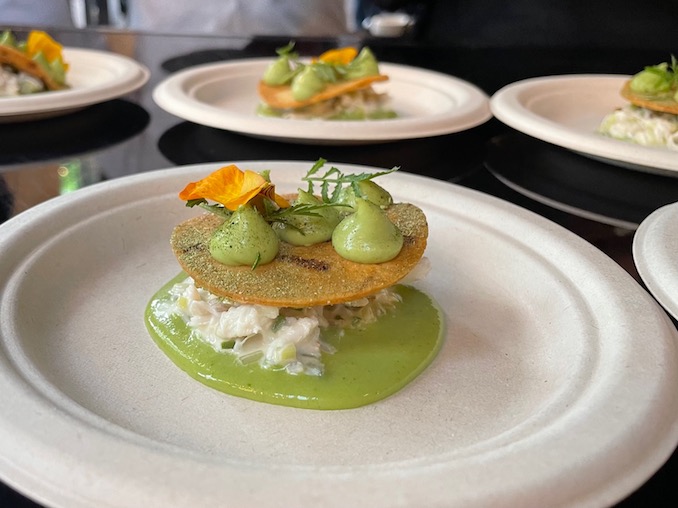 The event was held at soon to open Waterworks Food Hall (50 Brant Street). First built in the 1930s, the heritage site was a former utilities site and has recently transformed into a sweeping space that will be a  destination for food lovers. With gorgeous halo chandeliers lining the hall and a mezzanine perfect for events, it is destined to be a spectacular venue open to imagination.
A few of my restaurant loving crew and I had placed friendly bets on a few new comers. My fresh pick hit #11 on the Best New Restaurant List and I also loved seeing Canoe Restaurant continue to shine bright with glowing accolades (no surprise) coming in this year in 8th place overall.
I asked Richler what's been the most exciting aspect of bringing Canada's Best list back to the forefront as we emerge from the pandemic? "Needless to say, the pandemic was a particularly gruelling slog for the restaurant industry. And even though many problems persist, and restaurants are by no means out of the woods just yet, it's great to see them back to work at what they do best–cooking for customers on-site instead of takeout. And at Canada's 100 Best we find it particularly gratifying to publish a list at this crucial juncture and do our bit to focus praise and attention on the best of them, and drive a little extra business their way, too."
So, who made the "the list"?
We won't give it ALL away but here is a teaser…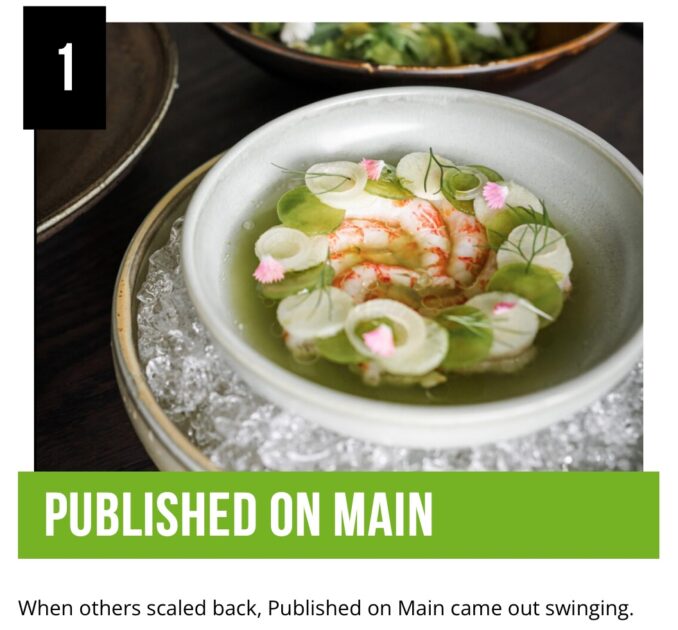 2022 edition of Canada's Best 100
Published on Main (Vancouver, BC)
Alo (Toronto, ON)
St. Lawrence (Vancouver)
2022 Best New Restaurants:
Major Tom (Calgary, AB)
Osteria Giulia (Toronto, ON)
D.O.P. (Calgary, AB)
Keep your eyes peeled for the publication that will be out on June 9th!  If you can't wait  here is the full list online. Then, get working on those reservations!