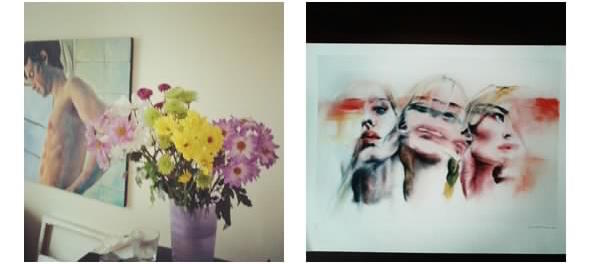 Having discussed over many a late night bottle of wine, our favourite artists, I can't help but be reminded of artist Sarah Cannon whenever I see a John Waterhouse. Growing up in a small South Western Ontario town we indulged fantasies of our "lives as artists" once we escaped what we deemed a cultural wasteland. Waterhouse's most remarkable women were tragic figures, victims of their own fate. As teenage girl's it was very easy to sympathize with these beautiful and melancholy heroines. When Sarah went away to Art school her passion for painting was finally given carte blanche. Blank canvases were never left long in the various paint spattered Toronto apartments Sarah has lived in since then. She is one of the hardest working artists I know. Her commitment to detail and craft to what some would call an outdated medium in the world of Ipad paintings and photo exhibitions is remarkable. Waterhouse's women, on the brink of death could never have been lovelier. Sarah, a woman who certainly lives her life in extremes creates beauty inspired by the depths and peaks of her young life. She is living our teenage dream, and I couldn't be prouder. -Karen Knox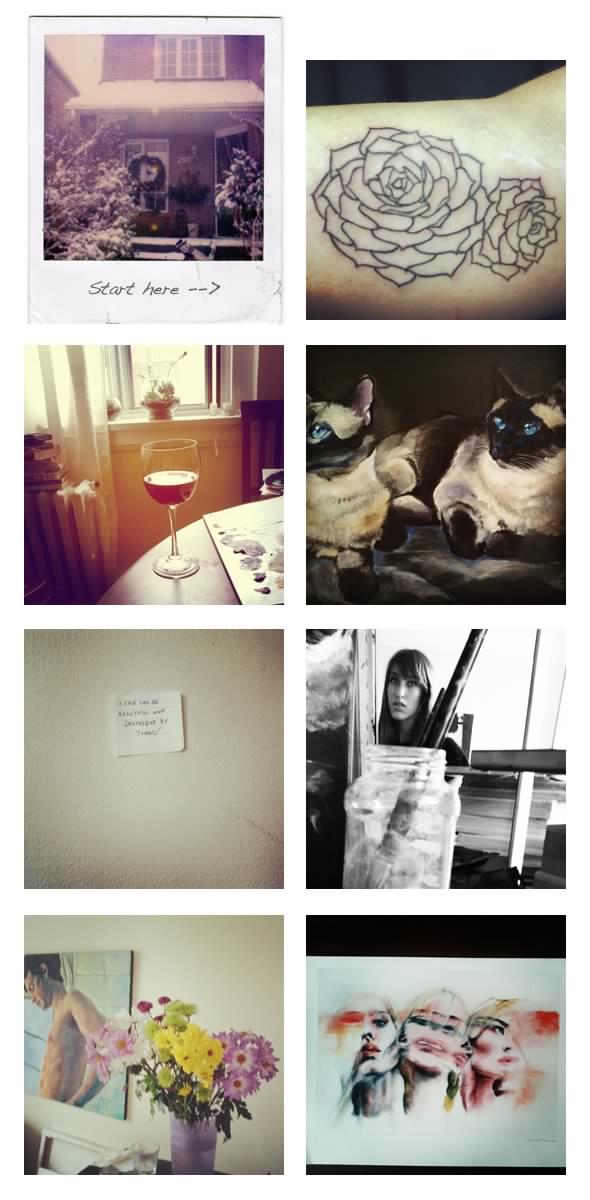 1. This is the house I grew up. My mom is the queen of decorating. My parents are selling the house so this will have been the last Christmas spent there.
2. I spent a year of my life as a tattoo apprentice. I wanted to try something new. I only learned the basics. My best friend Jordan let me practice on him.
3. May 1st was my 24th birthday, so, I had some wine while I worked on paintings. In the background is one of the terrariums I made with my mom. I love plants but I kill everything. I heard these things are pretty foolproof. We'll see how it goes.
4. This is a sneak-peak of a commission I'm working on. It's a mother's day gift of the family pets.
5. My bulletin board consists of sticky notes pasted to the wall above my desk. This is a line from a beautiful short story by Canadian author Lisa Moore. I was brainstorming for new portrait work.
6. Me, in my workspace.
7. Flowers from a happy client. And a painting I did of my boyfriend in the background.
8. I had prints made of my work for the first time a few months ago for a show in Vancouver. My friend and fellow artist Jenn Mann did them for me at her studio.
***
What neighbourhood do you live in?
I live in the St.Clair West area. I just moved here from Parkdale in September, having never previously visited this area of Toronto. It's pretty cool, though. There is an interesting mix of people around here.
What do you do and where?
I am a freelance artist and I work out of my apartment. I call myself a portrait artist and that is the subject I prefer to explore but the commission work I do ranges anywhere from pen and ink illustrations to pet portraits. I'm happy doing anything as long as I am creating.
What are you working on?
Right now I'm doing an illustration project with the people at 1THINGapp. It's basically this global gratitude journal in which people can share what they are grateful for each day and it shows up in a live feed anonymously. Everyday I choose someone's entry and illustrate it and it gets posted online. It's definitely been a challenge for me, but I'm really enjoying it and learning a lot. I'm also working on a few commissions… portraits, some pets & and some album artwork. And in addition to that, I'm doing some new stuff for a group show at the Gladstone Hotel on August 1st with a bunch of really awesome & talented ladies. I'm really excited.
Where can we find your work?
For my personal portfolio you can visit http://sarahcannon.4ormat.com
To check out the stuff I'm working on for 1THINGapp you can go to my tumblr http://sarahelizabethcannon.tumblr.com