The Regent Park Athletic Grounds will have its official launch on June 29th in Toronto. The new space includes a new hockey rink, which was already open this past winter, a basketball court and a track that encircles a large field that can be converted for sports like soccer and cricket. The field was funded in part by MLSE Foundation and will provide a much needed large multi-purpose sports and recreation area.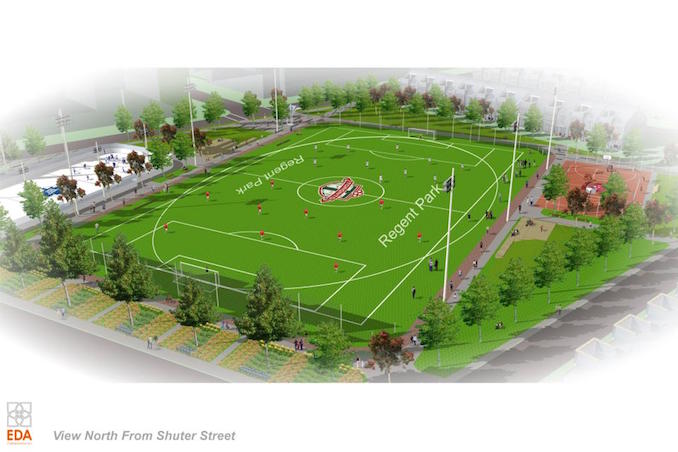 The field will also provide a way for local youth to join sports programs after school. The organization 3to6team is a group of local ambassadors supporting MLSE Foundation in raising funds for youth recreational programs in Regent Park. Their fundraising will provide after school sports programs for youth in the neighbourhood. One of their main fundraising events is the the Regent Park gala event,  being held on May 5th at the Capitol Theatre featuring Maestro Fresh-Wes and other musical guests.
I chatted with Tristan Blackwood who grew up in Regent Park and whose experience with after school programming and sports were a part of his routine that led him to getting a scholarship to a US college and a career playing basketball in Europe. Blackwood began playing ball at Lord Dufferin Public School in the 4th grade. After school, he would frequent North Regent Community Centre where he was able to play basketball, as well as video games, with friends in a safe and supervised environment. In high school, Blackwood played basketball for Eastern Commerce before attending Central Connecticut State University.
What was a normal weekday or weekend like for you as a youth?
TB: During the school year I was at school and then would go to the community centre after school to either play basketball or video games. On the weekends, I would be hanging out in the community with my friends. During the summers I was playing on the Regent Park Baseball and Basketball teams.
What did the added structure of the after school programs provide for you?
TB: The after school programs provided me with a space where I could explore, and be myself. I was active in sports, and the staff did a good job at providing different activities to keep the youth active.
You have had some great coaches at both Eastern Commerce and at College. What is something you have taken from them that has helped you achieve your goals?
TB: First, I would like to say that I was fortunate to have coaches that cared and wanted the best out of the players. The thing that I have learned from them is to work hard because nothing is handed to you. I came from a background where I didn't have much, so in order to reach my goals, I would have to work hard for it.
What do you think about the new revitalization project and the Regent Park Athletic Grounds?
TB: I think the new project is going well so far. A lot has changed; people moving out and people moving in. I think in the end when everything is finished, Regent Park will be beautiful.
In what ways will you be involved with the new programs and the 3to6Team?
TB: What I want to do is help or give guidance to the youth – who are the new faces of Regent Park – to achieve their goals. Most of the youth I know are also into basketball, so my involvement will be appreciated and will maybe motivate the youth to strive. As for my involvement with the 3TO6TEAM, I will help out in any way to bring the youth in Regent Park to as many recreational programs as possible, so they have the opportunity to be active throughout the year.
Tell us a bit about your time at college and what that experience was like.
TB: My first year in college was an adjustment for me because I was used to being close to home and around my family. I was in a whole different country alone, with my brother living two hours away. This new experience was tough, but I got through it by working hard and making a lot of friends. Throughout my four years I managed to graduate with a Marketing degree and achieve several awards. If I had the chance to go back to college and to relive that experience I would.
***
Drew Abbott is the founder and co-chair of the 3to6team who fundraises for the after school programs and I got to chat with him about the fundraising involved and how these projects get funded, and by who.
In what way is MLSE involved in the Regent Park Revitalization Project, the new sports facilities there and the running of sports programs?
DA: After considerable consultation with the community, there was a realization that access to recreation space was limited. As a result, with the assistance of the MLSE Foundation, Toronto Community Housing and Daniels have re-designed the space to include formal sports fields. MLSE Foundation will invest more than $2 million for the revitalization of an existing hockey rink, the creation of a basketball court, soccer and cricket pitch and running track. MLSE Foundation will also invest and facilitate the Regent Park Granting Consortium (RPAG Grants) which is a group of individuals, corporations and fundraising bodies who are committed to sustainable community development.
DA: These partners have been instrumental in the opening of the Regent Park Athletic Grounds and are interested in continuing to build the capacity of organizations and individuals already doing great work in the Regent Park community. MLSE Foundation's goal is to support sustainable programming that help to grow participation in sport, and use of the Regent Park Athletic Grounds. This year, MLSE Foundation will be dispersing up to $250,000 in grants to programs operating in Regent Park and surrounding communities.
Who staffs the grounds and the 3-6 programs?
DA: While the focus of the Regent Park Athletic Grounds will be for children and youth, the grounds will be open to residents of all ages. The City of Toronto will manage the facility and be heavily involved in the programming of the space. Their skilled staff will manage the permitted and open use times in consultation with residents. And, interest of the residents will drive programming.
In what ways do you receive funding and by who?
DA: The Regent Park capital investment was funded in partnership with the following organizations: Toronto Community Housing, Daniels Corporation, City of Toronto, Kelly Silverstein Memorial Group, Hockey Canada, Under Armour, Canadian Tire Jumpstart. Ongoing programming investments have also been made by: 3TO6 Team, Kelly Silverstein Memorial Group, Sentry Investments.
DA: 3TO6TEAM's upcoming Regent Park Gala on May 5 is our group's most important fundraising event of the year. This is our third year and we expect close to 500 attendees who will all be there to support after school athletic programming in Regent Park. We really hope to bring attendees an amazing evening to celebrate their support, and we try to make the experience better each time: this year we have Maestro Fresh Wes back for a special appearance, a rock violinist performing, an amazing DJ, an auction and a raffle. It's a great evening! If anyone can't make it to the event, they can make a smaller donation at regentparkgala.com.
How many youth in the area will have priority access to the programs? How much space is there?
DA: There are over 2,800 youth in Regent Park, and they will all have access to the athletic grounds, which include an NBA-sized basketball court, a turf soccer pitch which accommodates cricket, and an ice rink and fieldhouse that was completed in January 2015.
***
To keep up to date with the sports programming at the new Regent Park Athletic Grounds, visit the facebook page for 3to6team.