Papyrus is an unassuming restaurant located on the Danforth. There are a few tables out front is just like any other restaurant along the strip of restaurants on a comfortably warm night. A peek inside the front glass window gives a full view of the take out counter. But a few steps in and behind the mysterious curtains is you'll find a quaint dining room that seats about 14 people in a refreshed modern space. Aptly named the "Pharaoh's Den" diners are delightfully transported to a place of kindness, generosity and delightful Egyptian fare.
Owner and Chef Amr Elimam tells us after working here in Canada for over 30 years in various industries (he's an engineer) he decided it was the ideal time to share his passion for the food of his Egyptian heritage. He wanted Torontonians to have a taste of the cuisine and the rich history behind his culture through some of the most popular dishes found in Egypt. The Danforth was the right place amongst the many great restaurants that serves up comfort foods. One dish in particular, Koshari, is considered a national treasure.  He tells us it's a 200 year- old (but new if relative to the Egyptian timeline) originating in the mid-19th century when Egypt was experiencing economic and multi-cultural growth, this particular dish would have had French influence. It was said to have been invented by local French people and called couches de riz.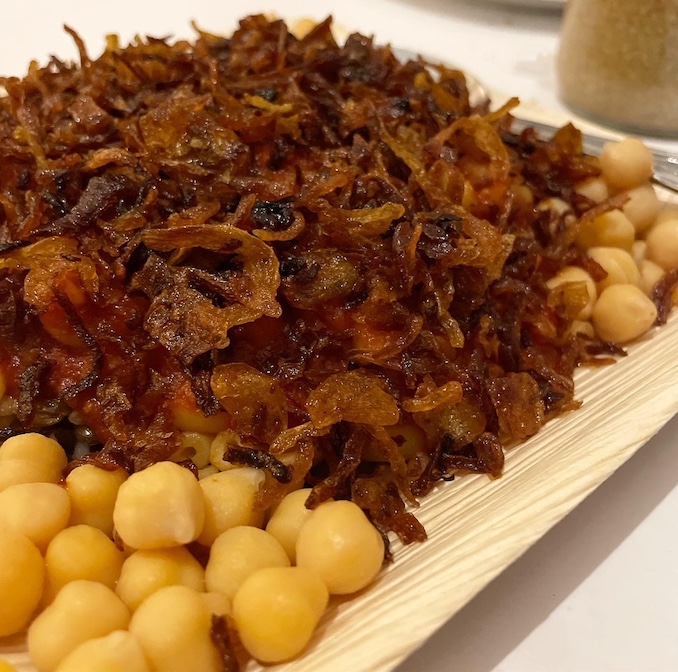 Commonly found everywhere and what can be also considered Egyptian "street food", it's that one dish that he says his Egyptian clientele misses the most from home. "In Cairo, you'll find this dish everywhere and in some places Koshari is the only dish they serve," said Elimam. The vegetarian dish is layered with chickpeas, lentil rice, pasta, tomato sauce, spices and generously topped with fried onions. Pasta?! Yes, his recipe includes elbow macaroni which gives a wonderful slight chewy texture. His Koshari is offered spicy or not. Go for the spicy (it's not that spicy). It's delicious.
He also tells us that every place also has their own spin on the recipe. His customers have also told him that his family recipe not only reminds them of home but some have even told him his is better than what they've had in Cairo. But what's his secret? He won't tell. But he does accompany his Koshari with a tall bottle Dakka a delicious  fresh house made minced garlic vinaigrette. Elimam recommended we try drizzling the olive oil over top.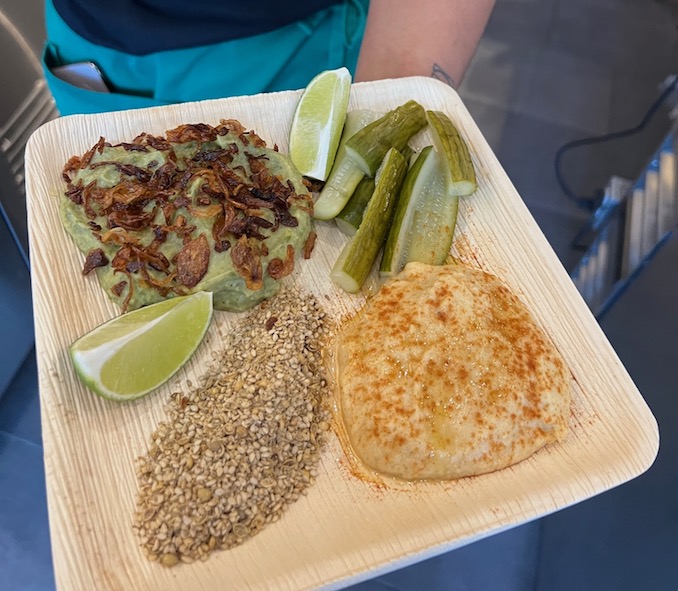 With taste buds dancing throughout the meal (in a good way) we fell instantly in love with the cuisine. Having Egyptian food for the first time it was the response that we are certain Amr was hoping for. When our eyes lit up, so did his.
Not sure what to order? The menu has a "leave it to us" option that is highly recommended for $40 per person. It's a great way to get acquainted with the food. You won't be disappointed. Served family style, start with the appetizer platter complete with Dokka, Lentil Hummus, Bissara, and Pickled Cucumbers with pomegranate arils along with warm Egyptian bread. The Dokka is a savoury mixture of sesame seeds and dried herbs that's enjoyed with fresh Egyptian bread that's quickly dipped in olive oil. Highly addictive….like popcorn addictive. Their house made Lentil Hummus and Bissara (chilled bean and herb dip topped with caramalized onions) are incredible. It's so good that I eagerly ordered extra to take home for my family to try the next day.
Another traditional Egyptian dish to try is Ful. Resembling a bean stew it's made with Fava beans and seasoned tahini, garlic, lemon, cumin, and spices. We learned that in the Middle Ages Ful was considered a delicacy and would start being cooked the night before in large cauldrons called qidras. The beans would simmer overnight and in the morning would be cooked as Ful. It became a popular breakfast dish and continues to be "comfort" food for many.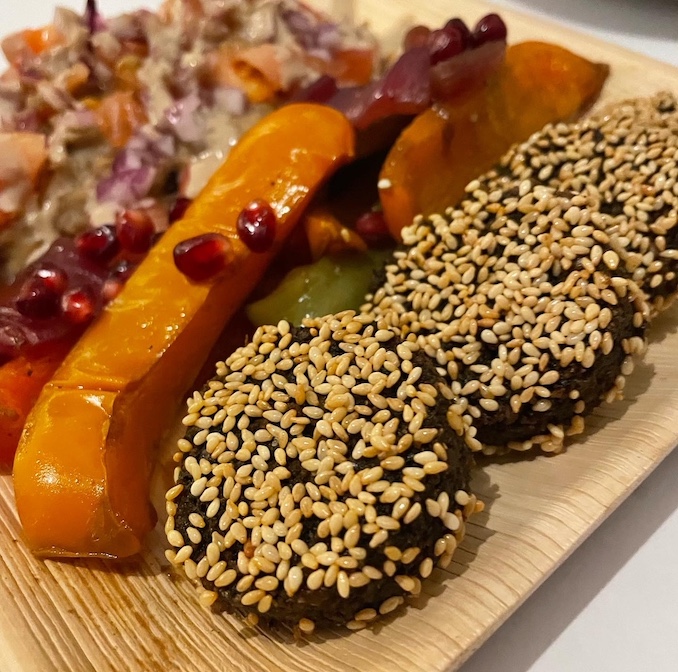 Tameya is another favourite street food and is much like the popular falafel but instead of chickpeas, it is typically made with Fava beans mixed with cumin, onions, leeks, coriander and other ingredients. It's lighter in texture with a crunchy exterior giving way to a fluffier inside.  The Tameya dates back about 1000 years ago in the city of Alexandria by Coptic Christians who ate it during Lent as a replacement for meat. Today, it's enjoyed all year round. You can also find it stuffed in Egyptian pita bread along with grilled veggies and hummus, it's a tasty meal on the go.
Save room for dessert! Be sure to try the Bassbousa ("Just a Kiss"), this classic Egyptian Semolina cake is simple yet elegant and would be a perfect finish with a coffee or tea. It may look dry at first glance but one bite had us realizing how looks can be deceiving. It's beautifully moist. A real favourite is their Konafa and there are several options available here. We tried the "Canadian" and if ever there was a "When Harry Met Sally" moment this was it. Blueberries, hazelnuts and just a hint of maple syrup is cradled in an oval shaped crispy light bird's nest pastry. It's sublime. There was also a Pistachio version which we certain is equally as good but we'll have to save room for another visit to try. Since it's summer, you may be interested in trying their handcrafted ice cream flavours. Saffron Rose Water and Mastic with Pistachios are refreshing and creamy. Hard to stop at one taste!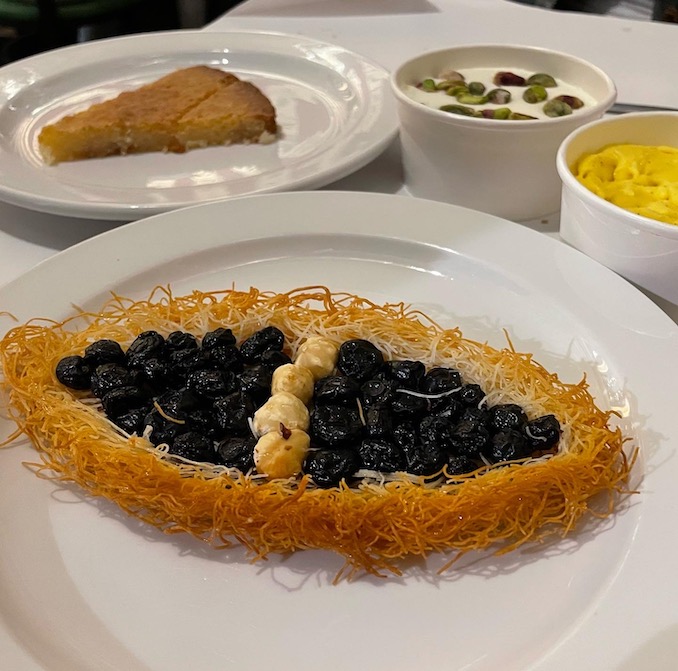 This is one of the most tantalizing and richly satisfying vegetarian meals we've experienced. There are a few options for beef and chicken recipes but the menu isn't missing a beat with everything else they have to offer.
Papyrus is located at 337 Danforth Avenue. Visit their site papyrusfood.ca for full menu, reservations, and hours.