Name: Heather Bambrick
Founded: Not sure about "founded", but I was born January 19, 1971!
# of Albums: As a solo artist: 3 (It's About Time, Those Were The Days, You'll Never Know); In duet format: 1 (This Is Love with Rudy Webb); as a founding member of Broadsway: 2 (Old Friends, and The Most Wonderful Time … Maybe)
Latest Release: You'll Never Know
Latest Video: "Lovers In A Dangerous Time" (to be released soon!)
Bio
When Anita O'Day first heard Heather Bambrick sing, the Jazz vocal legend exclaimed "You're good! You should have your own show!" After inviting Heather to jam with him, renowned Jazz- fusion guitarist Larry Coryell said to her "Wow, you're the real deal!" To this day, flugelhorn icon Guido Basso calls Heather his favourite singer.
This is the sort of praise that JUNO-nominated Jazz vocalist Heather Bambrick consistently receives from fellow musicians. Critics love her, as well. "Heather hits every right note", says Mark Rheume of CBC Radio. WholeNote Magazine calls her "one of the finest jazz singers in this country", and All About Jazz says her voice is a "paragon of clarity" and that "she's the real deal in every way".
As one of Canada's top Jazz vocalists, Heather has collaborated with some of the best around, including Phil Nimmons, Fred Hirsch, Gene DiNovi, Guido Basso, Lea Delaria, Anne Hampton Callaway, Carol Welsman, Jackie Richardson, Ian Shaw, as well as the late Rob McConnell and Peter Appleyard. She's a founding member of vocal ensembles The Beehive Singers and Broadsway, and has appeared as a guest performer with various Jazz ensembles, as well as with the Toronto Symphony Orchestra, the Newfoundland Symphony Orchestra, and the Windsor Symphony Orchestra.
Heather's solo recordings include It's About Time and Those Were The Days, both of which were nominated for East Coast Music Awards and resulted in international airplay and critical acclaim. Her latest recording, You'll Never Know, was nominated for Vocal Jazz Album of the Year at the 2017 JUNO Awards (Canada's version of the Grammy Awards) and Jazz Recording of the Year at the 2018 East Coast Music Awards. It's been praised by critics and industry leaders, and has risen to the top of Canadian Jazz radio charts. Heather's been a guest artist on numerous diverse recording projects, from those of the Caliban Bassoon Quartet, to Sophisticated Ladies (the final recording of Jazz great Peter Appleyard), and Just Passing Through (the award-winning recording from Jeff and Don Breithaupt). She's been honoured with Canada's National Jazz Award for Vocalist of the Year.
More than just a vocalist, Heather is also one of Canada's busiest voice actors, appearing on numerous commercial campaigns, as well as voicing characters on several Emmy-nominated animated series, including those for Disney, PBS, Comedy Network, and NBCKids. Since 2001, she's become a beloved host at JAZZ.FM, Canada's only all-Jazz radio station, and has twice been named National Jazz Awards' Broadcaster of the Year.
Heather's shows are described as what happens when "Ella Fitzgerald meets Carol Burnett at a Newfoundland kitchen party", combining brilliant musicianship with side-splitting laughs. Part musician, part storyteller, part comedienne, Heather is more than just a singer. She is an entertainer in every sense of the word!
Latest Single:
Well, I work mainly in the Jazz world, and we don't really "release singles", per se. However, with the video about to be released, and a radio edit on the way, I'd say "Lovers In A Dangerous Time" would fit the bill, here.
Favourite Restaurant:
Almost too many to mention!! I love La Castille in Mississauga for its old school vibe and fabulous steaks. I love Caffino in Liberty Village for fantastic Italian food. I love Cocina Economica on Berkeley Street for killer guacamole and margaritas. I love Tabülè on Queen for amazing Middle Eastern food. (And now I'm hungry … )
Favourite band as a teenager:
Gotta admit it: I was a Duran Duran fan! (I might still be able to list all band members birthdays.)
Favourite band now:
Depends on the day and my musical mood. I remain a huge fan of the Police, Sound Garden, and Chicago. I also REALLY dig Snarky Puppy, Knower, and my fellow-Newfs The Once!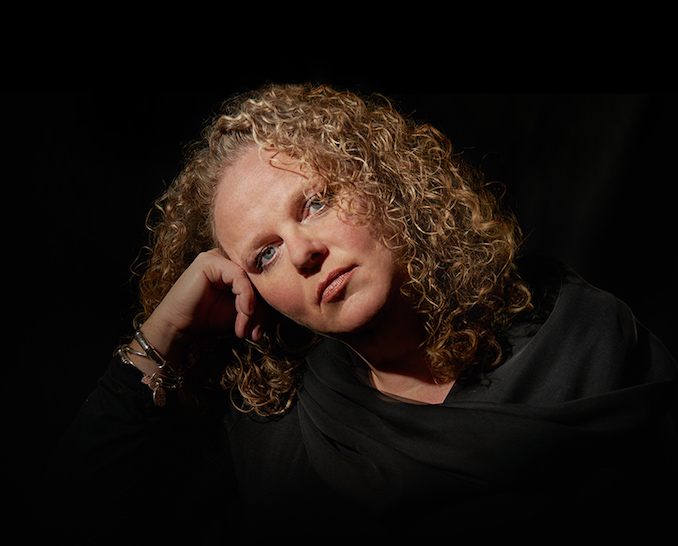 Guilty Pleasure Song:
Oh dear … here goes my "Jazz Cred". There are a few: Taylor Swift's "Shake It Off" … Abba's "Waterloo" (I DARE you not to sing along! I DARE you!!) … and pretty well the entire soundtrack to the musical Hamilton (with "Wait For It" almost always on repeat)
Live Show Ritual:
I gotta have a gin & tonic or a rye & soda while doing hair and make-up! Beyond that, I try to maintain some sort of record for the shortest "chick singer" sound checks!
Favourite local artist:
There are SO incredible musicians in this town – it's almost too hard to single people out! I have HUGE love and respect for Suzie Vinnick, Laila Biali, and Lori Cullen, to highlight just a few. There are simply too many brilliant local musicians! (Aurgh! This is almost as hard as math!)
Sneaky Dees nachos, pasta from Terroni or a superfood salad from Fresh?
Terroni all the way, Baby!!
Queen or College St?
With loads of respect to College, I gotta go with Queen Street ('cause they get you at both East and West)!
Trinity Bellwoods or Highpark, Riverdale or Kew Gardens?
I used to walk my dog Rylee through High Park all the time, so that's a special place for me!! I have to choose Riverdale, too. When I first moved to Toronto, I began playing softball in the NOTSO Amazon Softball League, with games happening every Sunday morning at Riverdale (and drinks happening every Sunday afternoon at various patios in the area!)
EP or LP?
LP!
Early bird or night owl?
I'm DEFINITELY a Night Owl!! (I posed as an Early Bird when hosting the morning show on Jazz FM, but that taxed my system. I think a Jazz morning show should start at noon!!)
Road or studio?
ROAD!! There's nothing like connecting with an audience and I love the idea of traveling and meeting new folks!!
Swiss Chalet or Roti?
HA! Love this question! I gotta show my "pasty-white-Irish-Catholic" roots and go with Swiss Chalet. But I have to say that the more I eat Roti, the more I'm becoming a convert!!