The new sketch comedy show, The Best Is Yet To Come Undone, confronts how pathetically sad and ugly insecurity and insensitivity have become in our culture. Sexual consent, basic bitches, gratitude journals, self-worth and self-delusion are some of the many contemporary topics satirically abused by a fresh-faced Second City cast. This revue runs until the end of August .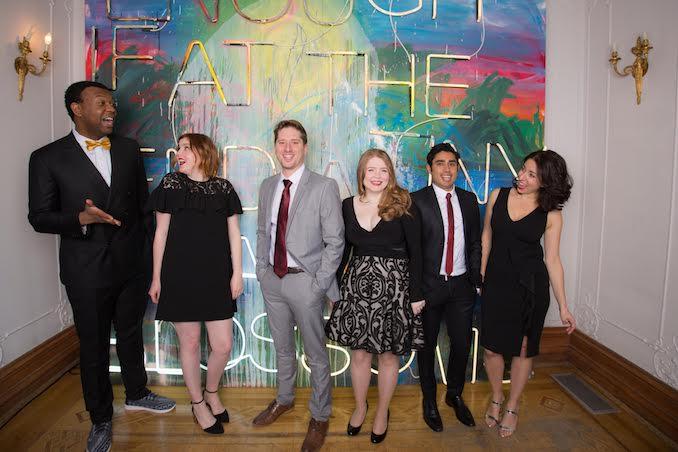 Exposing Sad Ugly Lives
Modern day insecurity is comically poked at through a number of sketches, including one where a young man and woman on a date excessively ask each other permission for the smallest movement or touch. The man goes as far as to ask for the woman's consent in writing. In another, two strangers come to the demoralizing realization, over a Samsonite spinner no less, that they are just basic bitches. A Snapchat-worthy sketch about a woman broadcasting her self-worth involves much hair flipping, but again just highlights how insecure everyone feels these days. Oh, and not to worry, a Tinder flight of fantasy is also included!
Being inappropriate and insensitive is also funny apparently, as demonstrated by the rest of the revue. From spouses using Google Home as a spy device to a man claiming to have the formula to turn all things queer, it seems people are oblivious to how ugly they can be. For instance, one of the sketches brilliantly mocks self-help podcasts made by privileged white women. The entitled podcasters, wrapped in Indigo Home blanket scarves, read sincere fan mail, then recommend lavender oil, juicing, Post-it Note affirmations, Whole Foods and gratitude journals as reasonable solutions to overcome adversity.
The Best Is Yet To Come Undone also includes a few audience participation sketches, and comedians Brandon Hackett and Stacey McGunnigle both excel with fiercely clever improv work.
Who Are We Really?
The Best Is Yet To Come Undone blasts: Who are we? As the sketches are so relatable, so personal. In our current social culture, aren't we all just trying to share our ideas, be authentic? Share the best of ourselves?
Along with the laughs, the revue pushes the audience to confront their thoughts around misogyny, sex abuse, racism, representation and a host of other societal shames. Because if we want to move forward out of our current dark age, we can't be afraid to have challenging conversations. Finding your authentic self isn't about having a make-believe life, it's about living a real one.
The Best is Yet to Come Undone is written and performed by The Second City Toronto Mainstage cast, and features new members Sharjil Rasool (MANTOWN), Stacey McGunnigle (Stacey Helps) and Chris Wilson (Royal Canadian Air Farce). They will join returning cast members Allana Reoch (The Beaverton), Nadine Djoury (New Born Moms) and Brandon Hackett (This Hour Has 22 Minutes).
***
The Best is Yet to Come Undone
On now until August, 2018
https://www.secondcity.com/shows/toronto/spring-2018-revue-2/
Every Tuesday to Sunday night
Show tickets starting at $27. Student prices available.
Dinner & Show packages starting at $54.
For The Second City Toronto shows & tickets please visit: http://www.secondcity.com/toronto/
Improv & sketch comedy theatre and bar with nightly shows, located at 51 Mercer St, Toronto.
About The Second City
The Second City, a 100% Canadian-owned company, is the world's premier improv and sketch comedy theatre company, with resident stages in Toronto and Chicago, Training Centres in Toronto, Chicago and Los Angeles, as well as touring companies performing throughout the world.