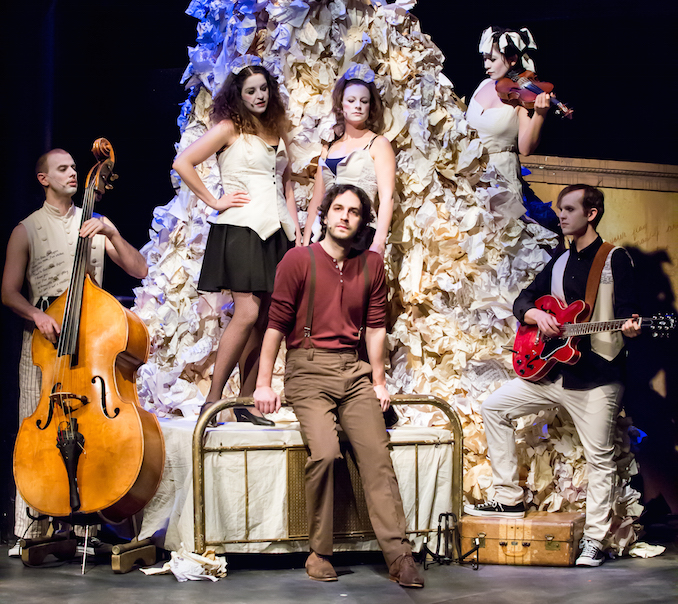 On Saturday night at the Theatre Passe Muraille, a beautiful tribute was paid to one of Canada's most famous poets, singers and songwriters; the melancholy yet romantic Leonard Cohen.
Chelsea Hotel: The Songs of Leonard Cohen, directed and conceived by Tracey Power, is a mesmerizing performance interpreting the inner workings of Cohen's tormented mind. As Cohen slowly faces his demons of love, loss and regret, it fuels his writing, his poetry and his songs, which come to life right before our very eyes.
As soon as the musical opens with the candle-lit ambience, it's clear that we are in Leonard Cohen's New York at The Chelsea Hotel. The set design alludes to the song "Paper Thin Hotel" with the "paper-thin" dilapidated walls, mountains of discarded loss-leaf notes, a vintage piano and of course the infamous lyrics "It's written on the walls of this hotel, you go to heaven once you've been to hell", carved into the wall.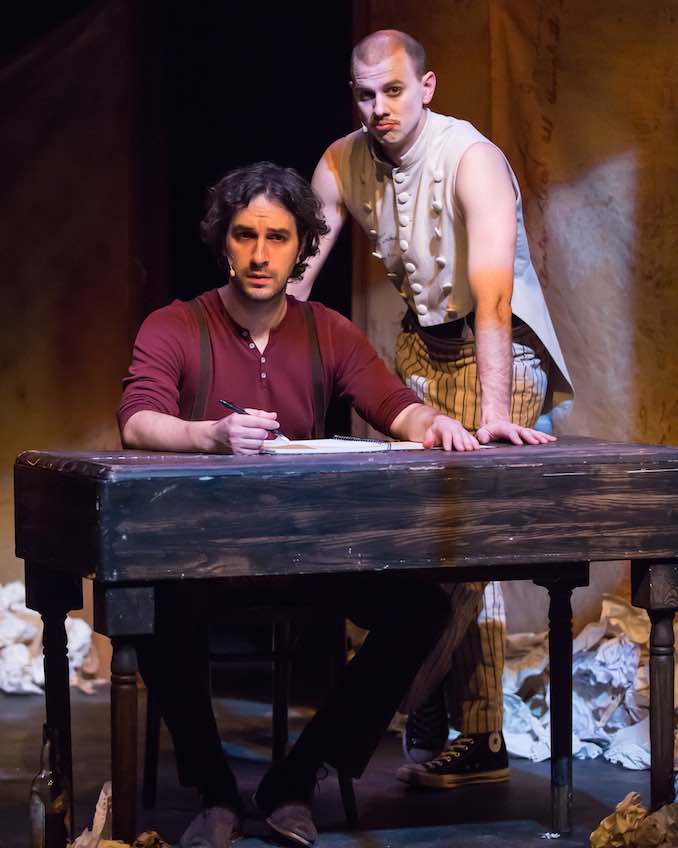 Yet, this wasn't your typical re-enacted cliché of the tortured artist, played by Jonathan Gould, no, this was definitely different. It is one thing to re-enact the tortured artist, yet it's another to actually re-enact their mind. The "mind" or per-haps the "subconscious" of Cohen, played by Ben Elliot, added a great dimension of understanding, insight and even comic relief at times to the artist's troubled writing process. Continuously at odds with the discipline to write and distracting hedonistic pursuits, it was a constant power struggle for Cohen to control his thoughts and get down on paper what was encircling and consuming his mind.
The transitions from one song to the next were surprisingly effortless through the highly innovative musical arrangements and multi-instrumental performers who could act, sing and dance their way through each song. As the performance took the audience deeper into Cohen's conflicted morality, voracious lust and eventual redemption, the themes, which surround the poet's art, became stronger and stronger.
Some of the most note-worthy renditions of the night would have to be "Suzanne", "Hallelujah " and of course "Chelsea Hotel" all sang true to form. An overall beautiful and mesmerizing performance, haunting at times and tender at others, this is a great show for any old soul looking for that perfect Valentines Day gift. This is definitely not a performance to be missed.
Playing through February 2-21st at The Theatre Passe Muraille.