October is the perfect time for a ghost story; the nights are drawing in, there is a certain chill in the air and Halloween is very much on the horizon. With this in mind, I was delighted to be given the chance to attend illusionist Nicholas Wallace's Séance.
I have to prefix this with stating that I am totally a believer in the spookier side of life, or at least I am very open to suggestion. My friend who accompanied me, however, is not. Interestingly the "spirit world" favoured her on the evening we went to the show as she found herself the subject of not one, not two, but three experiments, all of which were pretty entertaining to watch.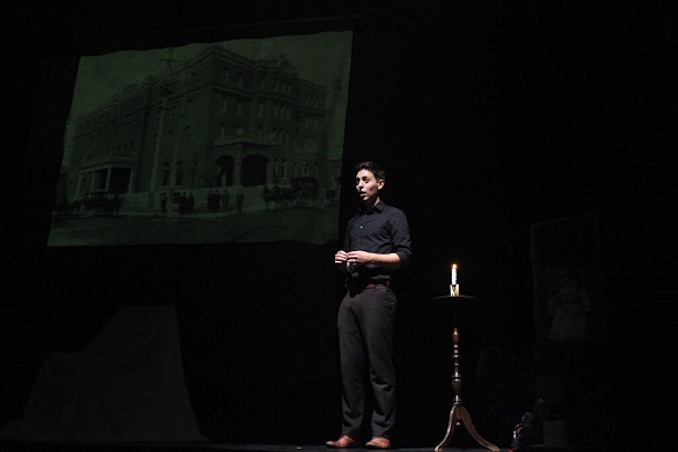 Wallace has a nod to the paranormal in his somewhat sparse stage design; a creepy doll, a spooky rocking chair (is there such a thing as a non-spooky rocking chair?!) and an old style record player (note – not a Poloyphon or Gramophone, which may have been more era appropriate.) Whilst at the beginning of the piece I was disappointed by the lack of scene setting, I quickly concluded that actually all that was needed to make this show a spine tingling success was a willingness from the audience to immerse themselves in the drama. With Wallace's personable yet authoritative delivery, this became very easy indeed.
Assisting Wallace with his presentation was a projected slide show of pretty harrowing images. My only real bugbear was that Wallace's confident delivery lead to some ill-timed slide show clicking. One problem with body cued technical effects is that they are very hard to get right and here this was oddly distracting during a time I was very much trying to be fully engaged.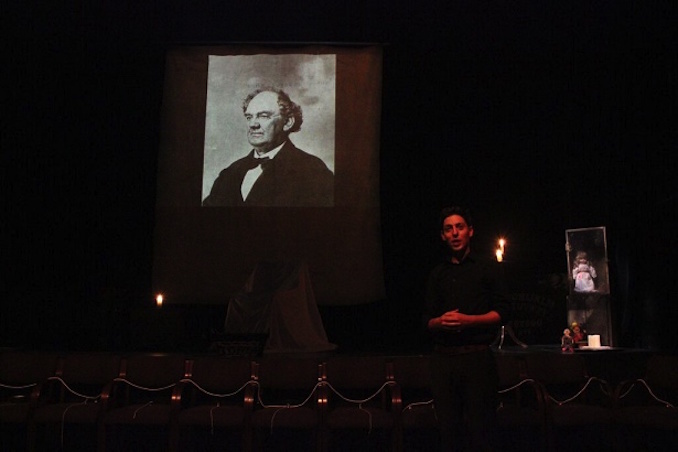 I previously stated that I am a believer and this is true, but I am also an experienced theatregoer and some of the "happenings" Wallace evoked could not fool me. Nonetheless, some audience members were consistently on edge, which made the experience more entertaining for the rest of us. That said, when the lights came down during the "séance" section of the evening, there wasn't a steady heartbeat in the room. Here Wallace and his co-creators managed to delightfully evoke Antonin Artaud's "Theatre of Cruelty," an experience modern theatre is decidedly lacking.
It is hard to discuss at length a show that relies so heavily on the element of surprise. I would hate to give anything away that might diminish a future audience member's enjoyment but I will say that I implore anyone not to be a touch freaked out at Wallace's flawless in the dark trickery. It is in the last ten minutes of the show that he truly demonstrates his masterful skills in the art of illusion.
For those who enjoy a good seasonal fright, this show is a good safe bet for an evening of slightly spooky, but not life changing, theatre.
Séance runs at Theatre Passe Muraille, 16 Ryerson Ave, until 11th October 2015.
★ ★ ★☆ ☆
Reviewed by Rebecca Felgate