"Alex McLeod is elusive. When I first met him he was setting up shop in the corner of our undergraduate studio looking like some kind of albino samurai X-men character from the 70s. Trying to summarize him this way, based on his outfit, was my first mistake. It turned out Alex enjoyed watching people do this. It also turned out he was a thoroughly down-to-earth person, was good at making art, and was always immensely generous. We became fast friends, but after school finished he disappeared and nobody heard from him. Reemerging the following year dressed as a used-car salesman from Texas, Alex unleashed his first body of digital works, which quickly grew into an amazing universe of hyper-surfaced video-game simulacra that caught on around the world. Since then I have had the pleasure of watching the most private person I know grow into, embrace, even bask in, the role of local celebrity and fashionista, and at the same time remain as grounded as a farmer. This combination confuses many people, and after encountering Alex for the first time they often ask me to explain. Fortunately he is too complicated to do so." – Tristram Lansdowne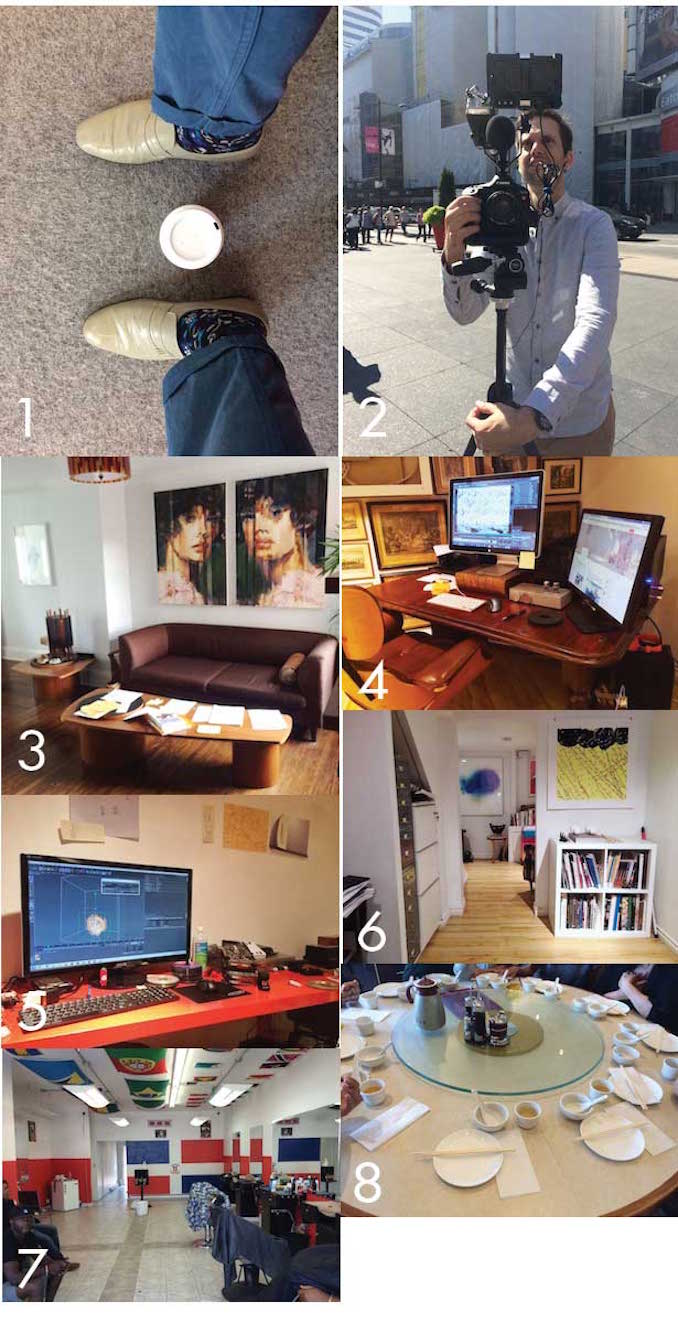 1. A regular early morning pre meeting view, essential americano.
2. As insane Dundas square is there is no shortage of opportunities to find yourself being interviewed about shoes.
3. View of my nest, Amanda Clyne and interface design texts.
4. The main workstation, where the 'magic happens'
5. The second workstation where the 'rendering happens'
6. An Anda Kubis and assorted pieces of 3d printed ceramic that have no home.
7. Chikago took over formerly titled Attitude barber on St Clair. Fades you could set a watch to.
8. Essential suburban Dim Sum table. After Jennie Suddick's opening at the Varley.
***
What neighbourhood do you live in?


Corso Italia!! Come up here for Cannoli at Tre Mari and Doubles at Weston Flea Market.
What do you do and where?


I am a visual artist and make primarily new media work. I have an office in my basement but sometimes I work offsite.
What are you working on?


Right now reading an article about the politics of waiting in lines and I'm thinking about making an endless animation.
Where can we find your work? 


My show at Division Gallery closes October 10th, and October 6th at Art With Heart.