The international upbringing of Eunice Keitan and her eclectic musical background are unmistakable in this Canadian singer-songwriter's work, which tastefully blends neo-soul and World Folk influences.
While travelling and moving often with her family in simple circumstances throughout her childhood, Eunice noticed the often harsh realities of everyday people. The observance of these struggles uncovered her awareness of the effectuating force of political and social issues on people's lives. These issues surface as themes in many of her songs, where she explores mental health, equality and social change.
Eunice Keitan was nominated for a Toronto Independent Music Award for her EP, "Where The Road Begins" and is set to release a new EP this summer.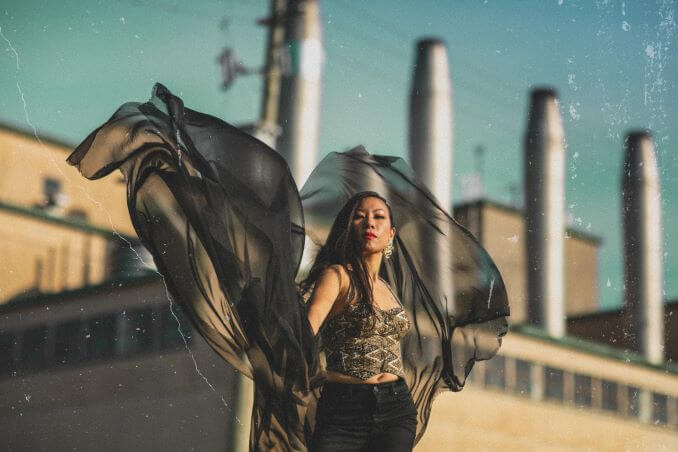 Name:
Eunice Keitan
Genre:
Alternative Neo-Soul
Founded:
2016
# of Albums:
1 album, 1 EP. And a new EP on the way
Latest Album:
My new EP is dropping in the summer
Latest Single:
Smoke And Mirrors
Latest Video:
Favourite musician growing up:
There are so many! Jeff Buckley and Joni Mitchell were probably the ones that influenced me the most.
Favourite musician now:
It's still Jeff Buckley and Joni Mitchell, but what's on heavy rotation at this very moment is Hiatus Kaiyote.
Guilty pleasure song:
Spice Girls "Wannabe". I miss songs about tight friendships. This throwback song always makes me want to wear my imaginary 90's BFF half heart necklace!
Live show ritual:
Honey lemon tea and meditation
Favourite local musician:
It's hard to have a favourite in Toronto because this city is full of talent.
Peach Luffe, Jacqueline Teh, Aphrose, and Lydia Persaud are some local artists that I think are making great art.
EP or LP?
EP
Early bird or night owl?
Definitely a night owl. I'm non-functional before noon!
Road or studio?
Both for different reasons. However, I thrive most during the creative process which tends to take place in my home studio.
Any shows or albums coming up?
Smoke and Mirrors is from an EP I'm dropping this year. There will be more songs dropping and live shows following the release. You can stay up to date through my website and socials.
Where can we follow you?
Instagram | YouTube | Facebook | Website | TikTok
***
Rapid Fire Toronto Qs
Favourite local restaurant:
Swatow. It was my grandfather's favourite restaurant and now I go for the food and the memories.
Favourite street in your city:
Bloor St. I've done everything from performing music to street dancing, first dates and late-night ice cream on Bloor.
Favourite park in your city:
Humber Bay Park. The combination of park and water makes this place so calming. I still make a trip out to this park when I need a break. The best time to go is at dawn when everything is tranquil and pristine. The hard part is waking up!
Favourite music venue in your city:
I love intimate stages and I have a lot of great memories of playing shows and watching other artists at The Painted Lady.
Favourite music store in your city:
Long and McQuade. Without their installment plans, I wouldn't be able to afford most of the equipment I own! It's also the most dangerous place for me because I never come out empty-handed. My last purchase was a Kalimba that I didn't need, but now it's going to be in everything.