Canadian singer-songwriter KYTLY, recently released her sensual new single "Not The Jealous Type" via all streaming platforms. "Not The Jealous Type" is a slow-burning, post-breakup song that reminds us that we can't control everything, and that's okay. The song is also a caution to always weigh a person's words against their actions carefully and act accordingly.
KYTLY, also known as Laura Keightley, has been chasing possibilities since moving from England to Canada at the age of 12. After discovering her love for music and writing songs, one band led to another until she formed The Caraways with ex-Weakerthans bassist and husband John Sutton. The short-lived indie-rock band ultimately split up, and KYTLY began to plan her solo album while attending film school. She started a career as a creative on TV and film productions doing art and set decorating, but never lost her musical sense of direction.
The now Hamilton-based vocalist has returned to display her own brand of fierceness and fearlessness as she continues to demonstrate her willingness to reinvent herself and make hard decisions to find the right path forward. This is displayed in KYTLY's recently released single, "Begin Again," an indie-rock fuelled confessional and reflection of her own experience.
KYTLY is currently working on putting the finishing touches on her new album which is set to be released later this year and will explore the experiences that have shaped her artistic and personal life over time. The album is produced by Los Angeles-based Producer and Fountains of Wayne drummer, Brian Young (Jesus and Mary Chain, The Posies, Gutter Twins), and will also feature a talented roster of veteran players including guitarists Jody Porter (Fountains Of Wayne) and Jon Skibic (Afghan Whigs), bassist Mark Crozer (Jesus And Mary Chain) and multi-instrumentalist JK Harrison (Brian Wilson).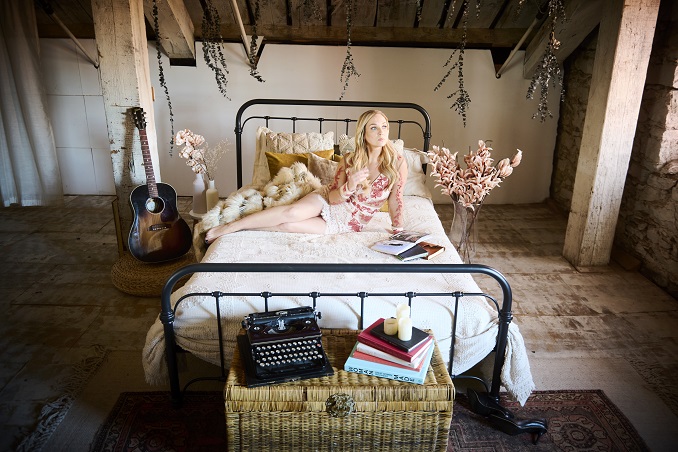 Name:
KYTLY
Genre:
Alternative, Indie-Rock
Founded:
2022
# of Albums:
Upcoming album release entitled Detours and Exits
Latest Album:
Detours and Exits
Latest Single:
"Not The Jealous Type"
Latest Video:
Favourite musician growing up:
The Breeders
Favourite musician now:
The Beths
Guilty pleasure song:
Eternal Flame – Bangles
Live show ritual:
A yoga flow followed by one glass of wine, usually Pinot Noir and a fav cover song – come pick me up by Ryan Adams on my guitar.
Favourite local musician:
Emily Haines
EP or LP?
EP
Early bird or night owl?
Early bird
Road or studio?
Studio
Any shows or albums coming up?
My new single "Not the Jealous Type" is now available and will be included in my upcoming album Detours and Exits
Where can we follow you?
Linktree | Apple Music | Spotify | Soundcloud | Instagram
***
Rapid Fire Toronto Qs
What is your favourite local restaurant in Toronto?
Milou
What is your favourite street in Toronto and why?
Roncesvalles, it's like a village in the city. I lived there for many many years – cherry bomb, dog park, high park, yoga and wellness spots, Inter steer, the local, and more…
What is your favourite park in Toronto and why?
Bellwoods – versatility-Jog, Sunbath, Tennis, Coffee walks, and Clothing shopping close by…
What is your favourite music venue in Toronto?
Horseshoe
What is your favourite music store in Toronto?
Rotate This