Born in Toronto, Ontario, NDAI is making a name for herself. The R&B artist's distinct, soothing and ethereal voice is amplified with her writing style focusing on cadence, paired with the desire to fill the spaces in between the music. She gives the listener a raw and genuine take on the many anecdotes she shares about her life and the lessons she's had to learn and overcome.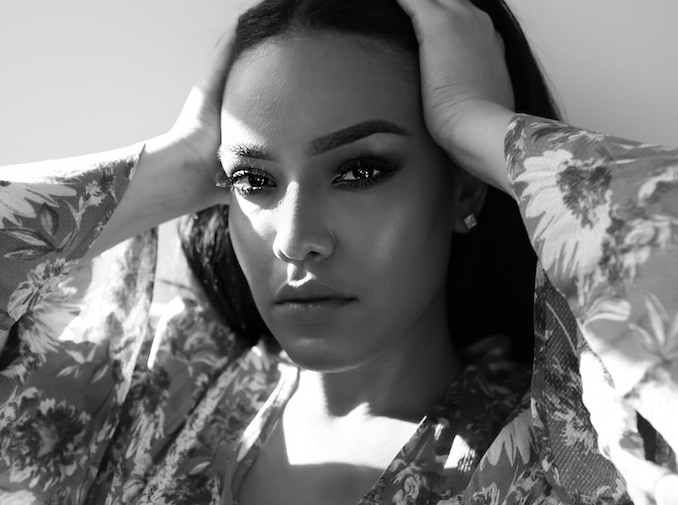 NDAI /ˈnedā/ aims to create art true to herself and her music is no exception, as she explains:
"Great art has a certain truth to it. As artists we hold up a mirror to society and weave the words into songs that are simply too difficult to articulate otherwise. It's a combination of skill, inspiration, and vulnerability, which is the key to honesty. Honesty can only come from a vulnerable place where the ego cannot coexist, it is unpretentious, unadulterated and raw.
"Rather than filling an archetype that is somewhat dictated by the industry, the Toronto- born singer/songwriter definitely has a style of her own. A multi-disciplinary artist whose artistic expression spans across music, art and film, NDAI has been gaining the attention of some of the Music Industry's heavyweights like Noah Shebib, Teddy Riley and Andre Harrell with her distinct, soothing and ethereal voice, as they continue to follow her career and have shared their thoughts and appreciation for her sound.
Continuing off the success of her last single "Nobody's Ting", getting radio spins in both North America and the UK, NDAI releases the much anticipated first single, "Shadow" off her debut EP The Lovers. Coming from a pedigree of musicians and artists (Muttoo Brothers CalypsoOrchestra, and music engineer father Stephen Muttoo), it was almost no surprise music would be an important part of her life.
Name:
NDAI
Genre:
RnB / Soul
Founded:
2015
# of Albums:
The Lovers EP releasing mid 2019
Latest Release:
Shadow
Latest Video:
NDAI Shadow music video to be released mid 2019
Latest Single
Favourite Restaurant:
The Nice Guy (LA), Sotto Sotto (Toronto)
Favourite band as a teenager:
Spice Girls
Favourite band now:
N/A
Guilty Pleasure Song:
Rupert Holmes – Escape
Live Show Ritual:
3 shots of Tequila
Favourite local artist:
Daniel Caesar
Sneaky Dees nachos, pasta from Terroni or a superfood salad from Fresh?
Sneaky Dees Nachos! They are too good, especially if you're looking for something tasty late night.
Queen or College St?
Queen St! Definitely full of more things to do than College St.
Trinity Bellwoods or Highpark, Riverdale or Kew Gardens?
Trinity Bellwoods. Love that place during the summer months. Enjoy basking in the sun and getting a nice day's worth of serenity.
EP or LP?
LP
Early bird or night owl?
Night Owl! Most of my creativity comes at night.
Road or studio?
I'd rather be on the road than locked away in the studio. At least on the road I get to perform and also sing and write.
Swiss Chalet or Roti?
Ha, Roti! 🙂
Where can we follow you?
Facebook | Twitter | Instagram
@ndaiart (IG, Twitter, FB)
Any shows or albums coming up?
Feb 14th @ Nightowl
Feb 21st @ The Drake Underground