The French River is located in Central Ontario, Canada and stretches a 110 kilometre distance from Lake Nipissing to Georgian Bay. It is just south of Sudbury. The Algonquian of the area used it as a transportation corridor connecting the two large bodies of water. It became known as "French River" when the Ojibwa named it this due to the influx of French explorers in the 1600s. It was designated a Canadian Heritage River in 1986.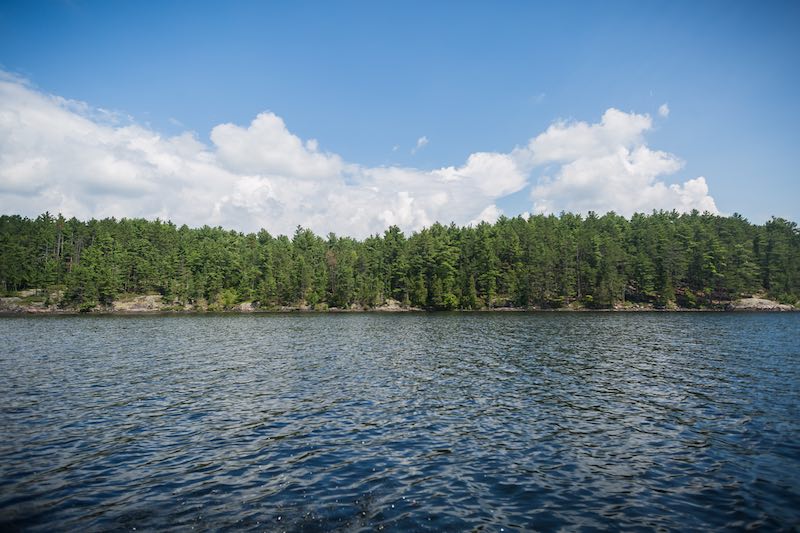 Along with the Ottawa and Mattawa Rivers, the French River makes up part of the water highway from Montreal to Lake Superior that were used during the days of the fur trade. It still remained a major canoe route until around the 1820s. Somewhere around the year 1855, the Grand Trunk Railway of Canada provided a new way to access the area as well as Georgian Bay. This led to an increase in exploration of the area which increased fishing and logging during the Industrial Revolution.
After its logging days slowed, the area became a summer tourism area. Today, the area is a popular site for canoeing, kayaking, hiking, photography, camping, fishing, cottaging and boating.
Driving
To access the area around the French River you head North through the Muskoka region. It is about 4 hours north of Toronto, mostly along highway 400 which turns into the 69.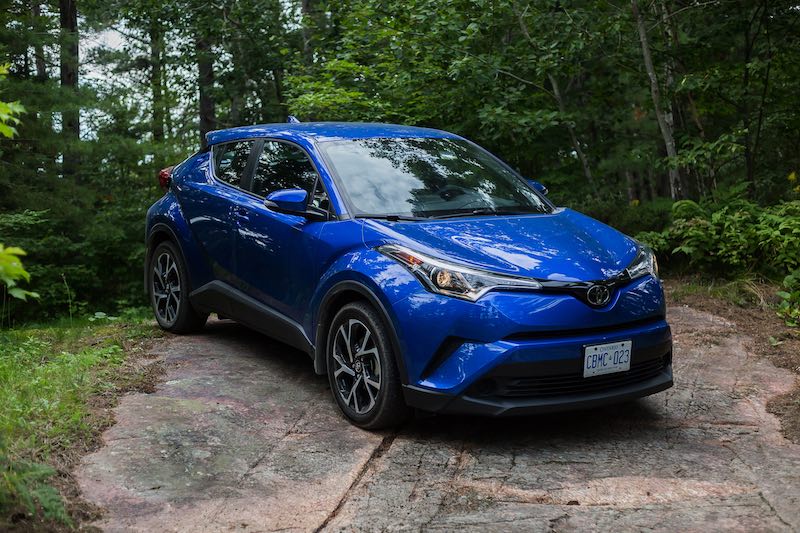 I always go for a car that is low on gas and has ample room for the long drive. For this trip, we got to try out the 2018 Toyota C-HR – an all-new, coupe-inspired crossover that is a sort of mini-SUV in its style. It was sporty but also had room, with a good shape, to fit everything we needed – 3 people with their supplies for 5 days.
On the route to French River, we stopped off for lunch at Gilly's Snug Harbour Restaurant & Marine, a quaint harbour side nook that is quite popular in the area, yet a hidden treasure to be found for new explorers to the area.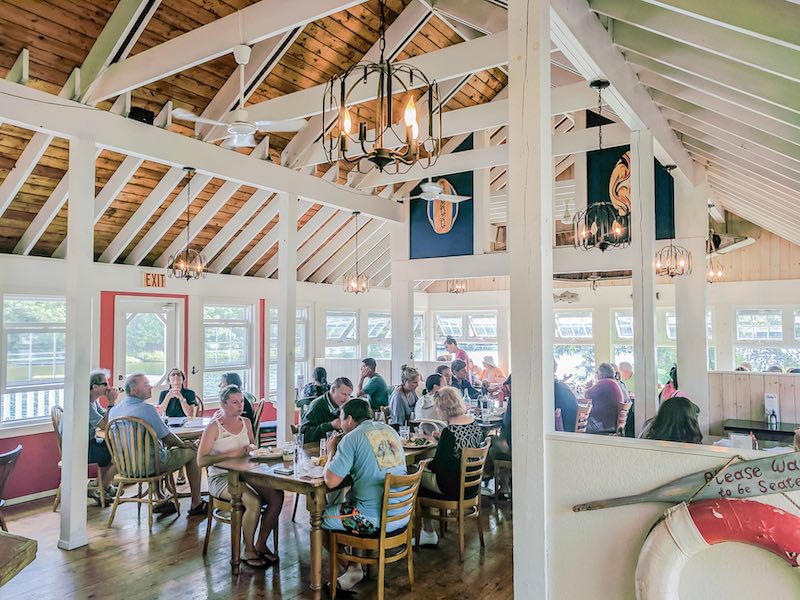 We also stopped off at Point-au-Baril to grab LCBO supplies. This LCBO is small but has some beers and is located on the 400 for an easy pick up while saving time. We kept it local and seasonal with Muskoka Brewery's Harvest Ale.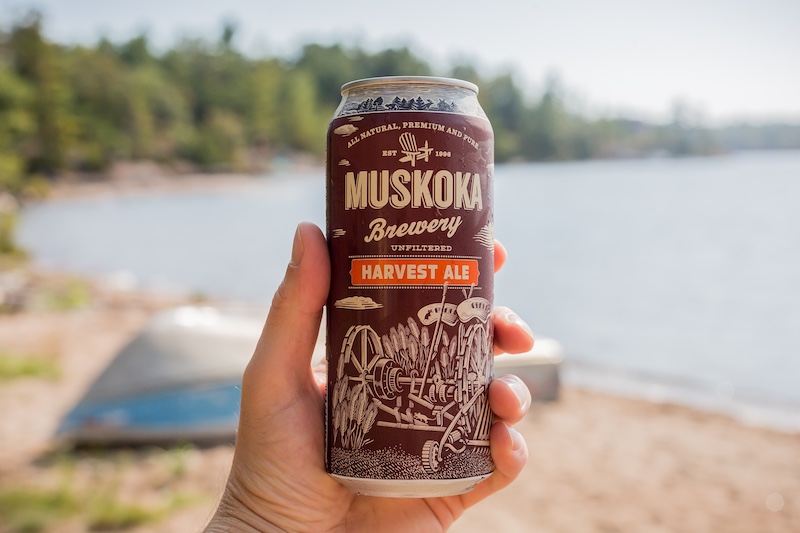 Once supplies are obtained, you can finish off the last leg of the drive to the French River. You are still mostly in cellphone range around the French River, so don't worry about losing touch with the world. GPS maps are a great tool here.
Camping and Cottaging
There are a ton of cottages and campsites along the French River. AirBnB for example lists many cottages ranging from around $150-$500 a night in peak season. For camping, the length of the river has many canoe/kayak routes, portage signs and campgrounds to lay your head for the night. Most portages are short and there are markers to show you the locations. Maps will also have the locations of both portages and campsites. Some faster parts of the river will also have portages to avoid using the faster parts of the river.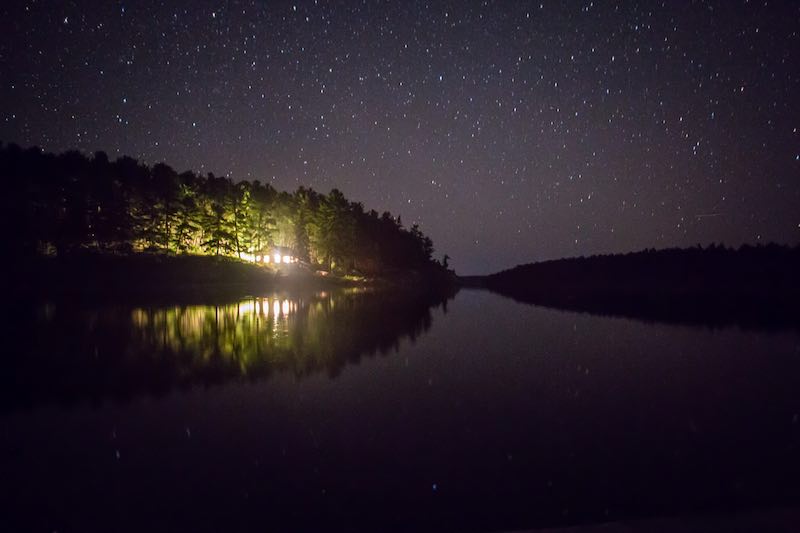 For info on back country camping, visit the Ontario parks website here.
While in the area, we got to revisit one of our favourite drive-in camp sites that is adjacent to the French River, Grundy Lake Provincial Park. We first visited this beautiful location on our 4-day camping trip that encircled Georgian Bay. Here you can drive your car up to your camp site and have access to their beach, launching sites for canoes and kayak, as well as beach volleyball, hiking and swimming locations.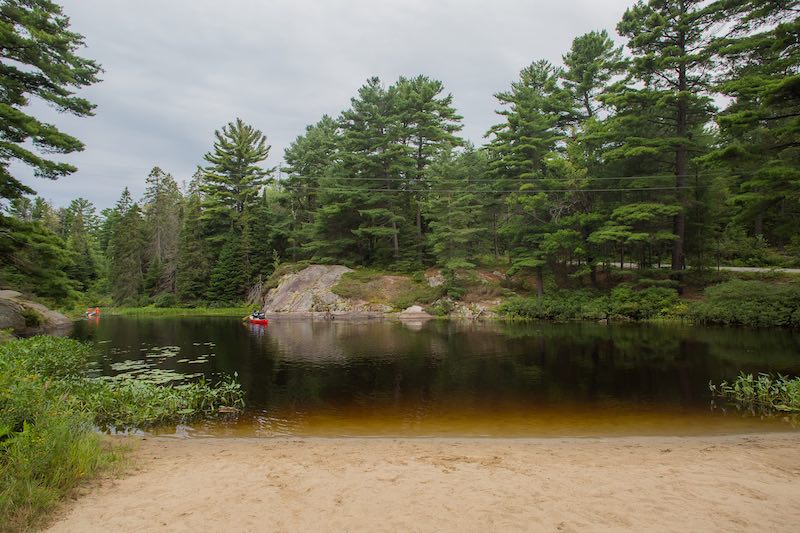 Hiking
The ground here is mostly lush with moss and soft earth supported by large boulders. The terrain is fairly easy to walk and many trails have already been blazed. We brought some hiking boots to be sure, although a good running shoe that can get damp or wet would work as well, especially for those hotter summer days. In the fall or Spring, I would stick to a tough boot that has ankle protection, is somewhat waterproof and has a good tread. We tried out KEEN's Targhee EXP. boot that is pretty rugged, breathable and waterproof. It offered great ankle support and protection from debris as well.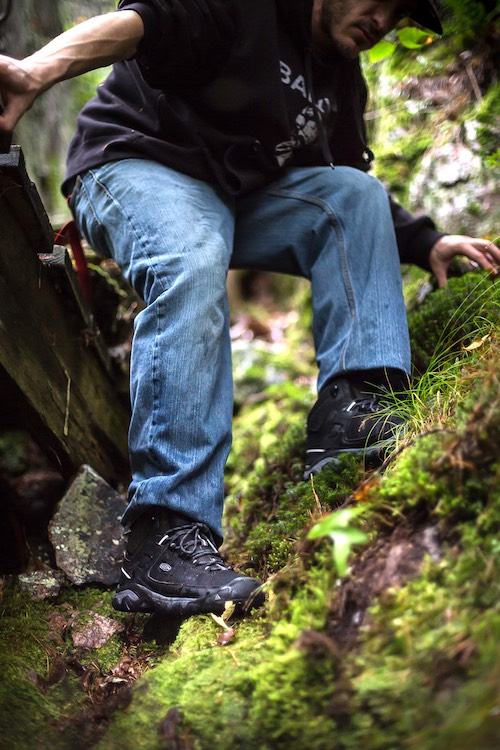 Here is a map of trails that I found online.
Along the trails you may find some wild blueberries if you are around at the right time of year. There were many locations that we came across with grounds littered with the fruit and we spent some time by the water berry picking to bring back to camp for later. So delicious!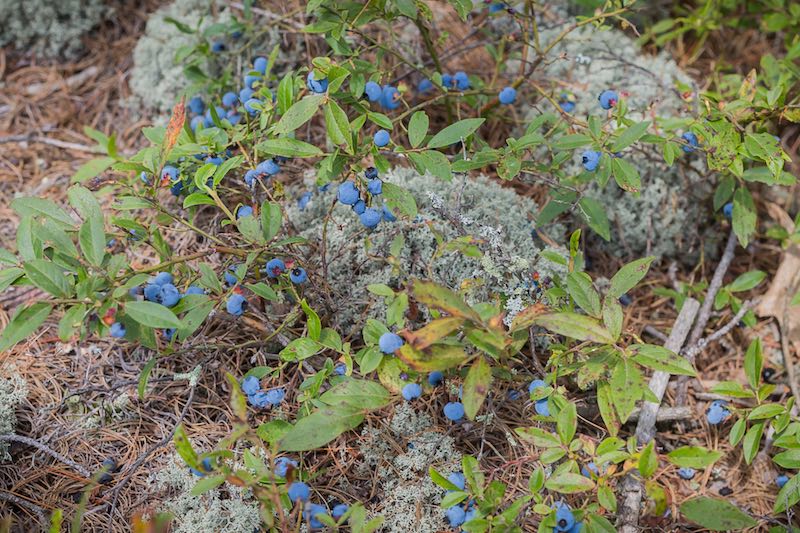 Fishing
Following bouts of overfishing, in 1994 the Ontario Ministry of Natural Resources placed a slot limit on fishing to protect prime breeding year classes and increase the trophy fish population in the French River.
For the strict guidelines and licenses required, please visit this website.
Fish along the French River include walleye, northern pike, largemouth bass, smallmouth bass and dinner plate size crappies, musky. Sizes and amount of each fish depend on the season with early Spring bringing a lot of walleye and Northern Pike and Summer bringing more musky and bass.
Boating
Whether or not you have a cottage on the French River, you can access the water and canoe/kayak routes from the many marinas and launch sites. One of our days at the cottage we drove 30 minutes to a marina to rent a small tin boat with a motor to visit the Five Finger Rapids. A portage and hiking spot that accesses a point where the river splits and multiple rapids converge into the main body of the French River. One of these rapids is very fast, white water, and would be dangerous to swim in. At the end of this one though, one can get into the water and have the calmer rapids take you down the river before you get out and run the route again.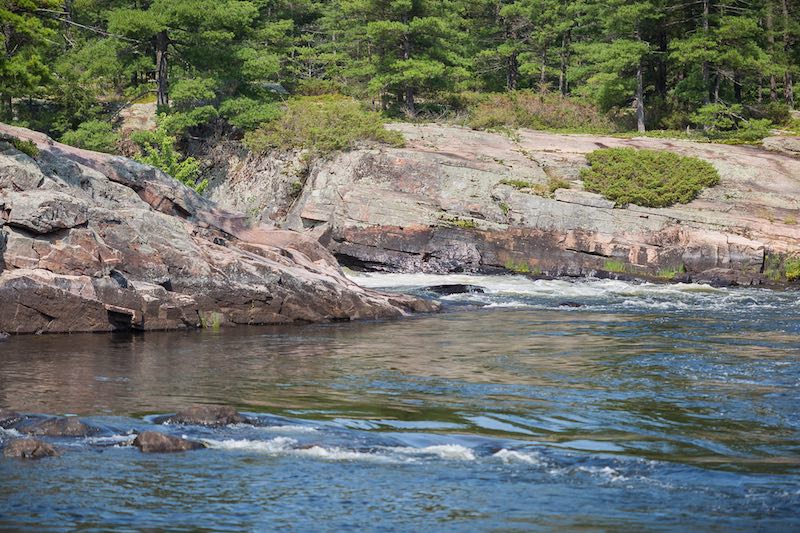 Canoes and Kayaks can also be rented if you plan on doing a canoe trip. Somewhere like Totem Point Lodge will let you rent boats of all types.
Along the river you will find many fun spots to stop for a swim or discover rocky formations that are great for some cliff jumping. You may also be visited by some wildlife, so beware! We got to see a bald eagle as well as partake in cliff jumping at multiple locations.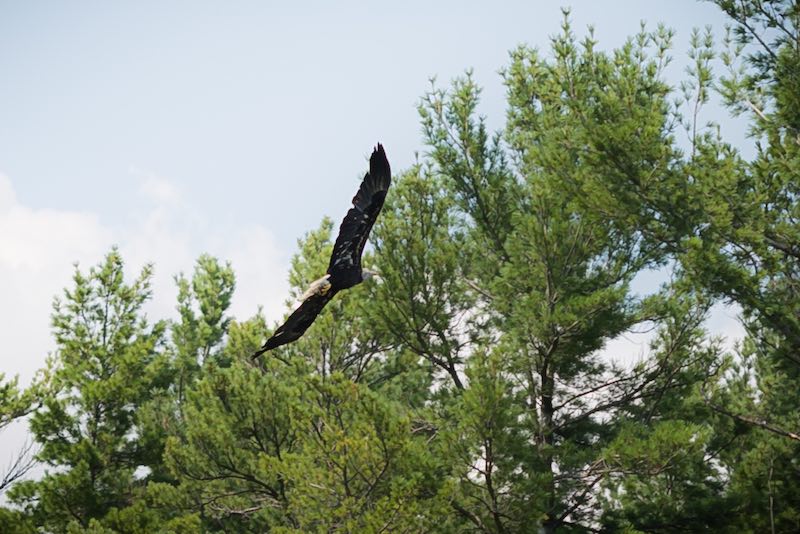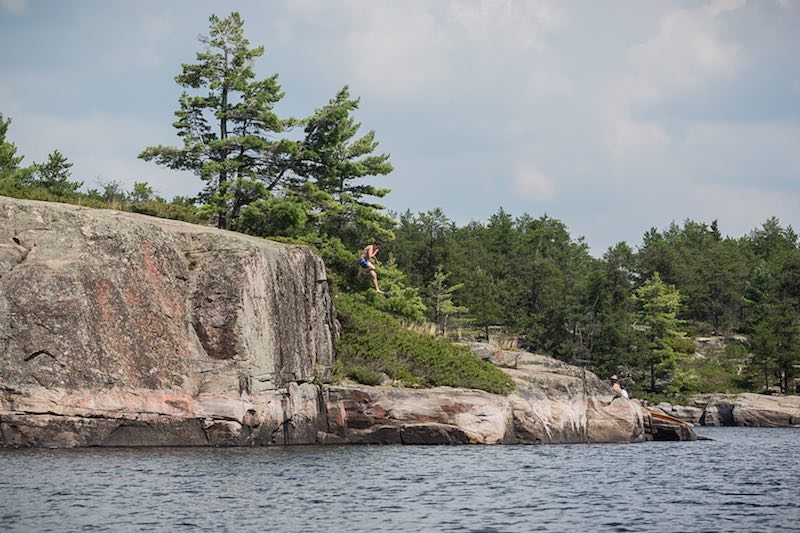 For more information on French River and the surrounding area, start with the municipality's website. A great resource for the area.