Local beer company Amsterdam Brewery recently partnered with Canada's first recreational cannabis brand San Rafael '71 and launched the 4:20 Pale Ale. The "Killing Time" campaign is aiming to bring the San Rafael '71 brand into the spotlight. Through the partnership with Amsterdam Brewery, the cannabis brand hopes to engage adult cannabis enthusiasts while they wait for legal retail sales to begin. The beer went on sale on February 12th, 2018 in stores across the GTA and Ontario.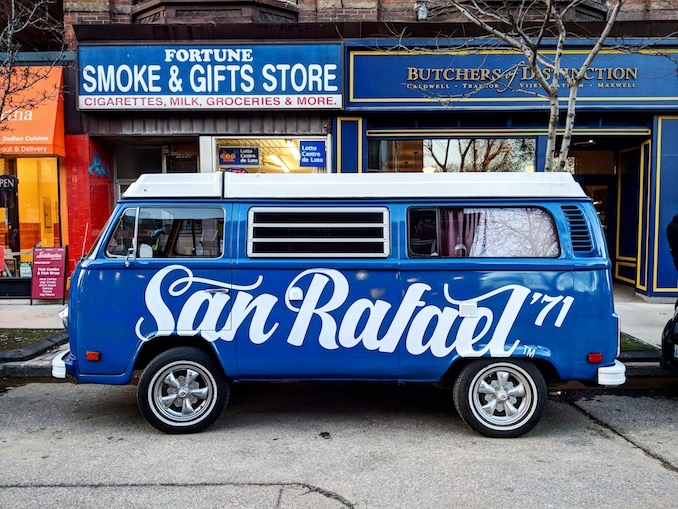 We got to chat with Darren Karasiuk of San Rafael '71 at their launch party that took place at The Opera House on February 22nd. He gave us some great info on his brand, the roll-out of legal cannabis and how he aims to be one of the top brands in the market.
So, the first thing I wanted to know is how you guys partnered up with Amsterdam Brewery. Who was the first person that made the call between you guys and Amsterdam?
The concept behind it was about wanting to introduce a brand in a way that would have some product behind what that brand was all about. To do it in such a way you could try to introduce some nuances of cannabis in a non-cannabis way.
I've known Amsterdam, respected them for a long time. So, I reached out to them and suggested we try to do something. Their leadership and their fantastic brew master was too happy to make this happen.
When you made the beer, how did it relate to the 420 brand or to the marijuana brand that you guys have? How did you guys make it unique?
The brand is ours, the brand is MedReleaf. So how we work together: the idea was ours, the inspiration, the brand is ours; the recipe was theirs.
There's an incredible number of similarities between cannabis and hops, I found out. The brew masters are able to say, "Okay, we can put together a profile of hops that can give a subtle hint on the nose to what cannabis smells like." And that is really what brought this together. Again, it's a platform. It's just the start for what we're gonna do in the months to come.
Once your brand is launched, will you guys do deliveries or will it only be in stores? How does the product get out to consumers?
Depends. In every province, it's a little bit different. Ontario, everything will be distributed to the OCRC, which is a division of the LCBO. They are gonna own all the e-commerce. They're gonna own all the retail like they do with the LCBO. That is the way that our product will be sold through to the end consumer come summer of this year.
How does the taxes work? Do you know how much you guys are taxed?
Yeah. The way that proposed legislation has a Federal Cannabis Tax of one dollar a gram, up to ten dollars price point and then ten percent thereafter, what ever is greater. So that's what we will pay when we ship our product to the OCRC and then the government's gonna have their own tax at the storefront level, what ever they decide to do in terms of applying HST.
There must be a lot of different clients and a lot of brands that are trying to take market share. How are you guys gonna stand out from the rest?
Great question. First and foremost, it's awareness. We're building awareness now, so it's gonna be a whole lot easier for the customer have some familiarity with our brand when they walk in to a store right off the bat.
Beyond that, it gets a lot to product quality.
When a consumer is aware of our brand, they're also aware of the fact that we are premium quality; the best in the country. We're confident they're gonna make the decision to come along with us.
How do you judge your quality? Tell us a little about your history in growing and what you guys try and pay attention to in the grow.
There's qualitative and quantitative elements to all of that. We're coming up on 5 years in business, which in the cannabis space is a lifetime … Been selling for 4 … We started off with a bunch of great genetic material that we had from our partner in Israel that helped us.
We're a very analytically-focused company, so we've been capturing data along the way. We understand what strains work, how they work, very well. That is really gonna help us moving forward to be able to deliver our own experience the customer is gonna want.
Tell us a little about this event tonight.
Sure, it's our launch party! It's the Spirit of '71 Tour which we're about to embark on, and this is the kickoff event for it. It's a way to bring together all of our friends who have supported us along the way, to bring the general public together. People who are fans of what the 70s and what the California vibe and the 70s represent. You hear that with a lot of the music that's there. Come along and enjoy it! Be part of the experience.
So what bands do you have here? Maybe we'll give a little shout-out to them as well.
Starting off, we've got Mob Barley and the Railers, which probably no surprise, is a reggae band. They're gonna be starting things off for us. After that, we've got Eat A Peach, which is an Allman Brothers tribute band. Half of those guys are also in a band called The Mars Hotel, which is a Grateful Dead cover band. So we've got the whole spirit of the 70s covered off with these great acts.
What other aspects of the 70s are gonna be intertwined in your brand? Is it gonna be like the MedReleaf brand or more just the San Rafael '71?
It's all about San Rafael '71. We have that history of growing the best cannabis in the country that we're obviously gonna rely on. When we talked about building a brand, you can see across the street, that's what it's about (points to "Hippie Wagon" with San Rafael '71 paint job). From every element of it. We're also thinking about the products. We're gonna be looking at products and strains and really kind of harken back to what's the most classic west coast strains were all about back in the day.
What other ways do you have to increase your awareness plan? Are there other events going on? Are you gonna have steady events in the city?
So, a couple things. We will be a national brand, so we're gonna be active from coast to coast. We're gonna be active live, we're gonna be active digitally. We're gonna be out there the next few months in a variety of different ways.
Not gonna give all our plans away, but just stay tuned and follow us on social and you can see what we have planned. We've got a lot of things planned. As I said, we're fantastic at growing great cannabis. Unfortunately, we're not allowed to sell it yet, so we're killing some time. There's a lot of great things that really celebrate that whole vibe of the 70s in Northern California.
Is there anything else you wanted to include or some info you wanna get out?
It's a great, fantastic time to be part of this business, this space. We're incredibly proud, we're the first out to be doing this. I certainly think that we're actually serving public policy good.
Part of the reason for legalization is to get away from the black market and get those customers in to the legal market. One of the key ways of doing that is to build brands, like you do in any other industry, so that the consumer has trust, has confidence, that know what they understand and what they identify with. We really think that what we're doing and this whole framework too, is obviously a real big push to help public policy objectors.
Thanks for taking the time to talk to me!