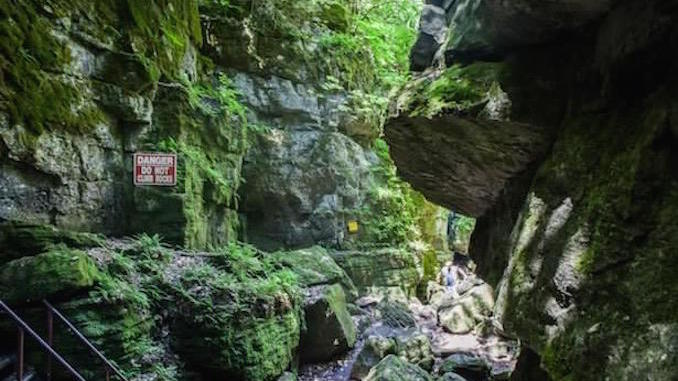 For our latest Neighbours in Ontario series we took 4-days to show you some  great Georgian Bay Camping Trips. This trip is for beginner campers and families.
WHAT YOU WILL NEED
Mandatory
-Tent
-Sleeping Bag (One with a water resistant shell preferred)
-Towel (Pack Towels are great for camping. They pack light, are super absorbent and dry quickly.)
-Head Lamp / Flashlight (I prefer headlamps. For $20 you can get a great one with multiple settings and a long battery life)
-Water Bottle (Nalgene or wearable water bags like Camelbak)
-Matches / Lighter / Fire Starters (The more options the better. Keep them wrapped separately in case of emergency)
-Bug Spray
-Rain Gear (Jacket w/ hood, Pants, Boots, Onesie)
-Extra clothing (Bring more than you need in case of rain or dampness)
-Multi-tool (Swiss Army Knife or Leatherman tool)
-First Aid Kit
-Sunglasses
-Hat with brim
-Sunscreen / Lip-balm
-Toque & Long Underwear
-Water Shoes (Native Shoes are best)
-Running shoes / Hiking Shoes
-Toiletries (Toothpaste & brush, body soap)
-Fire wood (Fire Wood is available at all provincial parks and national parks but always keep extra bags on you in case you arrive after they close, which can be early)
-Battery powered lantern (These are bright and last a really long time. Great for lighting up your tent. Never use oil lamps inside tents)
-ground cloth (some companies call it a tent footprint)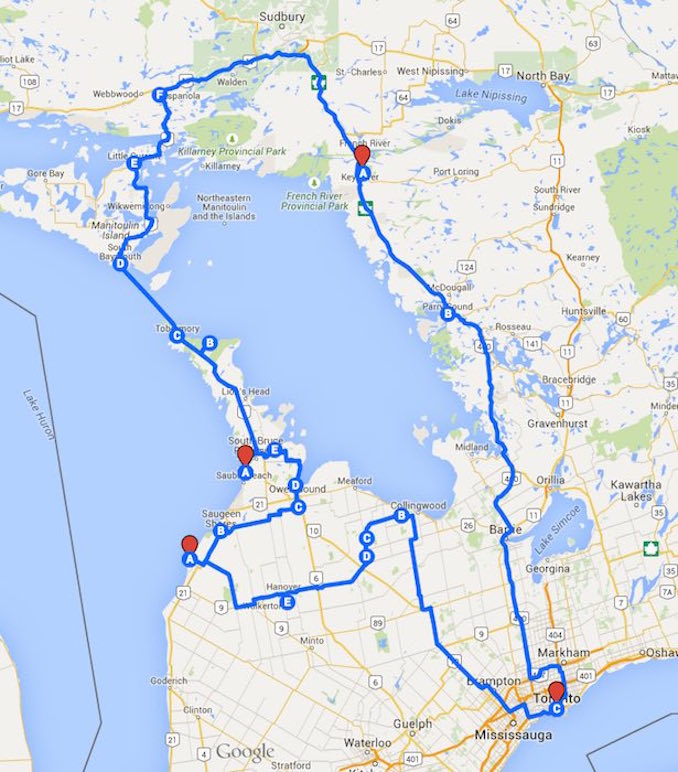 Optional
-Cooking items (This trip you will be on the road and at sites most days but if you want to prepare some meals around the fire, then bring a pot and some bowls w/ cutlery)
-Compass (You won't need for this trip but if you want to learn how to use one, bring one up for the practice with a map)
-Food (Bring some extra food to snack on. Dried fruits, trail mix, dark chocolate, cured metas, etc are great to snack on but make sure to clean up)
-Pen & Books (Write notes or read a book to pass the time at night)
-Games (Cards & boardgames are great to pass the time)
-To see photos in high resolution, visit our page on 500px-
DESTINATIONS
For the first part of our trip we will be starting in Toronto and spending the night at Inverhuron Provincial Park campgrounds which is on the coast of Lake Huron. The day portion we will visit The Blue Mountains and Scenic Caves Nature Adventures near Collingwood, Old Baldy mountain face, Eugenia Falls and Sulphur Springs before arriving at our destination for the night at Inverhuron.
We took up the Acura 2016 ILX automatic car for the trip. I am a big fan of the ILX series so was excited to try it out. The first part of the trip is about a 2 hour drive. You can either take the Gardiner E. to the 427 and then over to the 401 E. and finally onto the 410 and 10 to Collingwood OR take the 400 North to Barrie and then follow signs to Collingwood via the 26.
SCENIC CAVES
Our first stop is Scenic Caves Nature Adventures. The highlights here include natural refrigerators used by early natives, vast crevices and caves, zip-lining over 10,000 sq. km. of views, and one of the world's biggest suspension bridges.
Natural Refrigerators
The ice cave is a crevice so deep that snow and ice from winter months can last here until early summer. Depths of up to 70 feet can be found. Drafts from this Ice Cave cool storage areas in the rock to 4ºC in the summer.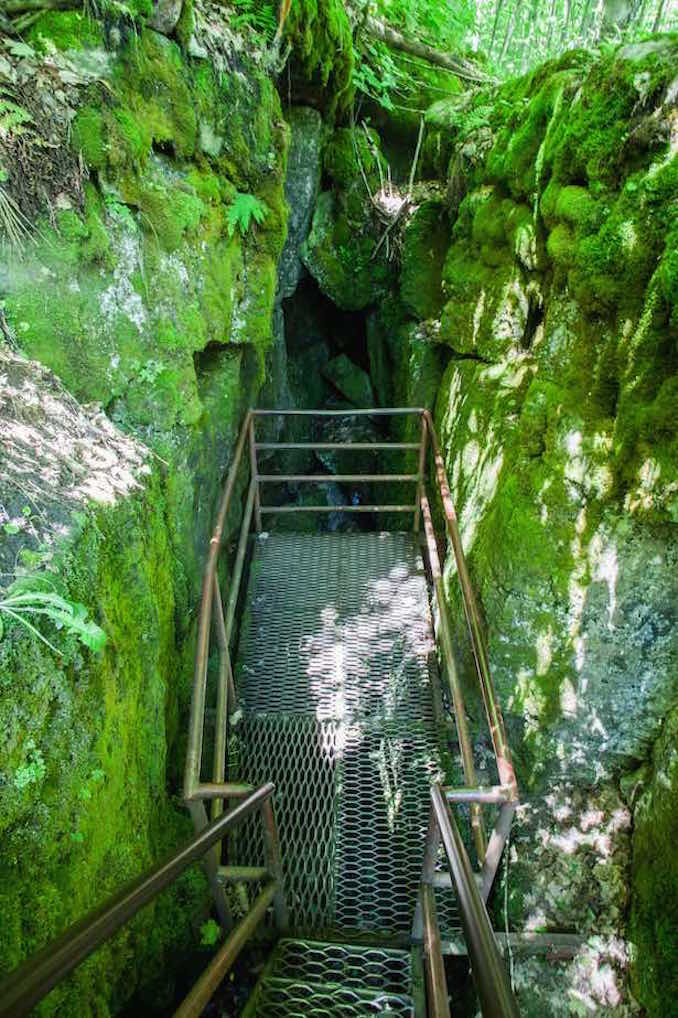 -To see photos in high resolution, visit our page on 500px-
Crevices and Caves
Winding trails, metal grated bridges and staircases lead you around a wide range of rocks and crevices. Climb down to the lower levels for the best sites. The moss and natural colouring of the rocks makes for some great photos.
Zipline
Once you have finished the caves and crevice portion of the trip, the path will lead you up to the zipline. The Thunderbird Twin Zipline is Canada's longest twin zipline stretching 2550 feet. The vertical drop of the zipline is 287 feet and you can reach speeds of up to 70km/hour. The best part about the zipline is the ability to control speed and even stop. I snapped this picture as we stopped for the view. The 10,000 sq. km. of Georgian Bay region looks great at 70 km/hour. You can also bring bags and cameras with you.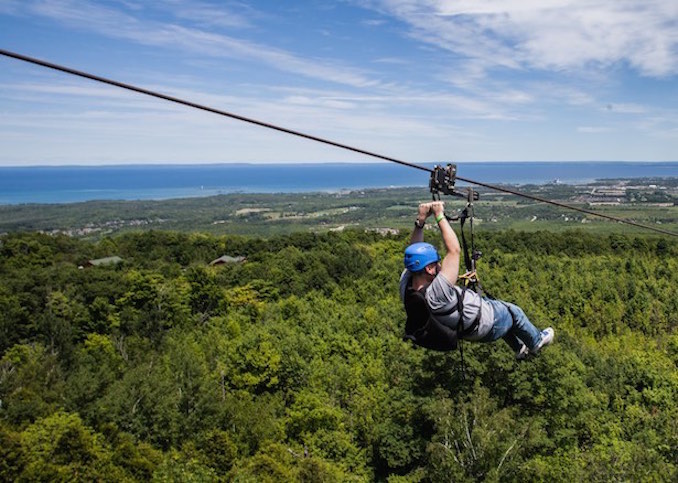 Suspension Bridge
The 420 foot suspension bridge is along a path you take after you embark from the zipline. The bridge is roughly 25 metres above the valley. The views are also of the Georgian Bay region. The bridge is so strong that it can support people lined up belly to back in 3 rows down the entire length of the bridge.
After the suspension bridge you can follow a trail which will lead you back to the parking lot. The entire trip took us about 1.5 hours.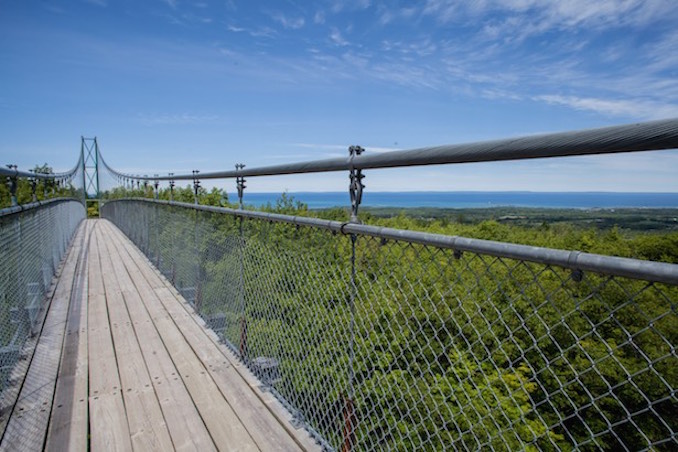 On to the next destination.
OLD BALDY
Not far from Scenic Caves is a town called Kimberley which is home to Old Baldy. 152 metres above the Beaver Valley, Old Baldy's rock face is a site to see from up above or down below. From the town of Kimberley you can get the view pictured. You can also hike up to the edge of the cliffs for a view of the valley below.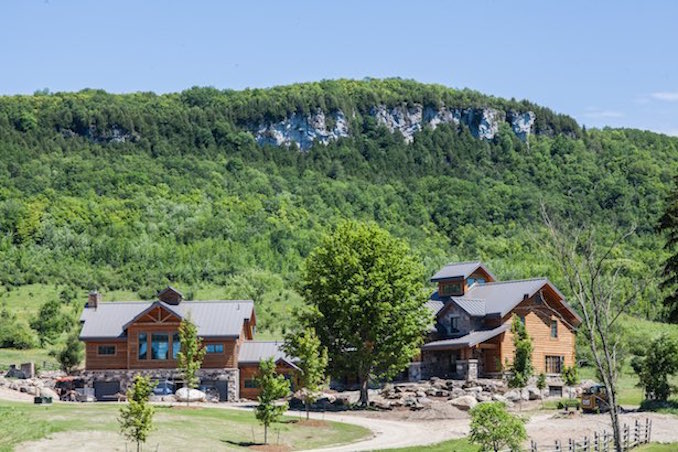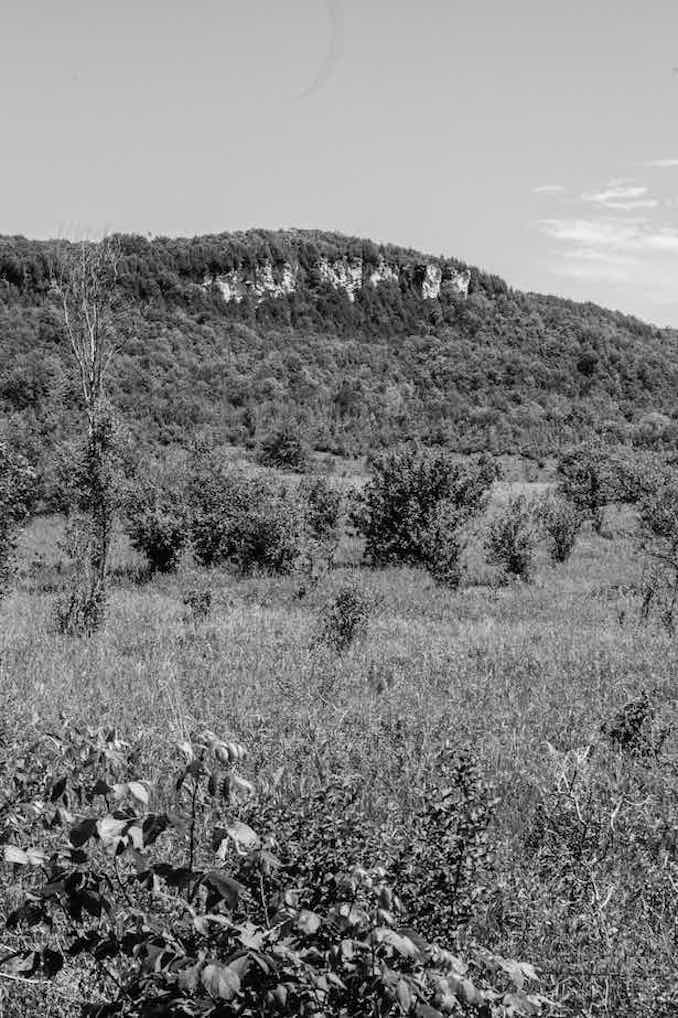 After snapping some photos, it is on to the next destination.
EUGENIA FALLS
Just down the road from Old Baldy is Eugenia Falls. The 30 metre high falls is situated inside the 23 hectares known as the Eugenia Falls Conservation Area. Take photos from the sides of the falls, or, if you are brave, from the river leading over the edge.
The falls were discovered in 1852 when it was the site of a "Fool's Gold" rush. It later hosted lumber mills and hydro electric plants.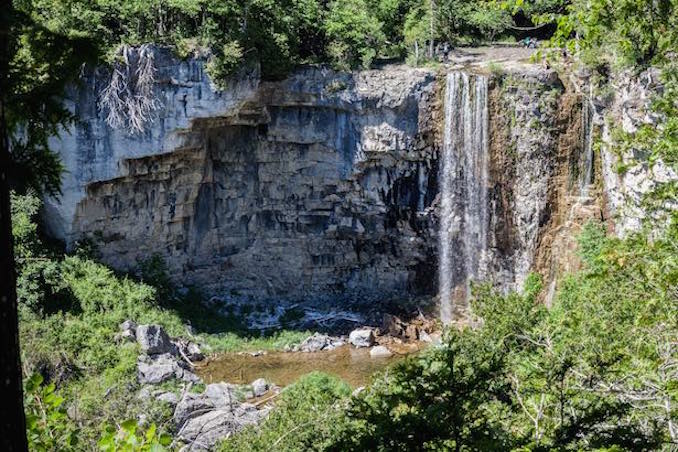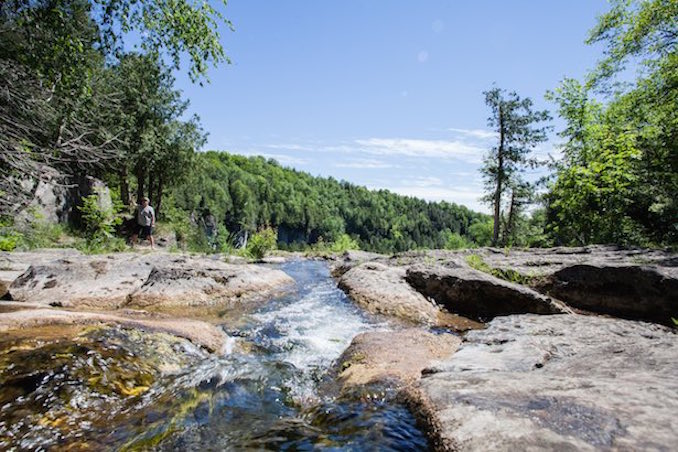 The falls is a short walk from the parking lot so this stop is quick. Head back to the car and it is on to Sulphur Springs.
SULPHUR SPRINGS
The Sulphur Springs Conservation Area was the creation of Mr. A. J. Metzger. He orchestrated the digging of a network of streams and ponds in the 1920s that would support a fish hatchery. Shelters for exotic birds and other wildlife were also crafted.
Today, the ponds house mature rainbow trout for visitors to watch. The Cold Sulphur Springs provide a steady flow of groundwater that remains at 9ºC throughout the year.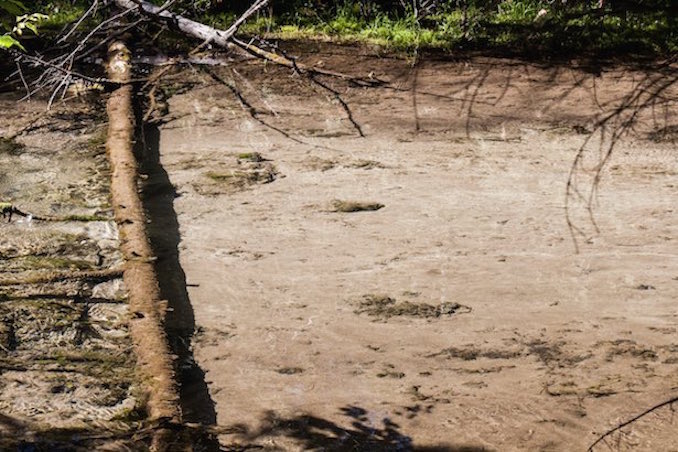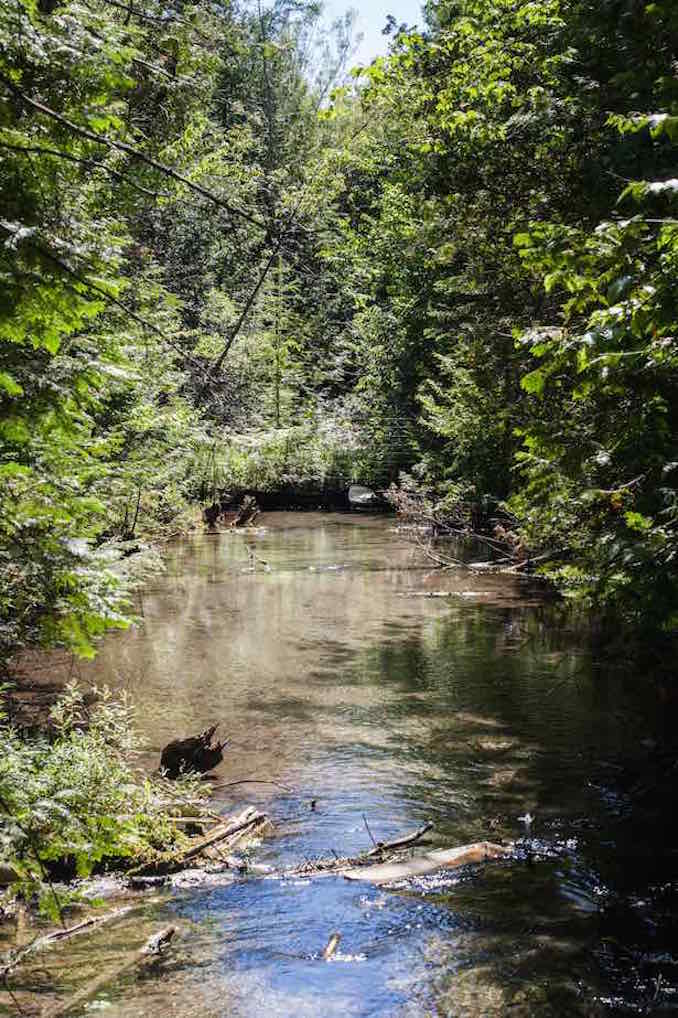 Be careful on these trails as they can be confusing. One wrong turn and you have added 30 minutes to your hike.
Once back at the parking lot, it is time to head to camp.
INVERHURON PROVINCIAL PARK
Plan to arrive at camp with enough time to set up camp. Tent, sleeping bags and clotheslines for wet gear should all be set up as soon as you arrive.
Inverhuron Provincial Park is located on the coast of Lake Huron just south of Sauble Beach. The sunsets here are said to be some of the best in the world. The west facing shores look out onto a sea of a lake and during the summer solstice one can see the moon align with Jupiter and Pluto. Saturn is also at its most visible time.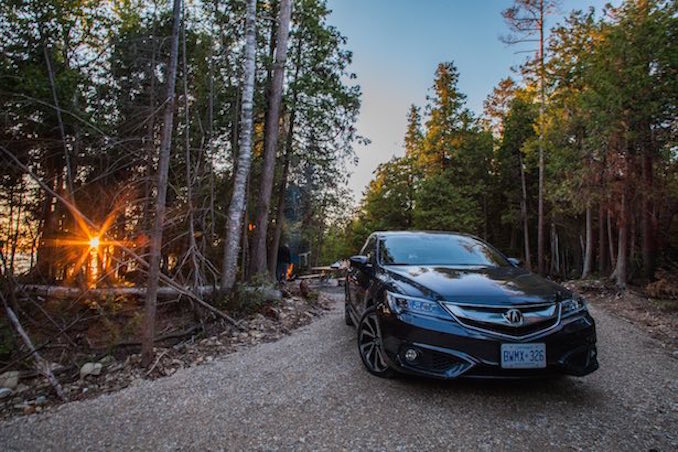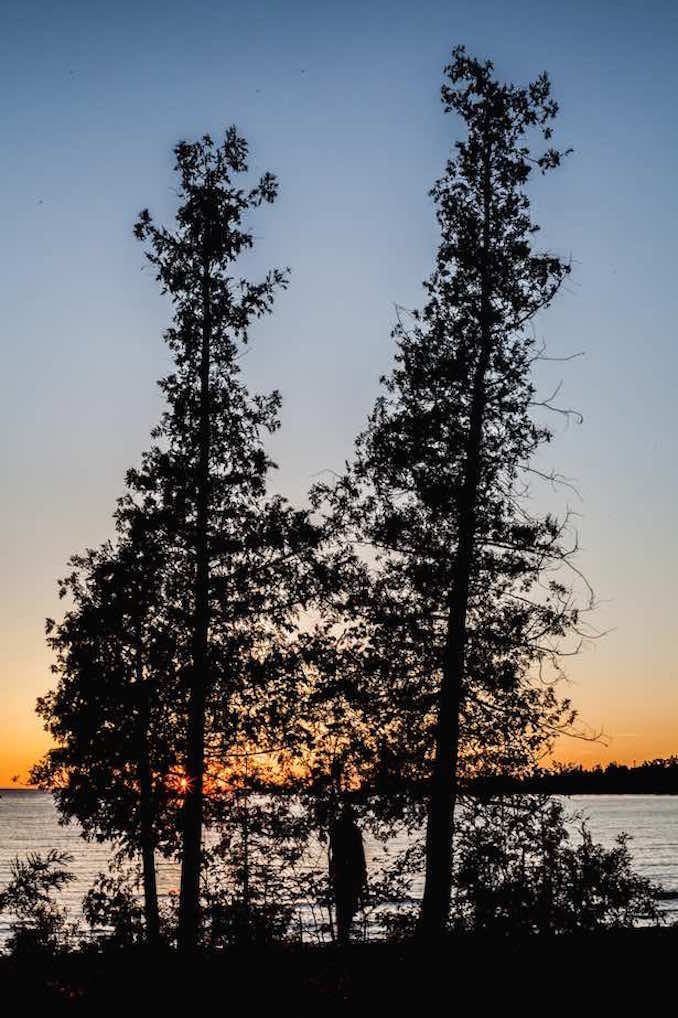 The camp sites consist of an open space with picnic tables and a fire pit. The pit is a round metal structure that has a built in flip up metal grill to rest pots and pans on for cooking.
Tent
Thanks to Mountain Equipment Co-Op (MEC) for providing us with our tents and Sleeping bags. There are so many great items for camping at their King St. location that one can easily go overboard.
The site for your tent may be limited in this camp ground as the spaces provided are quite small. We managed to find grounds at the back of the camp site, away from the road. Normally you will look for several things to pick your spot.
Here are a few way to pick your tent spot.
-level spot that you can sweep free of debris
-avoid being under hazards (rocks, dead trees, branches)
-away from a lone tree (lightning)
-in line of morning sun (warmer in the morning)
-away from ground hazards (ants, wasp nests, animal homes)
-away from a watercourse (don't want to be in a river during rain)
-away from stagnant water (bugs)
-Valleys are damper but less exposed: ridges are dry but more exposed. Find something in between.
-upwind of fire location
When setting up a tent try using a ground cloth (some companies call it a tent footprint) for better insulation and padding from the ground below. It will also help to protect the bottom of your tent.
Set up the main tent and then the tent fly (or tarp). Make sure to pin your tent down with the pegs and to pin down the fly outwards from the tent to leave enough breathing room underneath. In a rain storm the water can pin the fly to the tent and allow a poor flow of oxygen inside. Use rocks on pegs if ground is soft or sand.
Once your tent is set up, roll out your sleeping bag and pillow to expand before you have to sleep. If you have a sleeping pad or air mattress, set this up too. Only keep your socks, underwear and a t-shirt in your tent for the next day. Keep the rest in your car. The undies will be warm the next day and the bulk of your gear is protected in the car.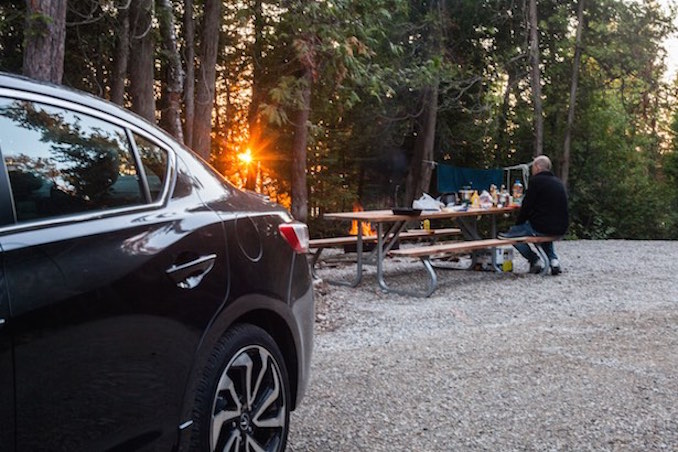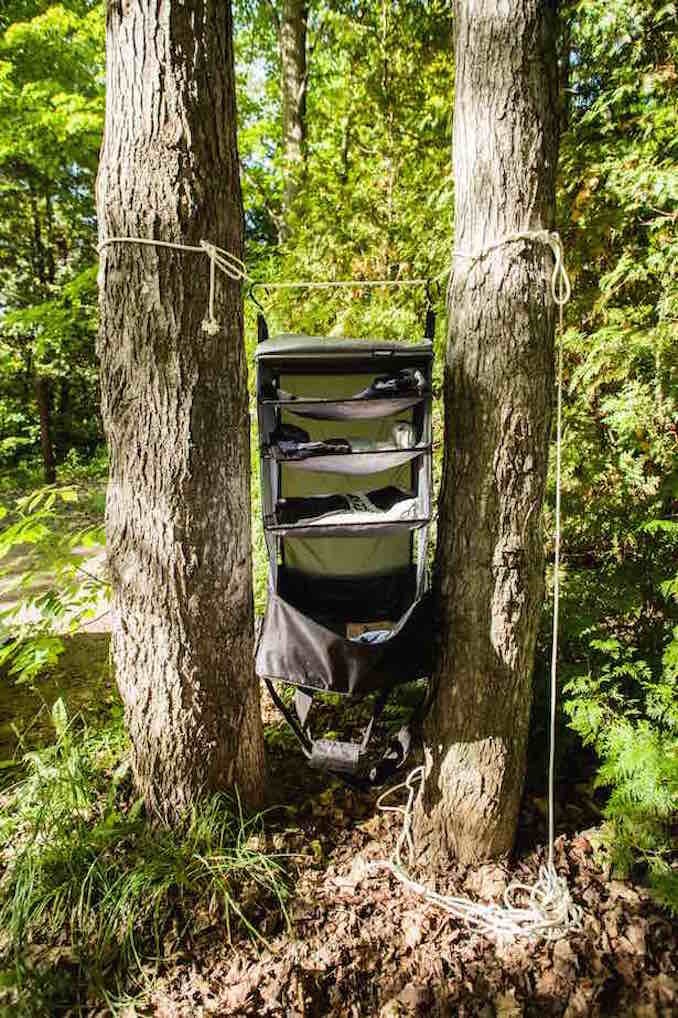 Clothesline
Set up a clothesline for wet towels and clothes from the day. I got to test out this awesome bag from Toronto company Rise which is a bag that lifts into a portable shelving unit. It also has a zip-away portion for dirty or wet clothes. It helped keep our camp and car tidy during the trip.
Campfire
If you arrive at camp before the park staff leave, you can grab wood and fire starters from them. They have bags of fire wood, kindling and then free fire starters which are really good. Remember to always have a bag or two of wood in your car in case you arrive and there are no staff on site. No fire is no fun.
If you are cooking anything, please make sure to cleanup very well to avoid animals coming around. Snacks like dried fruit, nuts, trail mix, dark chocolate, cured meats and pepperoni sticks are a good way to snack if you have already eaten.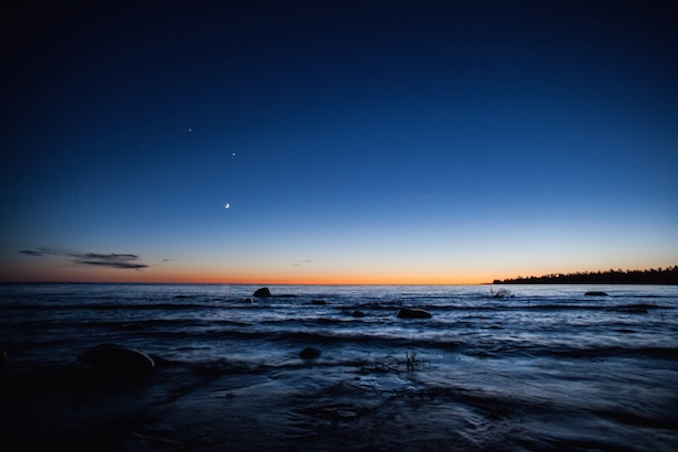 Stargazing
Now that camp is set up, enjoy the view. We were very lucky to have a perfect sky on one of the best days of the year for a clear sky. Here is one of our photos.
Make sure to always leave someone with the fire and never leave it unattended. Before you go to sleep, make sure the fire is out.
Sleeping
Even when it is 25+ degrees in the day, you are going to want to dress very warm at night. Layering is key. For this trip I wore a winter toque, long underwear, pants (sweatpants), wool socks, a t-shirt & a hooded sweater. The extra layers keep you warm and dry as well as providing more padding for your bed. If camp grounds are close to neighbours, in may be of use to bring some earplugs, especially if you are planning to sleep before the 11pm quiet time.
That is the end of our first day.
Go to Second part of the trip.
To see photos in high resolution, visit our page on 500px.