If you find yourself in Montréal this Summer, you won't have to look far for fun things to do. 
This city in the southwest of Quebec has something to offer everyone. Beautiful scenery, great food, a buzzing nightlife, it's all here.
With so many options, it can be difficult to choose. So to give you some direction, we've compiled a list of the top 7 things to do in Montréal over the Summer.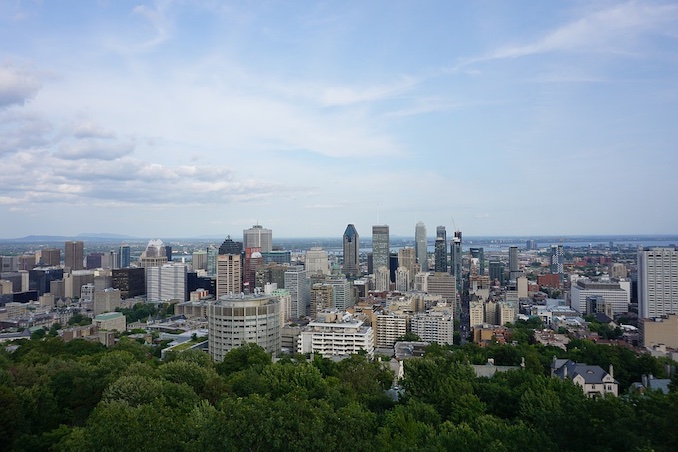 Go On A Trip Down Memory Lane
Take a trip down memory lane with a History Walking Tour of Montréal. and explore the culture, history, and historical architecture of the city.
Choose between a shorter tour of the East or West side or a longer tour that encompasses both. And explore attractions like the Notre Dame Basilica, Champ de Mars, Bonsecours Market, and Place Jacques-Cartier. 
Don't fuss with maps and ask for directions. Let your guide take care of the navigation, while you enjoy a pleasant stroll and see the sights.
Enjoy Boating On A Scenic Lake
Has all that walking, dancing, and cycling tired you out? You can enjoy the outdoors without too much effort when you go boating. And what better way to enjoy the outdoors during the Summer than a boat rental in Montréal? 
All types of vessels are available for hire here. You can choose to have a skipper, and relax and soak up the sun. Or forego the skipper and be the captain of your own ship. Okay, of your own boat, but the vibe will be the same.
Fancy doing some fishing? Just outside of the city of Montreal, the Lake of Two Mountains is home to Bass, Muskies, Northern Pike, and Walleye. And if you have kids with you, they're sure to have a great time at the Bois-de-l'Île-Bizard Nature Park nearby. 
Eat, Drink And Be Merry
Anyone who has been on a road trip through Montréal knows to embrace the unexpected. But what you can be SURE to expect, is good food and warm hospitality. 
You can work up quite an appetite on a tour of the city. It's time to grab a bite to eat and a refreshing drink. During the summer months,  Montréal's rooftop bars and cafes offer everything from brunch to lunch to mid-summer's eve cocktails. And always with stunning views. 
The Terrasse Place D' Armes sits atop the Hotel Place D'Armes in the heart of the old town. Look out on the city skyline while you eat, drink and be merry in Montréal.
Unleash Your Party Animal
This city loves music, and you won't have a hard time finding a jazz club or music concert. 
But the summer is festival season in Montréal. And over 700 international musicians come together here for North America's largest World Music festival, the Festival International Nuits d'Afrique. 
To join in the celebration of music, song, and dance, make your way to the Quartier des spectacles from July 12 to 24, 2022. This celebration of music takes place both indoors and outdoor with an open-air stage. 
Have A Summer Vacation With A Cause
In the last few years, a great many cities around the world have played their part in tackling environmental issues. And Montréal has been very active on the environmental campaign scene. 
The Montreal Climate Coalition is involved in several initiatives to make a "carbon neutral, greener and healthier city".
So if the environmental cause resonates with you, take some time out on your Summer vacation to get involved in one of their projects. You can have a great time in the outdoors while making a difference.
Get Taken For A Ride…A Night Ride
What's better than going for a bike ride through Montréal on a Summer's day? Riding through its streets on a Summer's night. That's right, the Tour la Nuit offers you the chance to see Montréal in a whole new way. 
This night cycle tour takes place from May 29th to June 5th this year and features a 22 km car-free ride through the streets of 4 Montréal boroughs. 
If cycling under the stars in a group isn't your scene, rent a bike and go for a daytime cycling trip of your own. Montreal is one of the most bike-friendly cities in Canada, boasting an extensive network of cycling routes and a public bicycle sharing system called BIXI.
Want a challenging place to cycle that offers panoramic views of the city and beyond? Head to Parc Mont-Royal and see the sights while you get some exercise.
Admire The Art Of Nature
Ready for a change in pace and scenery? Montréal is a city rich in arts and culture and we don't just mean the kind of art that hangs in a gallery. 
If you love all things arty, creative, and even downright quirky, look to Mother Nature. A trip to the Montréal Botanical Gardens will delight the whole family with its biospheres, stylized landscaping,  thematic gardens, and living plant sculptures. 
It's Mother Nature's art exhibition, and you're all invited to attend.