The vision behind this 4-day Montréal travel guide was to discover the unexpected, to provide a first-rate Montréal itinerary born out of scrupulous travel planning paired with spontaneous discovery. While shopping, eating and drinking or strolling around the city, we stumbled upon the unexpected. And we can't wait to share it with you!
We stayed in the best hotels, ate at the most talked-about restaurants, and got tips on where to shop, drink and party. Let's get started on what to see and do in Montréal.
Toronto Guardian Guide To Montréal: How It Could Happen 4U!
Day 1 > Arrive With Ease, Stay In Style
Take the stress out of the five to six hour journey from Toronto to Montréal by booking business class on VIA Rail. The perks include a choice of three different three-course meals accompanied with a variety of beverages. On our train trip we enjoyed the beef tenderloin with olive bread and copious amounts of wine. Additional complimentary perks included WiFi, daily papers and current magazines plus hot towels, Sloane fine tea and Theobroma dark chocolate treats. We arrived in Montréal relaxed and ready to go.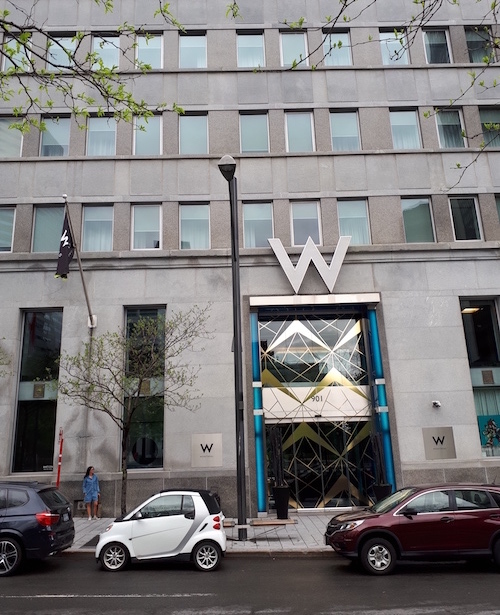 Our first two nights in Montréal were at the W Hotel, just minutes from the Gare Centrale. The W is a vibrant downtown luxury hotel framed by the façade of the former Banque du Canada building. Our W Fabulous Room was large and luxurious, done in a soothing contemporary palette of white, grey and black with an illustrated wall treatment. It had a rave worthy bathroom: open concept rainfall shower, cube bathtub, and a large mirror over a generous counter with more than enough space for two guests to prepare for a night out in tandem. We loved that it was stocked with cozy white robes, ample towels and bliss skincare and bath products.
After checking in, we were invited to dine at Nom Nom Cantine; the hotel restaurant which features a fusion of French and Asian food. The Cantine's look, designed by Philipp Haemmerle, is industrial décor meets boho-chic. Haemmerle's background is rooted in fashion set design and he has worked with some of the biggest names in fashion, including Bruce Weber, Carine Roitfeld and Grace Coddington.
We begin the Nom Nom feast with delicious French champagne, Jacques Lassaigne Blanc de Blanc, followed by a remarkable array of dishes including: Tapioca Shrimp Dumplings, French Onion Dumplings (OMG, filled with Brie gooey goodness – totally unexpected!), Hoisin Crepes and Guinea Fowl, Coconut Curry Tempura Fish, Tuna Tartare and yummy Seaweed Rice.
Staying on-site, we popped into the W Hotel's sophisticated Bartizen Gin & Perfume Lounge specializing in Québec gins and tonics. The bar menu features curated botanical drink recipes finished with edible essential oil perfumes – a unique concept influenced by drink consultant and phytotherapist Michael Isted. Of the 12 G&T botanical cocktails on the menu, we were delighted with the Romeo; dill, cucumber, fever tree tonic and soda and pure lavender essence that was spritized, like a perfume, into the drink – next level cocktail chemistry!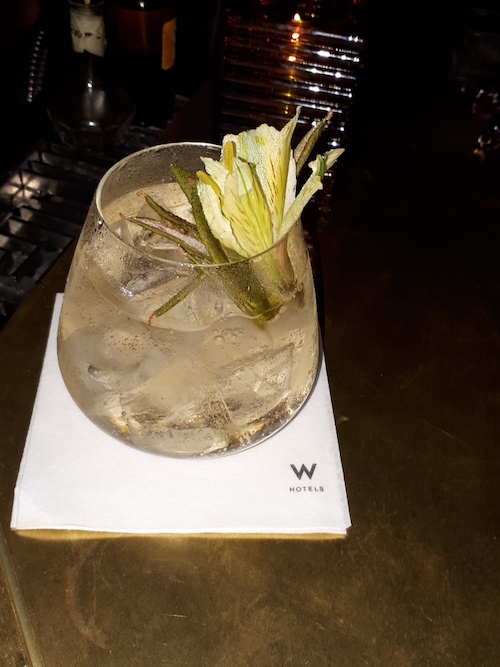 All of the edible plant essences for the Bartizen cocktails are created in-house, and the expert bartenders put on a show in the making of each perfume cocktail. If you visit make sure to look for bar experts Julien and Pascal (because they not only concoct wonderful drinks but share tips on where to throwdown after hours). This unexpected experience went beyond grabbing an after-dinner drink to being a divine olfactory pleasure trip. And as our first night in Montréal came to a blissful end, we floated out of the bar enveloped in the scents of sage, lemon, spruce, vanilla and lavender. Indeed the "W" stands for WOW!
Day 2 > Getting High Over The City  
After a restful night at the W Hotel, we headed to La Grande Roue de Montréal to get a view of the city from the tallest Ferris wheel in Canada. La Grande Roue is 60 meters high with a panoramic view of the river, Old Montréal, downtown and the mountain. It's kind of expected that as a tourist you would go for an activity like this, but what you don't expect is how fabulous it is! In the 20 minute ride, which included a rainbow, we were blown away by the view and didn't want to get off.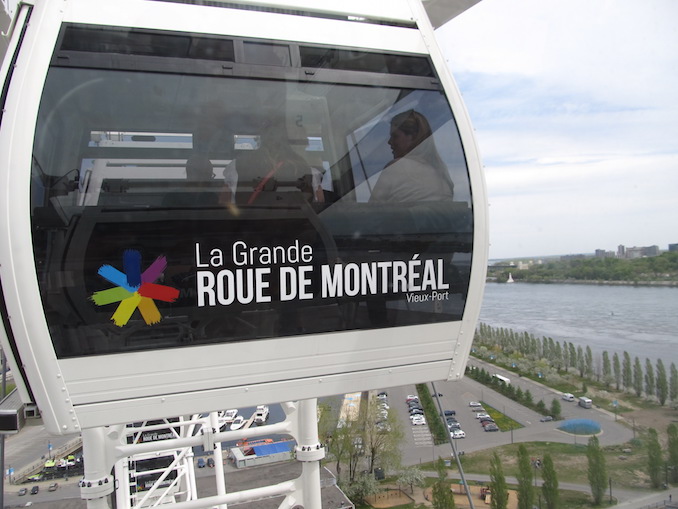 After a dramatic start to the day, next on the agenda was finding an exceptional brunch. From speaking with our W concierge and a few locals, we discovered the best place to brunch was Le Passé Composé. This little corner bistro doesn't take reservations, so show up early, or as in our case, wait for one hour in a quaint holding patio for your name to be called. Torontonians will be familiar with this scenario. Le Passé Composé's Panko French Toast is the most talked about, so we ordered it along with a creamy Spanish Omelette, hot Apple Fritters, and a selection of their famous poached eggs. Main servings are accompanied by a mini fruit smoothie and a petit bowl of fresh fruits including fig, Physalis, strawberry, blackberry, orange and grapefruit wedges. We also had refreshing orange and grapefruit mimosas garnished with a delicate spear of golden Physalis, blackberry and strawberry. This was a superb brunch feast. The Panko French Toast lived up to its reputation – it was divine!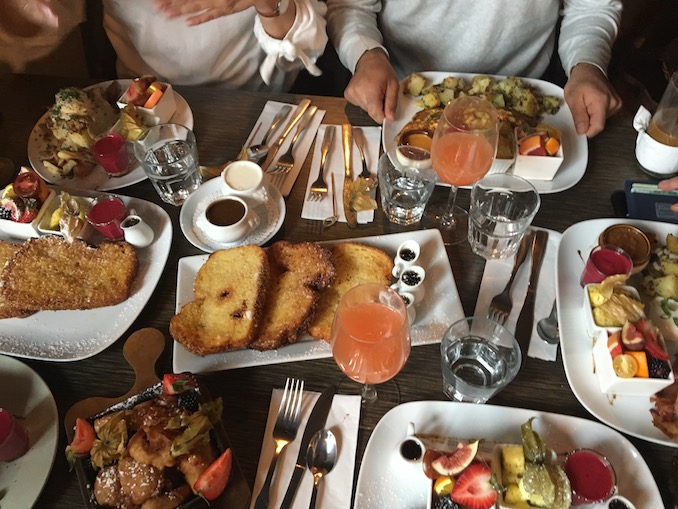 After brunch we thought visiting art galleries would be a perfect plan. Starting with the Musée d'art contemporain de Montréal in the heart of the Quartier des Spectacles, and then a walk north up Saint Laurent Boulevard to the arty Mile End neighbourhood.
The draw at the Musée d'art contemporain was the opening of two new exhibitions: Alone Together and The Prophets. The Alone Together installation probes the concept of solitude in our hyper-connected society and showcases new acquisitions by four Canadian artists Sarah Anne Johnson, Graeme Patterson, Jon Rafman and Jeremy Shaw. The Prophets is centred around an installation by that name created by Québec artists Richard Ibghy and Marilou Lemmens. Works by Josef Albers, Jack Bush, Sol LeWitt and Jana Sterback round out the exhibition.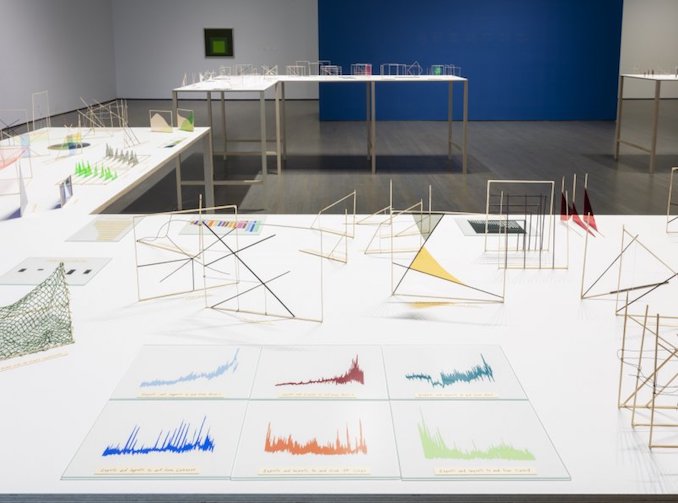 It's hard to pick a standout from these Musée d'art contemporain exhibitions, but the vast collection of small handmade sculptures using everyday materials like string, bamboo sticks, wire and sheets of acetate created by Ibghy and Lemmens had visitors giggling out loud, as the delicate sculptures are infused with humour and irony. Each piece is accompanied by a short hand-written description that expressed scepticism regarding the accuracy of their sources. Highly recommend this smart and funny exhibit! Both shows run until August 26, 2018.
At this point in the day (about 4:30 PM) we had thought we would be taking a shuttle bus to the Santa Teresa Festival in Sainte-Thérèse. But it started raining (this was expected), so we decided on a disco nap back at the W Hotel. Uber!
Since our music festival plans tanked, we found ourselves without an evening itinerary. Our W concierge came to the rescue again with a recommendation to dine at Pamika – Brasserie Thai. Arriving at 9:00 PM we expected a somewhat empty restaurant….it was packed! We begged to sit anywhere, even the kitchen. Lucky for us, Pamika is connected to the Hotel de Paris, so we were seated in the empty mini lounge out back of the hotel. Sure it was unexpected, but in the end we got to enjoy fabulous authentic Thai food along with fast, friendly service. We recommend the Pineapple Fried Rice and the Beef Panang Curry.
Looking for a new experience we dropped by a typical Montréal supper club (so you won't have to!). Soubois is an all-in-one bistro, bar and nightclub, located in an underground forest (or maybe it's a wood cabin). We made it inside before the lineup started (around 10:30 PM) and sat at the bar to people watch. You only need to know two things about this place: it's 90 per cent raw testosterone, and at the many massive wood tables, all anyone seems to order are thick wood platters stacked high with meat. Imagining this place transition into a nightclub seemed frightful. We didn't stay long. Goodnight!
Day 3 > Radical Shifts, Punk Attitude
For a change of scene, we checked out of the W Hotel and took a quick Uber to the Fairmont The Queen Elizabeth, the largest luxury hotel in Montréal, and newly reopened last July after extensive renovations. The shift in our accomodations was radical – we went from an intimate 153 room boutique hotel to a monolithic 900+ room hotel. Our room was fresh and looked modern with touches of artistic décor, and the bathroom was well stocked with posh Le Labo Rose 31 bath products developed specifically for Fairmont hotels. From the window there was a grand view of the Cathédrale Marie-Reine-du-Monde and René-Lévesque Blvd.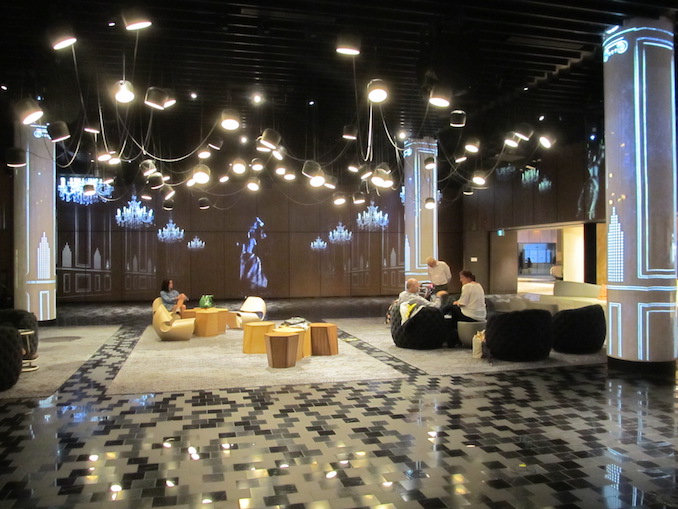 Fairmont The Queen Elizabeth is famously known for hosting John Lennon and Yoko in 1969 for their 8-day Bed-In for Peace in suite 1742. What you might not know is the hotel hosts a modern art collection featuring over 123 new works by 37 contemporary artists. With Montréal just having celebrated its 375th anniversary, the Fairmont installed historic and interactive wall projections in a striking salon space on the main floor that are part of Montréal en Histoires Cité Mémoire. And yes, there is an app for that! Mobile app Montréal en Histoires. http://www.montrealenhistoires.com/en/mobileapplication/
OMG the Fairmont is so big, it has so much to offer, it's hard to highlight everything. Here are the two most important things you need to experience at the new and improved FQE: Sunday Brunch and the Marché Artisans.
The Fairmont's stunning new restaurant, Rosélys, offers a phenomenal Sunday Brunch. We strongly advise you reserve a spot in advance, and recommend you sit along the central bar as the decorative overhead canopy of glass and mirrored ceiling make for a breathtaking vision  – an Instagram photo opp. Brunch features 12 food stations with everything from seafood, crepes, bacon and eggs, salads, roast meat, hot vegetables dishes, pasta, fresh fruits, cheese and bread, pastry and dessert and more! We feasted for a full two hours taking breaks between plates of food to quaff outstanding mimosas.
Also new to the Fairmont, and highly recommended, is the Marché Artisans, the first gourmet market inside a Canadian hotel – a chic supermarket featuring eat-in counters. Conveniently open daily, from 10:00 AM to 10:00 PM, the market is a lifesaver if you need a bite to-go before you hit the city on walking tour, as well as an ideal place to buy foodie souvenirs and made in Québec treats to take back home.
Next was shopping along Saint Laurent Boulevard. Unexpectedly, we discovered a vintage pop-up called Flohmarkt. The pop-up collective was started by Alex Mondry after she spent time in Berlin and saw similar collective pop-ups there successfully connecting young people and creating community fun. Flohmarkt's schedule is random, mostly on weekends, and usually in different locations, once or twice a month. You have to follow Flohmarkt on Facebook to find out where and when the next pop-ups are happening. Flohmarkt attracts about 20 to 25 independent vintage vendors per event. The selection is great and the prices are cheaper than Toronto. Here's a small selection of Montréal vendors who were at this pop-up: Pink Parade Vintage, Reruns Vintage, The Vintage CoMTL, Sunset People Vintage, Hodge Podge Attic and La Petite Veste Rouge.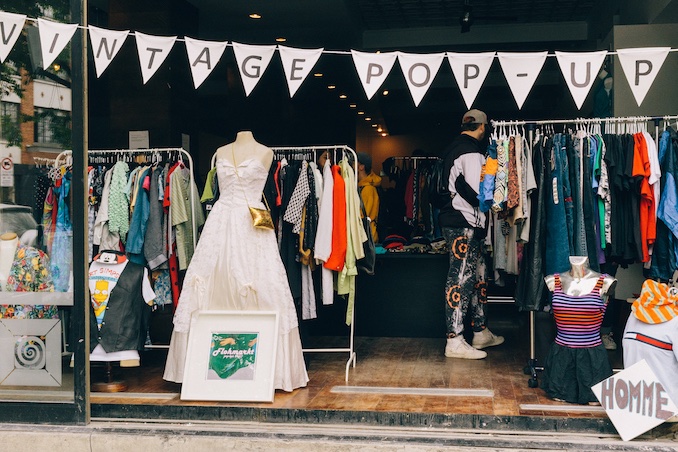 We asked Alex where we should go next for more vintage shopping and good prices. She was happy to direct us to a nearby shop called Eva B. She forgot to mention it's a massive three story vintage and designer emporium, packed to the rafters with everything you can imagine, along with a café, three patio decks, free popcorn and kombucha on tap. It was fabulous fun just exploring the place and the prices were unbelievable (my travel companion got three dresses for $30). If you love hunting for a bargain, you will love Eva B.
At this point in the day, we needed to refuel – shopping is exhausting! Back at the Fairmont we first popped into the Marché Artisans to grab Cobb and Caesar boxed salads to-go for a light dinner on the move. Upstairs in our hotel room we discovered a lovely dessert plate waiting for us with maple fudge, chocolate tarts and macarons.
Our last night was all planned out as a result of talking to people we met in Montréal. One of the W Hotel bar experts had told us about Pouzza Fest, an annual punk music festival happening all weekend. Little did we know over 175 bands perform in different venues all within walking distance from each other in the downtown core. What a great opportunity to check out the Montréal punk scene! We walked from the hotel to the Pouzza outdoor venue, where we listened to live music while eating our Fairmont gourmet salads – kinda punk don't you think!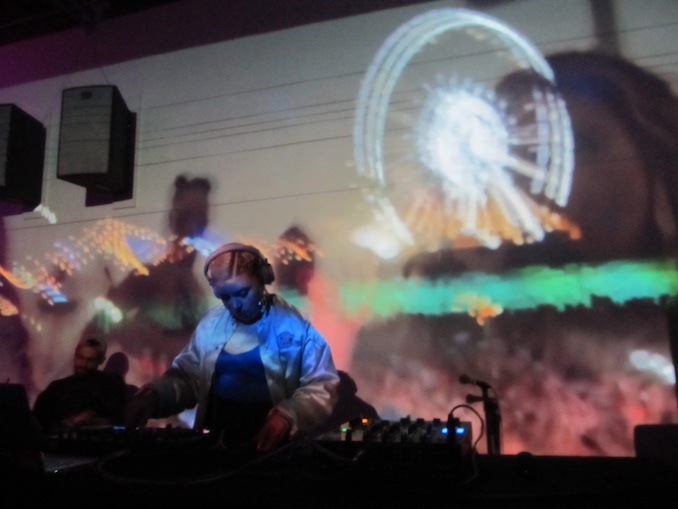 Energized with punk spirit we hopped in an Uber around 10:30 PM to follow a tip we got earlier in the day at Flohmarkt for a DJ night called RapMommies. The event was hosted by ARTGANG Montréal at their Saint-Hubert gallery space (one of two in the city). From what we gathered, both gallery spaces feature avant-garde contemporary art and they also throw dope parties! The two RapMommies DJs, local moms with a fan following, had everyone dancing to a correct mix of old school classics and new hits including Beyoncé, NERD, Cardi B, TLC and The Notorious B.I.G. They even threw down Britney Spears' I'm A Slave 4U! When's the last time you danced to that one. There was a giant video screen over the DJ platform showing a mash-up of videos from the Spice Girls to No Doubt, even clips from Meghan Markle's wedding! Along with a smoke machine and a live rap performance this night really hit us with the unexpected.
Day 4 > Total Immersion, Beyond The Core
After a boozy, sweaty night dancing till 2:00 AM we needed to rejuvenate. After checking our bags with the concierge and grabbing coffee at the Fairmont's Kréma Café we walked to Old Montréal to the Scandinave Spa to experience traditional Scandinavian hydrotherapy. We thoroughly enjoyed the peaceful (no talking allowed) atmosphere as we drifted from the large hot tub with thermal waterfall, to the ice cold plunge pool, to the eucalyptus steam room and Finnish dry sauna. After each round of hot/cold water treatments we rested on large bean bags sipping Camellia Sinensis organic herbal tea and fresh fruit smoothies. All you need to bring is a bathing suit, the spa provides all other essentials like a robe, towels, sandals, an electronic padlock for a locker and ONEKA shower products. Toronto needs a Scandinave Spa!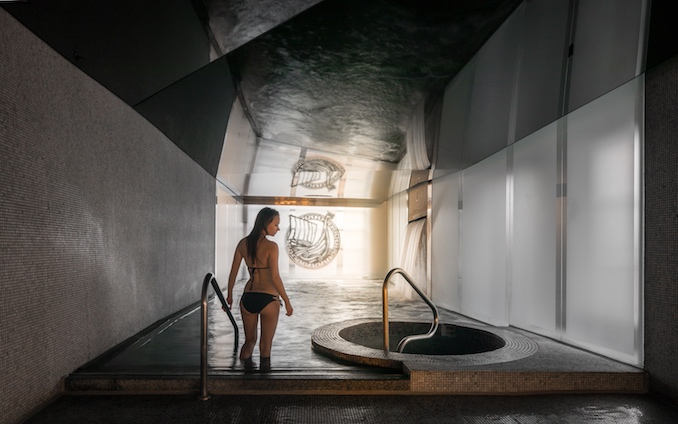 Feeling refreshed, we now had the rest of the afternoon to explore Griffintown, the banks of the Lachine Canal and Little Burgundy before catching the seven o'clock train back to Toronto. We ubered to Griffintown for lunch at Le Marché Italien Le Richmond; a beautiful open concept space with bar, bistro and a food market which has more than 2,000 exclusive grocery products imported from Italy, as well as many local ones, such as brewed in Montréal Fous de l'île Kombucha. Our lunch starters were salads: Mozzarella Di Bufala with fresh strawberries, perfectly crisp croutons and a fig balsamic dressing and an elevated Caesar with the most heavenly bacon. We split our main, the Pizza Prosciutto – Le Richmond's thin crust pizzas are popular in the neighbourhood. The Brioche French Toast was also recommended, but we didn't have room for it, so sad!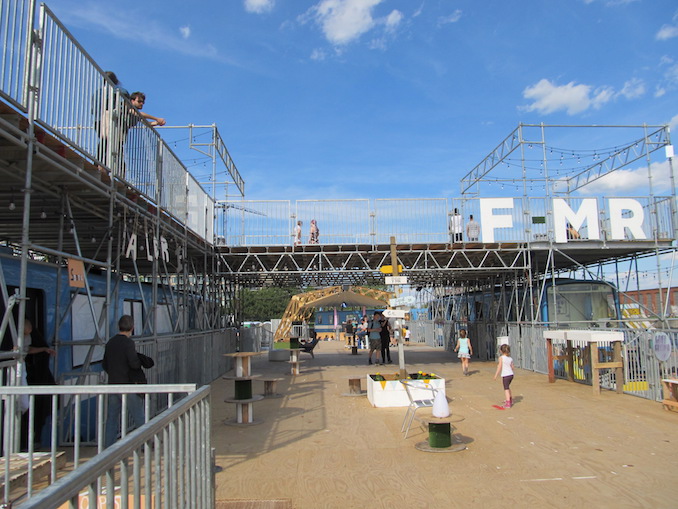 After a long, languid lunch we realized our itinerary was a tad too ambitious if we were going to make the train on time. Our brilliant Le Marché Italien Le Richmond server, Victoria, advised us to find La Station F-MR, an outdoor space along the Lachine Canal featuring a beer garden (also serving Kombucha & vodka cocktails!), live DJs, fashion Boutique Phi and a café. All assembled in and around a massive  scaffolding which included four old, out of service Montreal subway cars. Inside three of the subway cars were an art installation, the café and the fashion boutique with a MR-63 VR installation. Boutique Phi stocks local designer clothing like Daa, Pony, Dulcedo and Nik Brovkin, as well as accessories, magazines and art books. La Station F-MR is the temporary precursor to a much bigger permanent community project by the non-profit organization MR-63; a three-storey culture complex to be built in 2020. The City of Toronto and Waterfront BIA should be looking at this sustainable development project for inspiration! Check it out here: https://mr-63.ca/en/the-project/.
With the clock ticking, we had to pull ourselves away from La Station F-MR and circle back to Old Montréal for one last important stop. No trip to Montréal is complete without tasting French pastry created by a Master Pastry Chef and M.O.F. recipient (the Meilleur Ouvries de France is like the most prestigious French award you can get for pastry). Introducing the Maison Christian Faure's Ecole de patisserie on Place Royale! We could hardly wait to try the pastry shop's Snacking Chic menu (when I read about it online, I thought it was the coolest menu name ever, LOL). The selection of delectable éclairs, macarons, babas, mille-feuilles and cakes is insane. We settled on a summer fruit éclair avec vanilla and white chocolate creme. It's hard to describe just how amazing the éclair was….I think my heart stopped (in a good way!).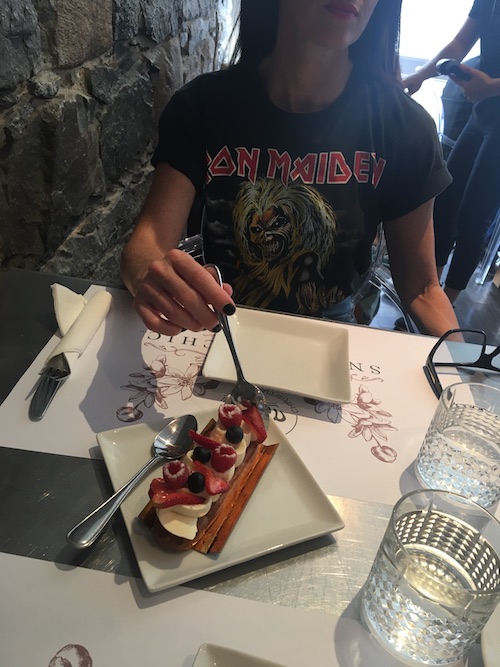 With no time to spare, we departed the Snacking Chic Parlour with some of Christian's macarons, to catch the train back to Toronto. On the train we were surprised to find our traveling companion was a demure white poodle named Gypsy. She had her own seat and was clearly used to traveling first class. Dinner was Chicken Tikka Masala along with Quebec beer Chipie Pale Ale. In the time it took to get back to Toronto we had convinced Gypsy she needed to get on Instagram. I wonder what her handle will be?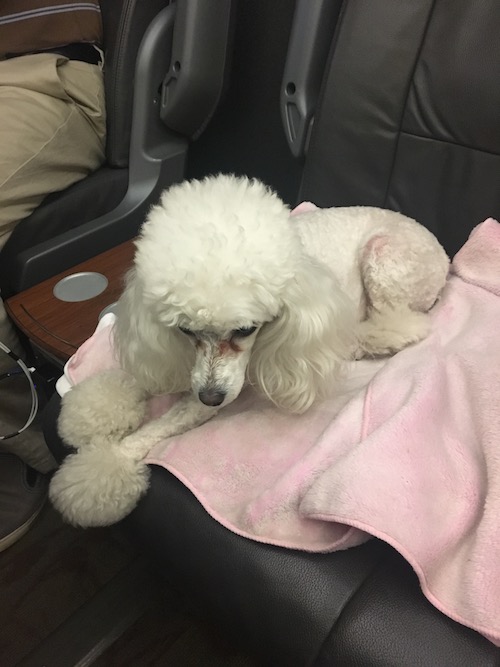 Guide Summary: How To Embrace The Unexpected
We hope this guide will inspire you to travel to Montréal soon. Based on this experience, our advice is; book a fabulous hotel, linger over every meal, treat yourself to exotic cocktails, and when a local invites you to a party, say yes!
The trick to discovering the unexpected in Montréal is to stray from your travel plan a little bit every day. Make conversation with bar staff, the hotel concierge, shop clerks – tell them you are looking for something new and different. Mix it up! Don't be a slave to your itinerary.
All our unexpected experiences happened because we looked up from our phones and Yelp reviews and talked to people we encountered randomly. We found Montréalers to be incredibly courteous and hospitable. Torontonians could learn from this openness.
***
Montréal Recommendations
Don't worry if you can't speak French that well, almost everyone in Montréal speaks English. Also, we used Uber on this trip (Lyft isn't in Montréal yet), and the average ride was $10. In total, we took about 14 Ubers in four days.
EXTRA Shopping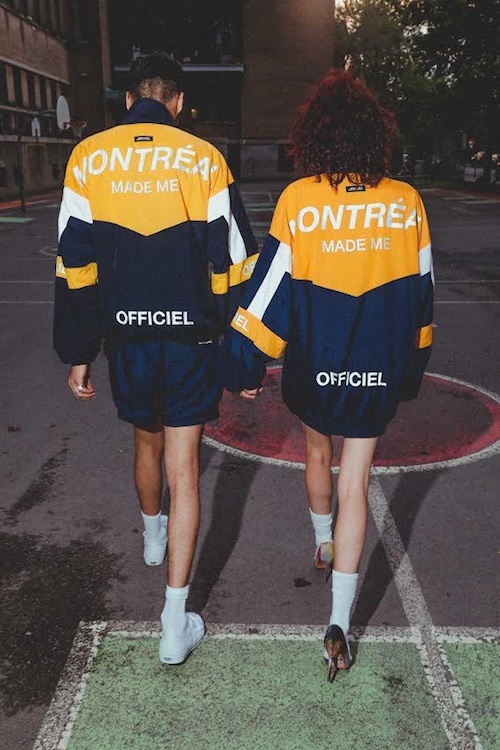 OFFICIEL MONTRÉAL https://www.instagram.com/officiel.mtl/?hl=en
Independent Montréal label with retro-Olympic fashion sensibilities and a contemporary attitude. DM to order.
Flohmarkt https://www.facebook.com/flohmarktpopups/
FYI, Alex plans to bring Flohmarkt to Toronto soon!
Eva B www.eva-b.ca/en/
SSENSE https://www.ssense.com/en-ca/locations/montreal
Boutique Denis Gagnon http://denisgagnon.ca/en
Boutique du Musée D'Art Contemporain https://macm.org/renseignements/boutique/
Feature many Québécois and Montréal products as well as special artistic collaborations with local designers.
Check out this Made In Montréal link! https://www.madeinmontreal.org/
Good, Good Food
Brunch/Breakfast >
Le Passé Composé http://www.bistropassecompose.com/photos/
Fairmont The Queen Elizabeth, Sunday Brunch http://www.restaurantroselys.com/sunday-brunch/
Arthurs http://arthursmtl.com/brunch/
Byblos Le Petit Cafe http://bybloslepetitcafe.ca/
Lunch/Dinner >
Nom Nom http://nomnommtl.com/
Pamika – Brasserie Thai http://www.pamika.ca/
Nacho Libre http://www.vivanacholibre.com/
Richmond Terrace & Le Marché Italien Le Richmond http://lerichmond.com/en/
Perles et Paddock http://perlesetpaddock.com/en
Boris Bistro http://borisbistro.com/en/
Punjab Palace http://www.punjabpalace.ca/
Snacking/To-Go Foods >
Maison Christian Faure's Ecole de Patisserie https://maisonchristianfaure.ca/en/
Snacking Chic Café
Alexis le Gourmand https://www.alexislegourmand.com/
Upscale food market, prepared foods & groceries
Fairmount Bagel http://www.fairmountbagel.com/
24-hour bakery
Where To Crash In Style
W Hotel http://www.wmontrealhotel.com
Shout-out to our W host, Jean Sebastien Labelle, who is fabulous!
Fairmont The Queen Elizabeth http://www.fairmont.com/queen-elizabeth-montreal/
Hôtel William Gray https://hotelwilliamgray.com/
Hotel de Paris http://hotel-de-paris.hotels-in-montreal.net/en/
Hotel Monville https://www.hotelmonville.com/en/
For the Love of ART
Galerie Youn https://galerieyoun.com/
ARTGANG Montréal http://artgangmontreal.com/
Art Mûr Montréal http://artmur.com/
Musée d'art contemporain de Montréal https://macm.org/en
Montreal Museum of Fine Arts https://www.mbam.qc.ca/en/
Phi Centre https://phi-centre.com/en/
Arsenal Contemporary Art Montreal  http://arsenalmontreal.com/
Reopening June 29, 2018
Check out this link for more art gallery locations in the city. http://galeriesmontreal.ca/?lang=en
Get Outside
La Station F-MR https://mr-63.ca/mr-63-devoile-la-station-f-mr/
Sundays at Piknic Électronik https://piknicelectronik.com/montreal/en/
May 20 to Sept 30, 2018
La Grande Roue de Montréal https://www.lagranderouedemontreal.com/en/ticketing
Fitz & Follwell Bike Tours  https://fitzandfollwell.co/tour_category/bike-tours/
Travel
VIA Rail Toronto/Montréal https://www.viarail.ca/en/explore-our-destinations/trains/ontario-and-quebec/toronto-montreal?gclid=Cj0KCQjwl7nYBRCwARIsAL7O7dE385K5gv44UDGF0e2e-Qg2ygu9YYPV-Vlr8cGoI_EP13EysCNwtMAaAsV7EALw_wcB&gclsrc=aw.ds
Montréal Tourist Information
https://www.oldportofmontreal.com
https://www.quebecoriginal.com/fr-ca