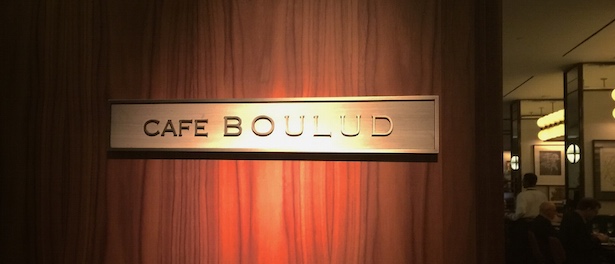 I spotted Chef Daniel Boulud at his new restaurant located on the second story of the Four Seasons Hotel (60 Yorkville Avenue). He casually visited diners during the steady lunch hour service in between giving pointers to the staff. His flow was of ease as he held each person with his eyes and he engaged each person in conversation like they were the only person that matter in the room.  I could hear people at the bar ask him "what's your favourite dish?" or "what inspires you?" If you want to know, he's a big fan of salads. Regular patrons were welcoming him back. There's clearly a love for Chef Boulud in this city and he appears humbly gracious.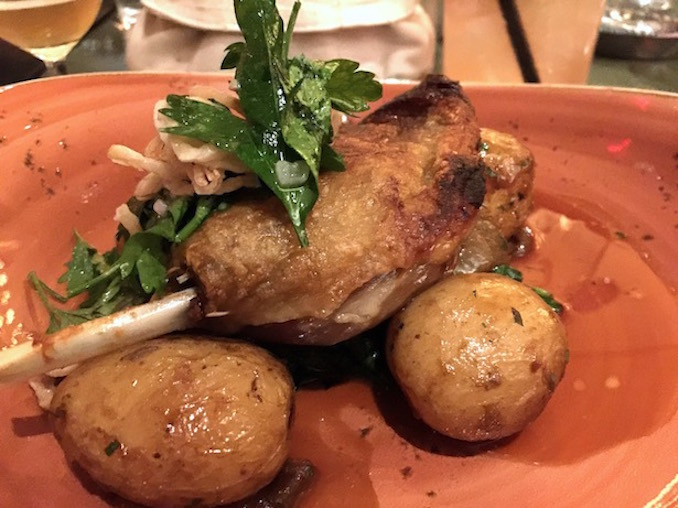 Cafe Boulud recently went through a redesign of the menu and of the overall look of the restaurant itself. Gone are the pop art paintings of Madonna and Kate Moss with the obscure glass sculptures on display. Don't get me wrong, I loved both but in the same space there was some sort of discord. But never mind, now the freshly designed Cafe features a more 'stay and linger' feel as I've done so a handful of times now since the re-opening.  The interior space that was created by award-winning designer Martin Brudnizki gives the sense of a classic French brasserie. Elegant, yet comfortable banquettes line the dining space along with tan leather chairs that seem to wrap around your body just right. Walls are of blue herringbone Hermes wallpaper and brass finishings adds a touch of warmth.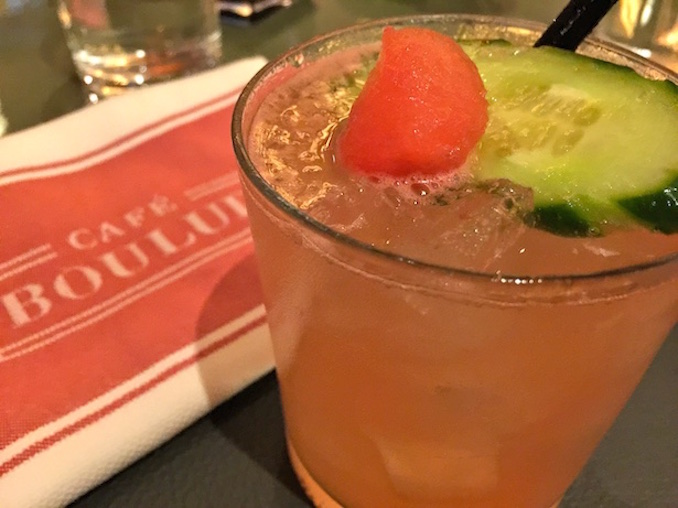 The menu itself, a collaboration between Chef Boulud and Chef de Cuisine Sylvain Assie, brings back the comforts of traditional French dishes and sources the best seasonal ingredients from coast-to-coast when possible. Both chefs grew up in the countryside of France. While Chef Boulud says he's not the most traditional French chef, the cuisine definitely influences naturally into his dishes. But his international travel has also influenced him in many ways. On this new menu there's a Bouillion Pho which, for the record, I have not tried yet. There are so many dishes to try and I'm working my way down the menu at each visit.
The salads are outstanding. For lunch one day I had the Salade Nicoise another day I had the Salade De Betterave (beets, quinoa, orange watercress, goat cheese) and twice I've had the Kale Grille & Romaine — it's now become "that" dish that I crave.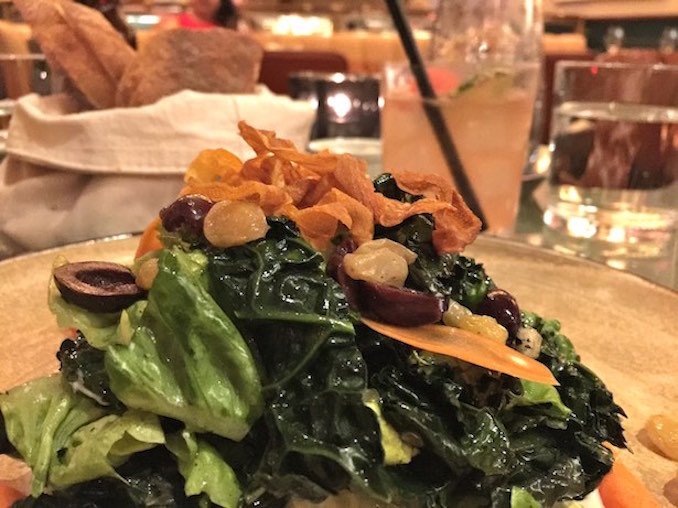 Cafe Boulud and the dbar at the Four Seasons Hotel were always go-to places for great traditional and seasonal cocktails as well as an outstanding Charcuterie, I was relieved to see the offerings continue on the revamped menu here. The selection is lead by master Charcutier Gilles Verot and includes house made terrines and pates. Verot comes from a family of charcutiers and brings his expertise to several of Chef Boulud's restaurants. Twice I've ordered the Pate de Campagne in the new space,  a courser country-style pate made with chicken liver, pork and herbs. Accompanied with one of the salads and this can easily be a most satisfying meal. Hubby tried the Timbale de Lapin (pulled rabbit with eggplant, tomato confit, basil) and loved it for it's clean taste. It's not laden with sauces or spices but simply gives the delicate flavour it's centre stage.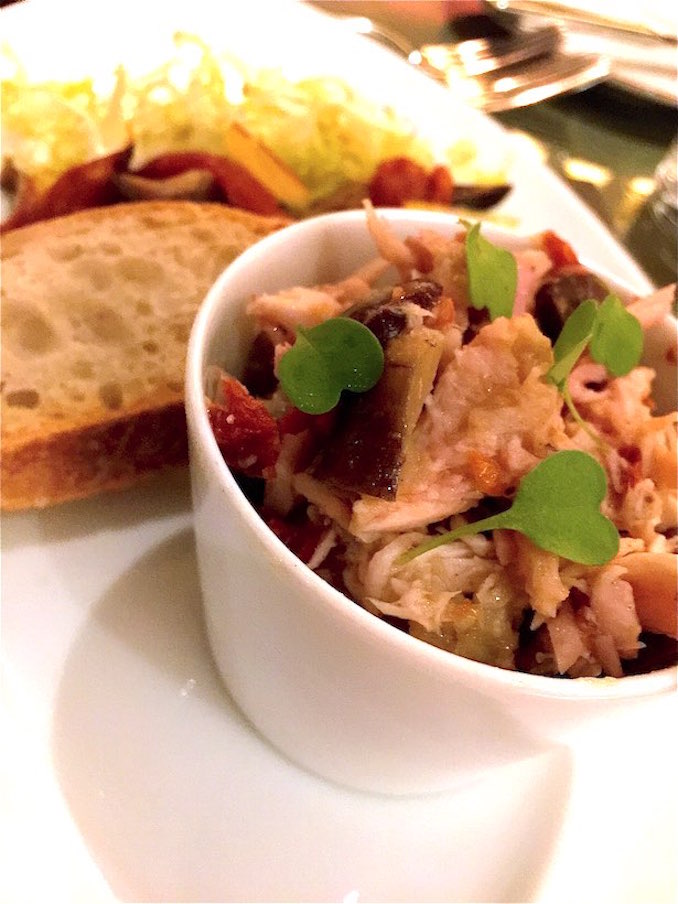 You will find popular French fare including Confit de Canard that is perfectly seasoned. It's slightly crispy skin with melt-in-your-mouth meat was succulent the night I had ordered it up. Served with sauteed potatoes this slow-cooked dish is pure comfort food. Everyone is also talking about the Rotisserie – while you certainly can order a single serving of the popular Poulet a la Broche (rotisserie chicken that is roasted in the imported Rotisol oven) the restaurant also serves it family style complete with two sides dishes. My friend Joel, being from France himself, loved the Agneau a la Provencal (featuring Ontario Lamb served with a side of swiss chard and tomato gratin). Seafood offers what's freshest and we paid particular attention to a tiered presentation of the Plateau De Fruits De Mer that includes oysters, shrimp, and mussels  among several other "sea candy" as we like to say. Of course you will find favourites like Steak Frites, Frenchie Burger and Beignets de Calamar (beer battered calamari)  here too.
Make sure you save room for dessert because this is where the unexpected can happen depending on what you order. The Profiteroles will have foodies who instagram have their iPhones out as dark chocolate sauce is seductively poured onto the dessert. Hubby was totally impressed with this dish and it was his first time seeing this dish. We actually debated if it was something I should show but we both thought it would be nice for people to see it for themselves. Grapefruit Givre is sesame halva, rose loukoum, grapefruit sorbet that has a beautiful presentation. My dinner companion that night was intrigued at the technique used here with a fibre like topping that is not quite cotton candy but I had mentioned it reminding me of a certain street candy that is made in asian night markets called Dragon's Beard. Equally as instagrammable is the Baked Alaska for Two as I had notice it pass by our table one night and headed towards two young ladies giddy with excitement. The Souffle Grand Marnier had been recommended to me several times by friends with it's light pillowy texture, and not-too-sweet finish was a beautiful ending to my lingering time here.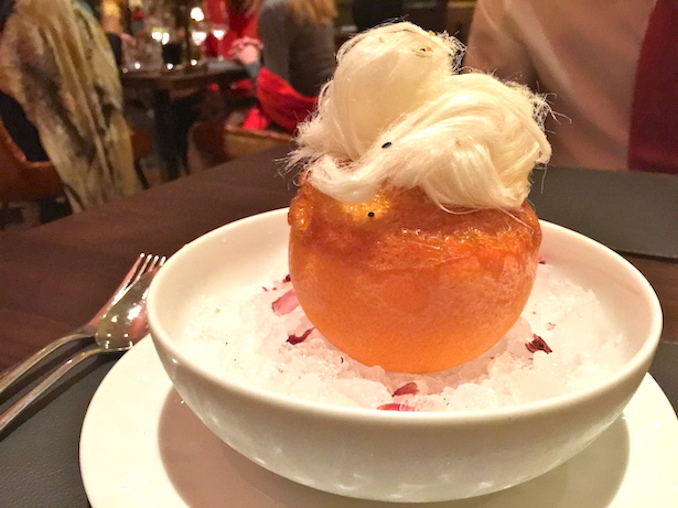 The new Cafe Boulud certainly maintains the service level I have always expected but they still manage to surprise me. On my last visit the hostess remembered that I had stopped in before an event a week prior and had asked how it was. I've visited a few times during the very busy dinner hour, once on a Saturday, and I've noticed that no one is ever rushing your meal and no one looks panicked.  It's a place that is welcoming as I love to people watch and here I've seen ladies who lunch, couples on dates, suits, travellers, and yes families. The banquettes have encouraged me to stay a while and I'm very happy to savour every moment.