My mouth is watering at the thought of the heart-warming noodle bowls found at Dagu Rice Noodle. Named as China's most famous rice noodle bowl restaurant chain we can now understand why. The first location here in Toronto opened in Markham but shortly after, the second location appeared at Bay and Dundas with more locations coming. What makes it so popular to already see line ups out-the-door before it even has it's official opening? We were invited in to find out.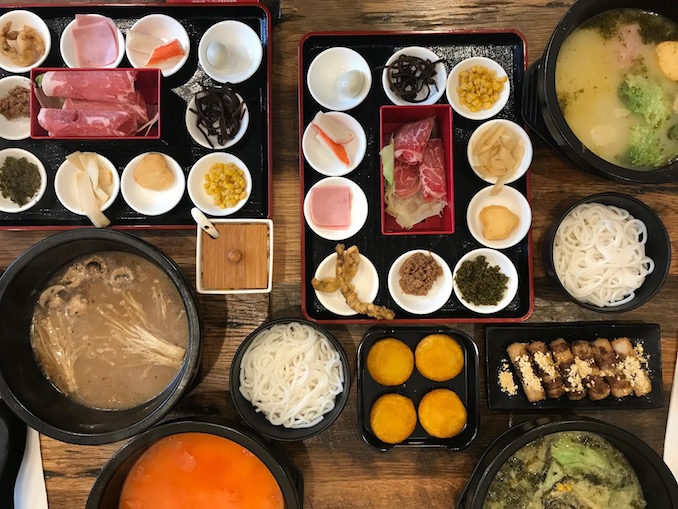 The menu options start with the foundation base soup. Made fresh and in-house of braised bone-in pork, the broth is savoury and rewarding. We've learned that in China, everyone slurps up not only the noodles but the broth is so rich in vitamins and nutrients that no one let's it go to waste, seriously. Their signature and original soup stock is naturally rich in collagen that helps keep our skin healthy and supple. So, eat up! There are several options for base soups including a pickled cabbage with fish as well as a braised bone-in beef that Dagu often sells out of this before day's end.
The bowls are called "Crossing the Bridge" noodles. We were told that the name came from a famous legendary love story from Yunnan, China. The husband was said to have taken  to a quiet place for his studies. He went across the bridge and lake to an island that was popular for it's natural beauty. It offered tranquility for scholars and students that needed somewhere to study for their imperial exams. This story tells of his lovingly wife who ensured that he always had a nourishing hot meal as she knew he was so immersed in his studies that he would probably forget to eat. She would bring all the ingredients separately to him to keep things fresh and assemble the meals when she reached him so everything was hot. He loved his wife's gesture and credited her for helping him pass these difficult exams. The story passed through the generations and have become a story of endearment and an expression of love.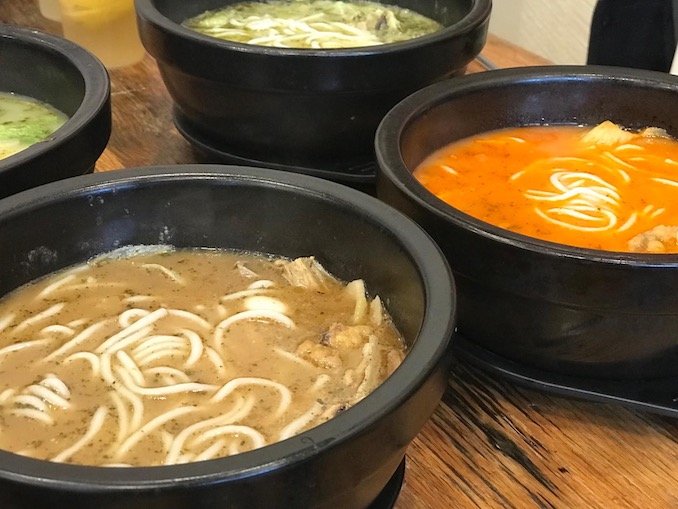 So, here at Dagu Rice Noodle there is some assembly required on your part. There are several variations to the noodle bowls including added tomatoes to the base and kimchi. Mountain cliff mushrooms is a rich broth that shouldn't be over looked. Ordering is simple, a sheet comes to the table with explanations in English and Chinese. Select your base broth and within minutes a piping hot stone bowl arrives along side little dishes of  raw ingredients that you are instructed to quickly add into the bubbling broth. The stone bowl itself is fired up in the kitchen and delivered to your table at 150C.
Side dishes served on individual trays are standard including thinly sliced Certified Angus Rib Eye Beef slices and New Zealand Lamb shoulder slices. You'll also receive a quail egg, fish cake, corn, crab stick, ham, seaweed, and other vegetables to add in if you like. A house specialty "secret" ingredient that resembles olive tapenade definitely should be added in and there's no MSG.  A bowl of fresh rice noodles are also to be added.  Just let everything cook in front of your eyes for a few minutes and enjoy. Not enough for you? Luckily, you can order unlimited bowls of noodles. I'm thinking all the local Ryerson students will be very happy about this! But you can also add on specialty items like stuffed meatballs and fresh shrimps.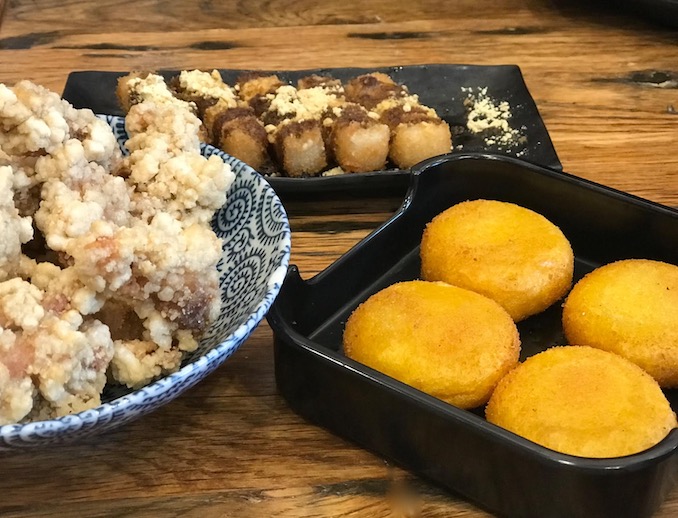 The menu also lists some popular snacks that are worth exploring. Order up the Salty Crispy Chicken (think popcorn chicken) Deep-fried pumpkin pancakes with red bean paste serve more like a dessert than an appetizer and the brown sugar sticky rice is not too sweet and delicious. If you have space, take a look at the dessert menu as well. Drinks are refreshing — I had the super fruit tea. You'll also find fruit with Yakult – a popular probiotic drink found in asian markets that is enjoyed by adult and children alike.
***
DAGU RICE NOODLE currently has two locations both open daily from 11:30 am till 11:00 pm.  No reservations. More locations coming soon.
20 Gibson Drive, Unite 111A in Markham
115 Dundas Street West in Toronto (Bay and Dundas)