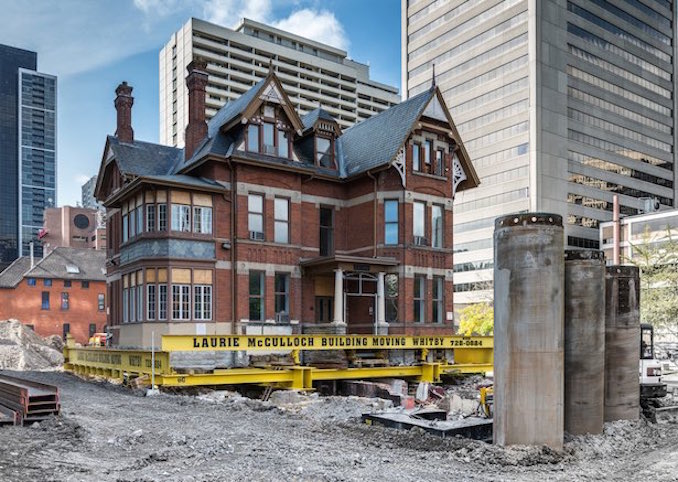 "The historic Selby mansion at 592 Sherbourne Street is getting ready to be moved closer the the street to make room for a new condominium development (The Selby-completion date 2019).
Designed by architect David Roberts and built in 1882 for the founder of Toronto's Gooderham and Worts Distillery, the Victorian mansion is best known as the residential hotel where writer Ernest Hemingway lived in the 1920s while working as a foreign correspondent for the Toronto Star. It is rumored that he penned a part of A Farewell to Arms while living here.
In 1910 the mansion was converted to a private girls school, but has been a hotel since 1915- first the Selby Hotel, then Howard Johson after 2000 and most recently it was the Clarion Hotel & Suites Selby until the property was sold to developers MOD Developments Inc. and Tricon Luxury Residences.
The City of Toronto gave the mansion designated heritage status in 1989. You can see the old "Selby" sign still hanging on the porch."
This is not the only Photo from Toronto. Visit Lori on her Flickr Page for more photos and stories from around Toronto.
To submit photos to be featured on our site, please visit our Flickr group pool.