The signs along the long and winding driveway to Ste. Anne's Spa got us pretty excited. My friend stopped the car at the first sign, "Prepare to Unwind" it said. I had to read it a few times before I got it. Clearly I needed a bit of a break (so my friend pointed out)  then we saw a few more. Okay, I know, I know. I was way too wound up over the multiple coffees I had inhaled on the way there but it looked like our visit to the outskirts of the city was starting with just the right tone — this little cheeky humour took me by surprise.
I've always heard about Ste. Anne's that is located just outside of Toronto in the Haldimand Hills but embarrassingly admit to have never visited in the past. The large stone estate is perched overlooking a stunning vista over rolling hills. You can see the lake in the not too far distance. It's remarkably quiet compared to the droning noise of traffic I've grown so accustomed to living in the city. Then there's all the fresh air. Closing my eyes and taking a few deep inhales and with full exhales like what I've been taught in my yoga classes, I can smell that clean Canadian air… hints from the trees and flowers and  that peaceful scent from a recent rain fall. So peaceful. I'm ready to take a break from stress.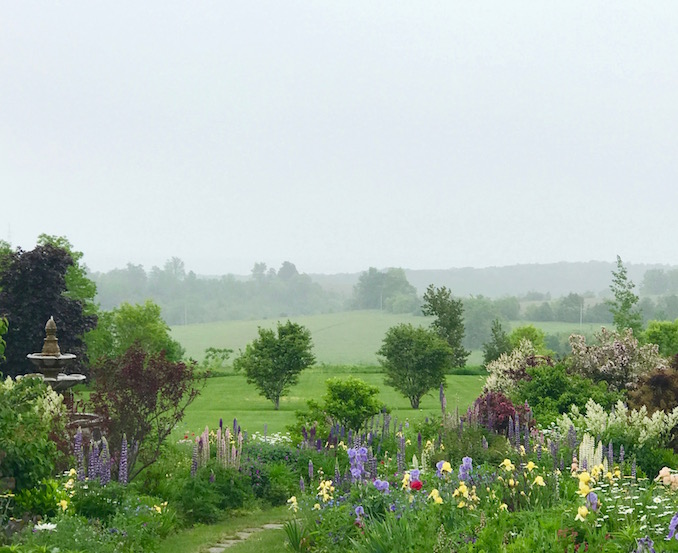 A tour around the main building and I'm already thinking how I could get lost, intentionally or not, in this sprawling building with the many hallways  and cozy spaces to curl up. The staff gave a laugh when I mentioned this and assured me I'll be fine.
The original stone house was built by Samuel Massey back in 1858. Steeped in history, the house has been privately owned by a few families but was later abandoned. When it was rediscovered in the 1980s by the current owners, the Corcoran family, it was fixed up and re-opened as a Bed & Breakfast. Soon the business grew to offer spa treatments and fast forward to today we are told that it has become a destination for local and international tourists seeking a quiet retreat. It reminds me very much of my stays in Cape Cod in historic inns with their stories and rustic charm. You can find many great artifacts and photos throughout the property that offers a glimpse of  Ste. Anne's past.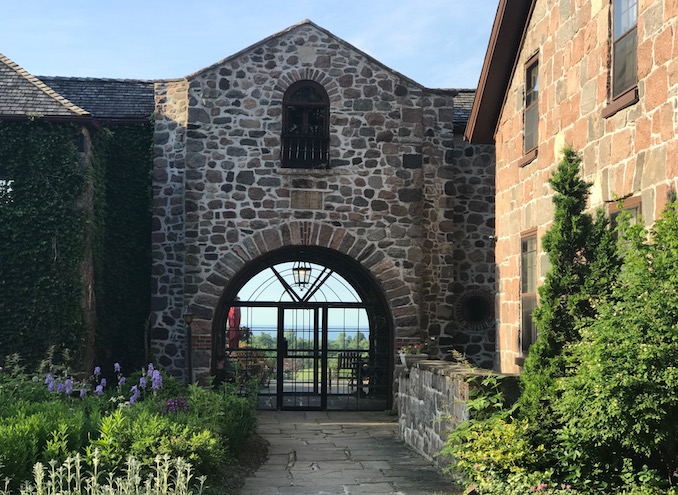 WHAT NOT TO PACK!
We noticed other guests roaming the property donning not much more than their plush bathrobes provided at the front desk upon arrival.  Immediately I regretted overpacking. I should have paid more attention to the advice others had given me. You really don't need much more than a lounging/yoga outfit (okay, maybe appropriate shoes should you decide to explore one of their three hiking trails) and a toothbrush if you're staying overnight. It's total bliss to not have to think about what to wear even to lunch. There's no judging here and no rolling eyeballs. By the way, it's not just for women here either! We spotted guys enjoying the grounds and spa as well.
You'll also want to have a bathing suit handy and not just for the outdoor pool. Tucked along the building you'll find the Fieldstone Grotto for water therapies including a hot tub and plunge pool and steps away from the Eucalyptus Steam Room. Relax and enjoy or try following the European tradition of doing the water circuit that has you moving in and out of the various grotto areas – known for improving circulation and restorative health benefits.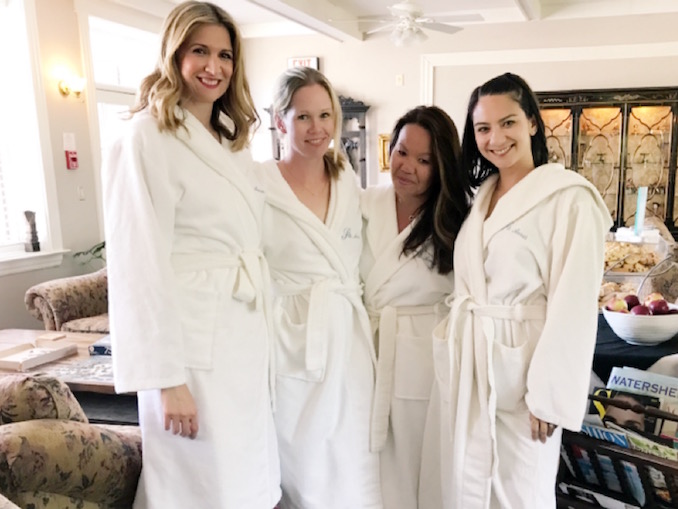 THE STARRY SLEEPOVER
Our "girls getaway" was to take in the spa (of course), the food as well as an overnight stay. Ste. Anne's has 7 unique spa cottages as well as rooms in the Main Inn.  We were set up at "Vista Lago", a self sufficient cottage that's ideal for groups located about a kilometre from the main building (walkable or complimentary shuttle service on demand) — perfect for our gab sessions without the worries of disturbing anyone else around us. The two-story cottage is more like a house that could easily and comfortably fit in four couples. Each of the four bedrooms are decorated with it's own style. There are two full bathrooms and great open kitchen space. The cottage also has it's own outdoor hot tub —  I was kicking myself for not venturing outside later that at night to see the open skies full of twinkling stars above us that Libby so beautifully described to us the next morning.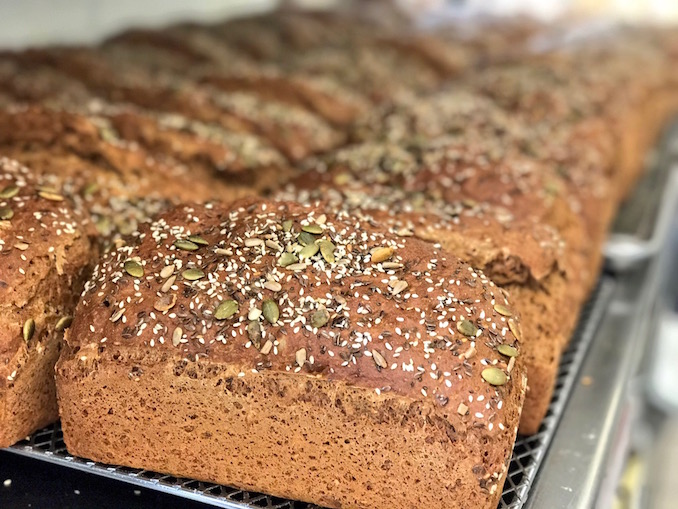 OH, THE FOOD!
As we explored we found out that Ste. Anne's very own gluten-free bakery (also open to the public) is located mid-point between our cottage and the main building that made for a perfect stop for their famous butter tarts and fresh baked bread. Here is where Spa guests can also take in a quick bakery demonstrations in the bakery's workshop. We learned that the bakery also supplies their baked goods to several Toronto and surrounding area food shops. It's a great place to pick up a few food items like their house-made granola and jams to bring back home.
Speaking of food, the menu at the main restaurant focuses on "country kitchen" type of fare. That is, wholesome, tasty meals made with all the good stuff. Having said that, Ste. Anne's also recognizes dietary needs.  Afternoon Tea also offers up vegan and gluten-free options — I could live on their blueberry scones alone. Breakfast menu stand-outs included light and healthier options along side traditional offerings. The Country Beef Hash (two soft poached eggs with Ste. Anne's braised beef, sautéed garden vegetables, house potatoes and mushrooms) and the Vegan Cuban Breakfast (seasoned black beans and rice, tofu crumbles, avocado, chopped greens and vegan spinach-jalepeno pesto) are definite stand outs for breakfast. Lunch is loaded with options of fresh salads, sandwiches as expected but the pleasant surprise was the Asian Noodle Bowl as were the house-made Crab Cake.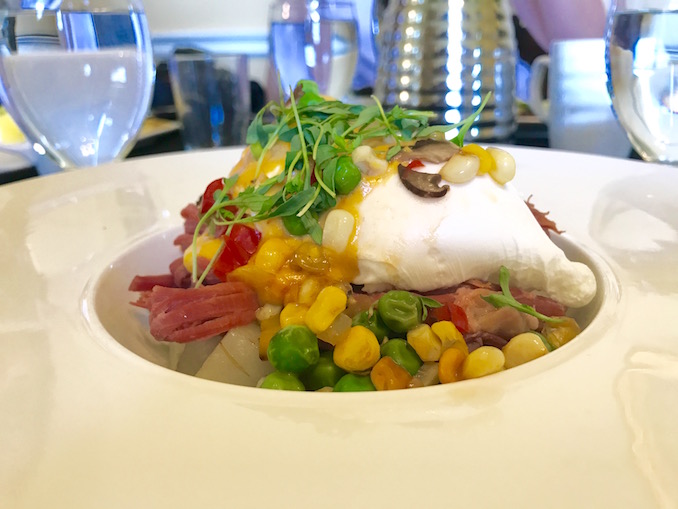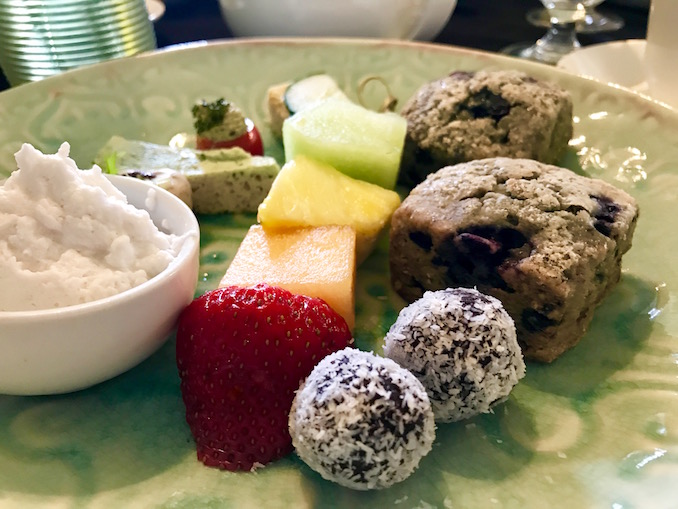 But for a real treat we had Ste. Anne's Executive Chef Jeffrey Wilfong prepare a private dinner for us at the cottage. He arrived at our location and was already  in the kitchen with all his necessities preparing a four-course meal as we leisurely floated back from afternoon spa treatments in our bathrobes, of course.
Chef Wilfong explained that the word was starting to spread about Ste. Anne's culinary offerings and not just for their gluten-free bakery. With their gardens for herbs, bee hives for honey, and as well as their own cattle farm and supporting the local farmers and producers, they are proud to be able to offer their guests a farm-to-table experience that's important to them.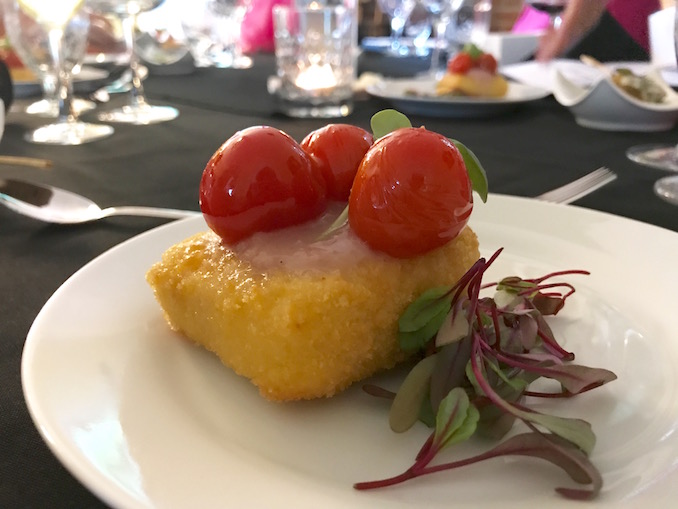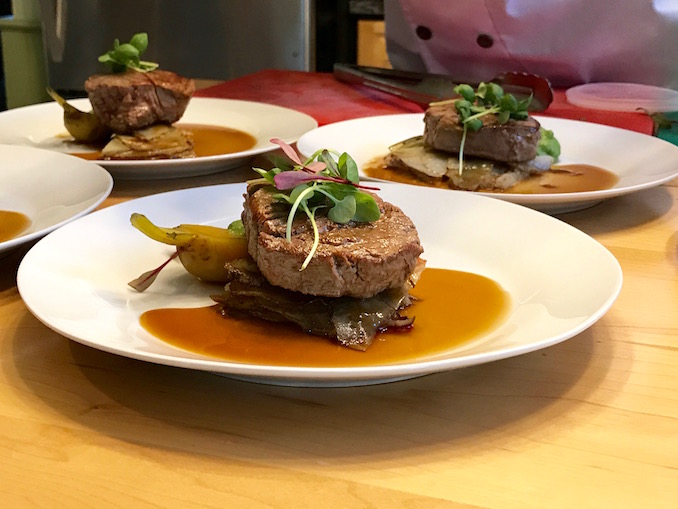 SPA EXPERIENCE – BRINGING MORE AWARENESS TO MY CHAKRAS
Most people come up to Ste. Anne's for their spa treatments. While you can certainly treat yourself to a facial or body treatment, I'm always keen on trying something different. Ahead of our visit I noticed a Chakra Awareness Treatment on their site and booked in immediately.
Chakras, if you're not familiar, are the 7 energy centres centres locate on different points on our body. Each chakra's function acts like a funnel to flow energy in and out of the body. There's a lot of talk about trying to bring awareness to our chakras in yoga and meditation. The treatment began with the  therapist, who specializes in alternative therapies as well as traditional, laying out the 7 chakra cards. I was asked to select three that quickly drew my attention. I'm not sure if I was to read them but I chose them randomly, anyway. My selection came up with a "hmmmm…interesting" from the therapist. These are the areas that at that moment, needed some nurturing. No surprise to me when I drew  The Crown Chakra (awareness, wisdom, bliss), The Throat Chakra (communications, expressive, creative)  both that pretty much ties into my line of work. I also drew the The Sacral Chakra (nourished, emotional flow, playful) which turned out to be the chakra we would bring more awareness to during this session after we also went through a sensory journey through a variety of essential oils. After taking a few deep breathes I was strongly drawn to a certain scent. "Are you having any digestive issues?" my therapist asked. As a matter of fact, I was. So it began.
I didn't know what to expect but it turned out this was the perfect treatment for me. If you're looking for a massage type of service this one blends several techniques including relaxation massage therapy, Reiki, and meditation into the fold to help calm and balance the focused chakra. Each treatment is personalized based on your current needs. I didn't know I needed a massage as much as I did until the therapist also zoned into areas including  lower back, shoulders, feet, neck and scalp. I thanked her for taking my tension away. She was curious as to why I had chosen this treatment from the spa menu. "I go to spas frequently," I explained. "So, I like to see what's different and I'm open to trying something that's unexpected. I definitely was surprised to find this here." She smiled. "You definitely picked something that's different!" Of course, I gently asked what her credentials were and discovered that she was also trained in alternative therapies and natural healing. She knew what she was doing.
As we completed my spa session, she left me with a chakra self-care card to help moving forward. A beautiful reminder to take care of myself and tips on how to bring awareness everyday. I definitely enjoyed this treatment. The card sits on my desk next to my computer now.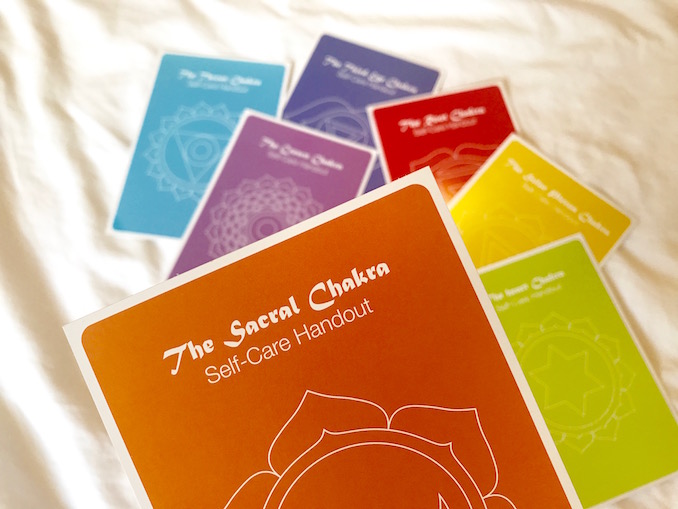 My friends had also tried facial treatments and they glowed. The spa's skin care line is formulated with natural ingredients grown in Ste. Anne's gardens. We had learned that Ste. Anne's began working with herbalists and skincare specialists in 2009 to create a holistically-based simple skincare line. The focus was on the benefits of natural, indigenous ingredients many that are found on site.  A walk through the garden and you can see the many varieties. We each picked up a bottle of their SOOTHE Serum for the face in anticipation of the summer months ahead to help with redness and inflammation.
NAMASTE ALL DAY
While you can certainly roam the trails or spend all day at the spa, it's worth taking in a few of their wellness classes. The group sessions offer professionally led classes. Morning stretch yoga is great for beginners and there are more advanced sessions for those who have more experience. If you're seriously wanting to be in a zen-like zone, the Yoga Nidra maybe ideal for you to try. This deep relaxation form of yoga is without movement and focuses on breathing and visualization with meditation techniques as well. Sounds good? You'll probably have the best sleep EVER.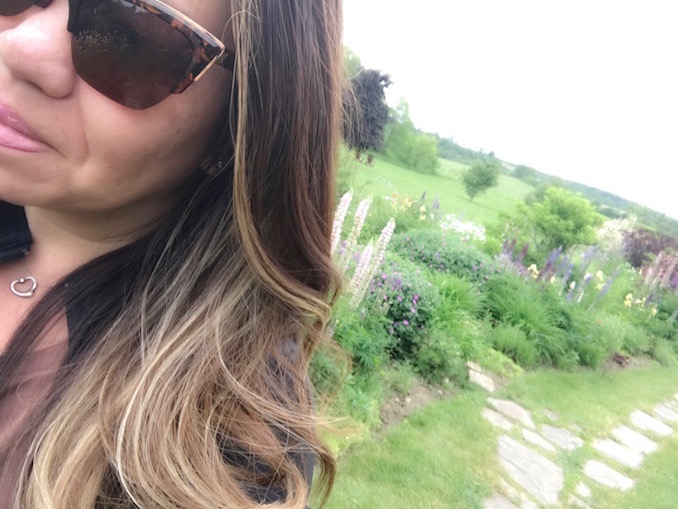 We all headed back to the city and back to reality a little more relaxed. It's good to know we can escape here easily anytime without too much effort. Ste. Anne's Spa is open year-round and the fall season would be scenic drive up to this location with all the colourful trees along the way. Don't drive? There's a GO Train that takes you close by and Ste. Anne's will come and meet you at the train station. I think I'll try that sometime!
Visit St.Anne's Spa website for more details on overnight stays, spa services and of course, food!