Summer is one of the most exciting times for food lovers to explore the city. With the many food festivals, Summerlicious  is one that has become a real Toronto tradition not just for locals but tourists alike. From July 6 to 22, 2018, over 200 restaurants in, and around, the city participate featuring prix-fixe menus of newly created dishes along side some well-loved customer favourites. At Cafe Boulud (Four Seasons Hotel) we've been consistently impressed with their Summerlicious offerings.
The Summerlicious menu at Chef Daniel Boulud's French Brasserie stays consistent with the restaurant's traditions of using French cooking techniques in bistro classics as well as serving up a few contemporary dishes using seasonally fresh ingredients. Honestly, we've come to expect that here, but what really amazes us is how they are able to offer up generous portions for the mandated Summerlicious price points. There are no shortcuts here and service remains to be one of the best in the city even during this busy time.
We previewed the restaurant's lunch menu recently to get a first taste. Fans of the Boulud's famous rotisserie chicken will be thrilled to find it on the Summerlicious menu — with a slight twist adding tarragon to the recipe. The rotisserie itself was brought in from France and is used to slow-roast the chicken à la broche.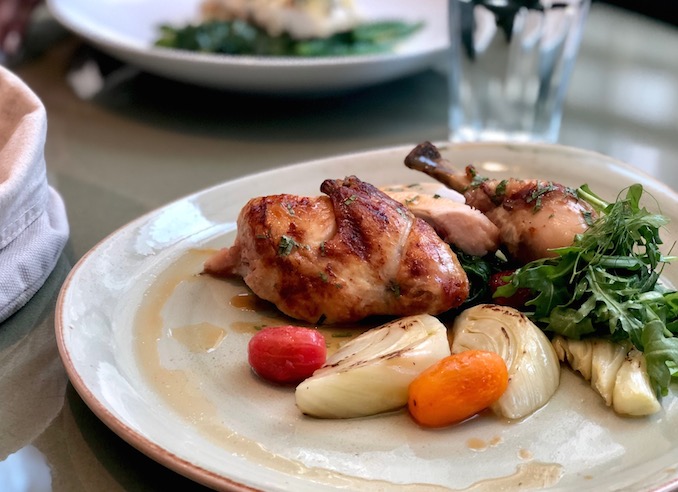 The Cod Meuniere is a real hit with a flavourful buttery sauce served up with crushed potatoes and fresh green beans. Vegetarians are well taken care of with a generous Tarte Fine that is beautifully presented – and dare we say, instagram worthy? It is really.
Cafe Boulud is a popular destination for Summerlicious for lunch and dinner. Best to make a reservation ahead of time. While some offer exclusive Summerlicous menus, here at Cafe Boulud, they continue to offer the house menu in addition to the prix-fixe menu. So, you can opt for one or the other. Also, we're told that some of the Summerlicious dishes will rotate as daily specials so for those who prefer not to have the three-course menu, this is a great option.
Here's a first look at what's on Cafe Boulud's 2018 Summerlicious lunch menu…